🚚 🚁 Збираємо на пікап та ремонт дрона аутел
⛑ 🛡 🥾 Шоломи, форма, взуття
§ 18. Non-metallic minerals (textbook)
§ 18. Non-metallic minerals
1. Remember that minerals belong to the nonmetal.
2. Which non-metallic minerals are sedimentary, and what - magmatic origin?
Non-metallic minerals are most common in Ukraine as the number of species, and the number of open and explored deposits. The reason is that to them are extremely diverse in origin of species and minerals. Non-metallic minerals have very wide application. They are used as raw materials for industries directly used in engineering, science and technology, life and medicine. For individual stocks non-metallic minerals (sulfur, facing stone, kaolin), Ukraine forefront in Europe and in graphite reserves - second in the World (Second only to China).
Chemical raw materials. The raw material for chemical industry is sulfur, rock salt and potash, phosphates, apatites.
Ukraine has large reserves sulfur. Sulfur, which is of sedimentary origin, nahromadylasya in Carpathian provincial trough. Carpathian sirkonosnyy pool (Which comes in borders of neighboring countries - Poland and Romania) is one of the largest in Europe and world. They found more than 20 deposits of brimstone. It was mined in Lviv region of the career Rozdil, Yazivskoho, Podorozhnyanskoho, ADMINISTRATION deposits and method of underground melting - of Nemirovskogo. However, due extended its production in large numbers seriously depleted field. Now on Most of them stopped the development of sulfur.
Salt deposits in Ukraine due to long extracting as much exhausted. Currently, production volumes of these minerals sharply decreased. From Carpathian depression is associated also the only pool in Ukraine potassium salt. It is mined in large quantities in Kalush-Golinskii(Irkutsk region) and Stebnyk(Lviv) deposits.
Powerful pool salt (In the form of a stone) deposited in Donbass Dnieper-Donets basin and Transcarpathia, in the form of natural underground brine - in Precarpathians. The largest deposits of rock salt, which is developed a long time, is Artemivs'ke і Slavic (Donetsk region) Solotvyns'ka (Transcarpathian region). Substantial deposits of salt contained in ropi salty waters of the Azov-Black Sea coast and the Crimea. In particular, it produced with Lake Sivash.
The deposits of phosphorite and apatite - raw materials for production of chemical fertilizers - generally small and not yet developed. Industrial stocks phosphorite found in Dnipro, Transnistria, Sumyand Kharkiv areas, apatite - In Zhytomyr and Zaporizhia region. Put apatite confined to the magmatic and metamorphic rocks of the Ukrainian shield.

Records Ukraine
Salt in Ukraine known from ancient times. Its production in the Crimea and Black Sea estuaries began in Greek and in Transcarpathia - by Roman times. The first large mine in Solotvino dug in 1220 р.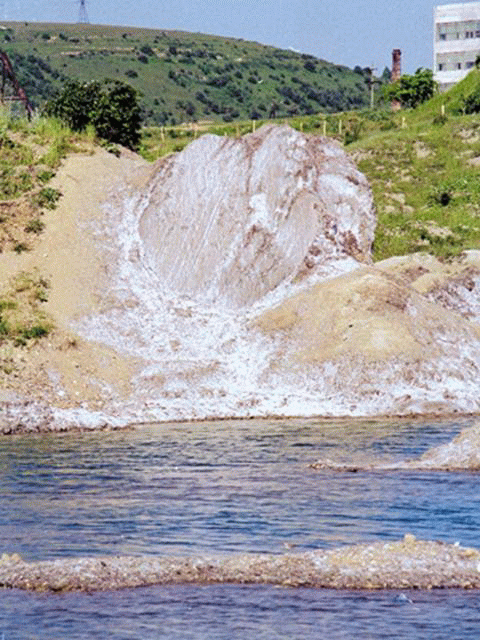 Fig. The output of salt to the surface, t. Solotvino,
Tyachiv Mr.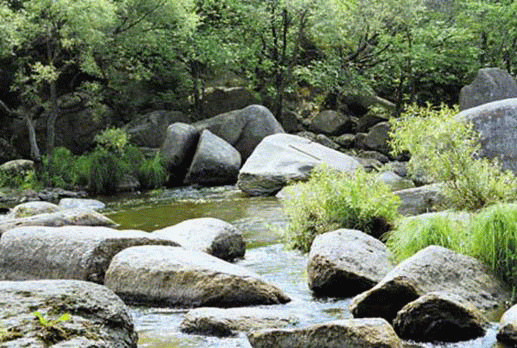 Fig. Outputs Wake granites in Uzh, Korosten
Construction industry. Ukraine is extremely rich mineral the natural materials used in the construction industry. Some of them previously held a significant industrial processing, and other directly allocated for construction.
Marl, chalk, limestone, clay used as raw material for cement production Lesia and clay - For production and tile. Gypsum, loam and limestone so go on manufacturing called binders and sand - as a filler for concrete. These deposits many species in Ukraine and they common everywhere. This also applies to natural stone building materials - natural stone wall (tufy, limestone), Stones (sandstone basalt, granite) And ornamental stones (granite, gabbro, labradorite, basalt, marble). Most deposits of facing stone dedicated to the Ukrainian shield, its most valuable species are deposited in Zhytomyr, Rivne, Khmelnytsky, Zaporizhia, Transcarpathian areas. For stocks basalt Ukraine occupies a leading place in Europe. Their produced in Rivne (Klesiv deposit) and Dnipropetrovsk. Marble develop in Transcarpathia, Crimea and Donbass.

Amazing Ukraine
Ukrainian granite
Among the diversity of the Ukrainian ornamental stone granite attract attention. They have different colors and shades, which got its name: red, red and yellow, pinkish-red, dark magenta, brown, gray.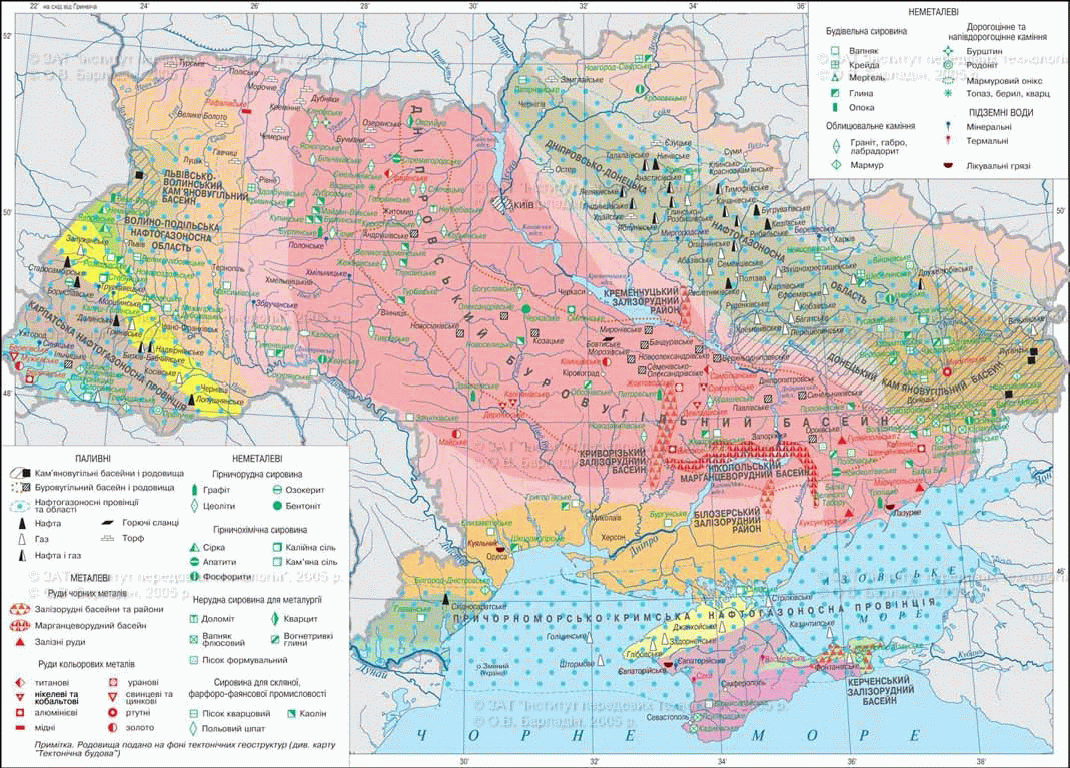 Fig. Minerals
Working with map
1. Find out where in Ukraine mined rock and potassium salt.
2. Name the largest deposit of sulfur.
3. In which regions of Ukraine has deposits phosphorites?
4. Where are the deposits of amber?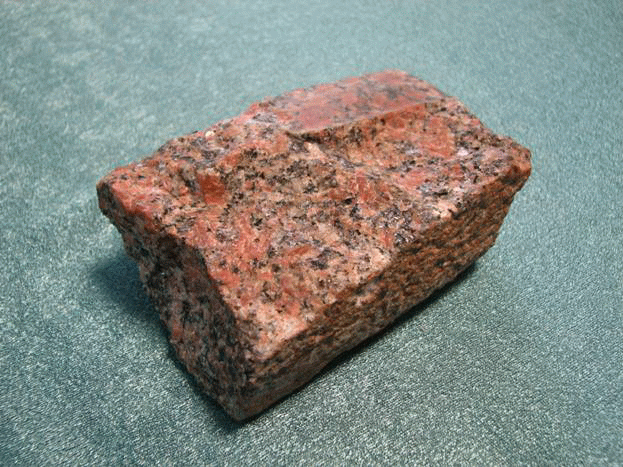 Fig. Granite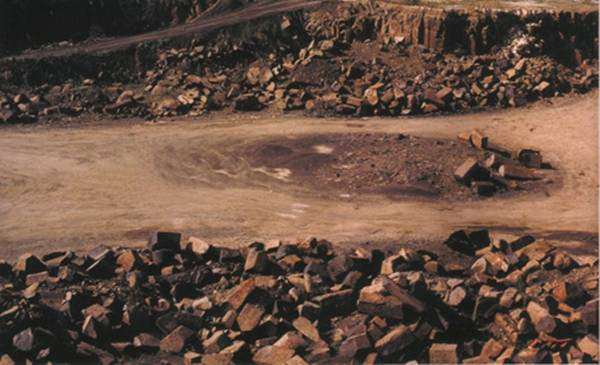 Fig. Granite Quarry, t. Tomashhorod, Rokytnivskyi Mr.
Other non-metallic minerals. Many non-metallic minerals is the raw material for various industries. Refractory clay, flux limestone, dolomite, molding sands serve as non-metallic steel raw materials used in steel smelting. They produce mostly in Donbass, Dnipro, Crimea. Glass sand, ceramic clay, kaolinThat are significant in Ukraine distribution, is the raw material for the production of glass, pottery, porcelain and faience. Ukraine possesses considerable reserves of kaolin, and for his production (18% of the world) behind only the U.S. and Colombia. Stocks high-quality kaolin concentrated in areas that are located in the Ukrainian shield.
A multi-purpose graphite. His deposits are also associated with the Ukrainian shield, most of them - Zavallya (Turkey). Ozokerite has long been known Carpathians, where a long time on the big vydobuvavsya Borislav field (Лvivska region).
There individual deposits in Ukraine precious and semiprecious stones. It lies in the Ukrainian Carpathians and Crimean mountains, Dnieper-Donets cavity, and the most unique field within the Ukrainian shield. There are smoky quartz, rock crystal, amber, topaz, beryl, amethyst, agate, yashmu. In the twentieth century. Diamond finds have occurred, and newly found promising signs in their Azov and on Volyn. Volyn diamonds, according to experts in quality meet the world's most famous Yakut.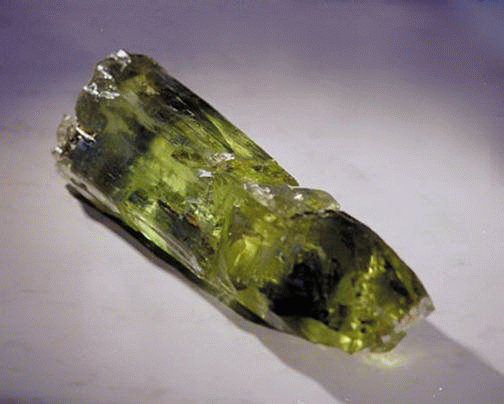 Fig. P'yezokvarts of the Volyn deposit t.Volodarsk-Volyn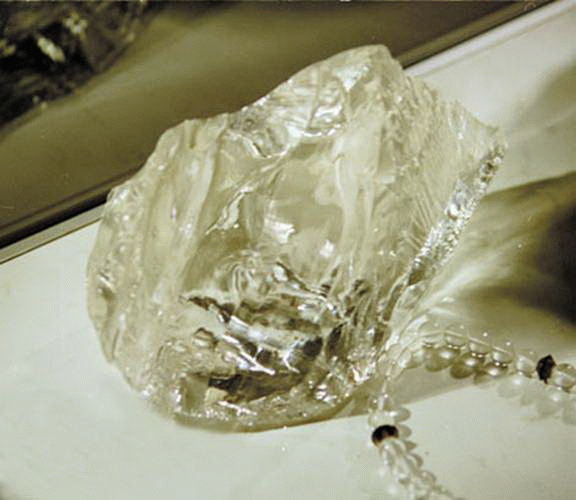 Fig. Beryl of the Volyn deposit t.. Volodarsk-Volyn

Records Ukraine
It is predicted that in the bowels of Ukraine concentrated 1 / 5 of the World Resources graphite - more than 1 billion Of the three hundred tons of detected occurrence of graphite for good studied only five fields, one of which operated. It provides about 4% world production of this resource.

Amazing Ukraine
Hlyniane miracle
Kaolin - white clay, which got its name from the town of Kaolin in China, where he first found. It formed due to weathering of granite and other rocks, so it most extracted at the edges of the Ukrainian crystalline shield. Kaolin is widely use in pottery production and a porcelain-faience industry. Without it does not manage production of paper, soap, refractory bricks, cosmetic and medicines, and plastics.
Hydro minerals. These include fresh, mineral and thermal groundwater water and mud, that can be used for therapeutic purposes.
In Ukraine, a rather large variety of resources mineral water - carbon, sulfide, radon and others. In their total reserves Ukraine is among the leading countries Europe. Most of them are characterized by diversity Transcarpathia and south-western slopes of the Carpathians (known source Svalyava, Polyana, bruises, Kvasy, Shayan), Precarpathians (Truskavets Shidnytsa, Morshyn Shklo), Western skirts (Gusyatin, Satan), Black and Crimea (Kuyal'nyk, Evpatoria, Saki, Feodosia). The best-known sources mineral water in other regions is Khmelnitsky are presented in, Mirgorodskuyuin Poltava region, Berezivsk in Kharkov, Slavic on Donetsk.
Large reserves are concentrated in curative mud salt marshes and lakes Black, Priazovye and Crimea, somewhat lower - in the peat Precarpathians and Skirts. Unlike mineral waters are still little used for treatment.
Thermal water found in Ukraine at different territories, except the Ukrainian shield. They are studied as energy source. Promising for industrial development is hot and warm groundwater plains Crimea and Kherson regionAnd Transcarpathia. While hot water is limited, mainly for medicinal purposes.
General development of mines in Ukraine. Occupying an area of 0,4% of global land, Ukraine end of the twentieth century. to give 5% of global mining. However, its territory belongs to the relatively poorly studied in terms of mineral exploration, therefore increasing the possibility of mineral resources is considerable. It confirm the discovery of new mineral deposits of various kinds (as long known in Ukraine as well as unconventional for her), who were already committed in the XXI Art. Geologists estimate that the diversity and the total value of stocks and predictive mineral resources in Ukraine is among the top ten countries world. Further exploration work can significantly reduce dependence of the Ukrainian economy on imported raw materials. However, holding necessary exploration work often interferes with a lack of funds in the country.
Remember
Ukraine has a large set of non-metallic minerals, which are confined to different tectonic structures. The most popular are various building materials.
For stocks sulfur, salt, facing stone, kaolin, graphite, mineral water in Ukraine is the leading countries of Europe and the world.
Despite the long and significant development of mines of Ukraine, our country is still great increase its capabilities mineral resources.

Questions and Tasks
1. Which non-metallic minerals used as raw material for chemical industry?
2. Where in Ukraine producing construction raw materials?
3. In which regions of Ukraine is mineral water?
4. Exploitation of mineral resources which can start or increase in the near future?
Practical work 3
1. Compare physical and tectonic maps of Ukraine.
2. Set the relationship between landforms, tectonic structures and minerals.