§ 18. Ukrainian art (textbook)
§ 1
8
. Ukrainian art
Remember: 1. What is architecture? What kinds of art you know? 2. What were the features of the Ukrainian Baroque style in architecture? 3. What changes have occurred in the fine Art Ukraine of XVIII century.?
1. Features of Buildings and Fine Arts
Ukrainian art and architecture have evolved at the end of XVIII - first half Nineteenth century. confusing and contradictory. As in other European countries, this time a period of Ukrainian lands spread style - classicism. But classicism in Ukraine has been very controversial for content.
On the one hand, it is quite responsible imperial policy, provided for all urban development activities State official character, regulate the construction of all the buildings single sample, creating an impression routines. Symbolic act in This was the prohibition to build in Dnieper Ukraine temples in "Little Russian style", issued in 1801 Now all church construction was carried out under projects approved in the imperial capitals. Similar procedures exist in city planning. Launched in late XVIII century. reconstruction of Ukrainian cities for the canons to general gradually destroyed their national appearance. Commission in bridge construction Petersburg endeavored to eradicating any national peculiarities Ukrainian architecture, seeing in them the remains of "Little separatism.
On the other hand, within the style were historically progressive construction trend time. Clarity of design, inherent structures of that era, postponed for planning and development of cities, where appeared straight street, square and rectangular blocks.
The first half of the nineteenth century. was very difficult period in the development of Ukrainian sculpture. Glorious traditions old baroque sculptural art gradually disappeared and inferior place of classicism. Negative role played in this and that while in Ukrainian lands existed own arts education. Forced study in the imperial capital, the Ukrainian youth brought from there to his native foreign land impacts.
In the Ukrainian art of the time also gradually evolved elements of classicism. Formed new genres painting: landscape and household. The biggest development came portrait genre. In a true imperial classicism gradually lost its positive features, pererodzhuyuchys the cold, detached from official life style.
Effects of Western European romanticism associated with innovative artists, fostered Ukrainian art. Due to this increased interest in the image folk life, shaken common understanding of the high and low genres in art. Innovative trends contributed to a realistic romanticism direction. Signs of a new period in the development of fine arts Nineteenth century. become increasingly intense separation of secular and religious art.
Lack of their own state and stay under imperial rule led to the specific nature of art achievements of this era. These included works of Ukrainian artists, created as Homeland and beyond. However, evidence of development of Ukrainian art are works of artists from other countries who worked while on Ukrainian lands and left behind great monuments of his talent.
2. Development Architecture
Due to drastic changes provincial cities Naddniprianshchyna, launched in late XVIII century. their appearance has undergone significant changes. Novosporudzhenyh pompous buildings symbolized the power of administrative agencies of the imperial power. The vast most contemporary buildings was built by Russian architects.
Classicism found implementation creativity of the architect Andrew Melenskiy (1766-1833). However under Ukrainian traditions influenced the builders of his architectural work has become original color. During the 1799-1829 biennium He was a major town Kyiv architect. In connection with the return of Kyiv 1802 Human City government for his project was built first in the Ukrainian lands "Monument to the renovation of Magdeburg law." During the development plan Melensky up the city as defined in the future Khreschatyk main street city. He created a new center of provincial administration at the Cave, built the capital city's first home theater. The project architect was held masonry hem after a fire in 1811 Contract house built here Gostinny yard and rebuilt. A perfect natural environment Askold's Tomb "Prompted" the architect of the idea is to construct the mausoleum-monument to Prince Askold.
The greatest architectural structures Kyiv first half of the nineteenth century. was established in 1843 the project architect Vikentiya Beretta(1781-1842) building the University of Kiev. Landmark Church in the classical style of architecture was built in 1833 the project Architect E. Vasilyeva in Kharkiv Assumption Cathedral belfry. Moreover, they built it commemorate the victory over Napoleon in 1812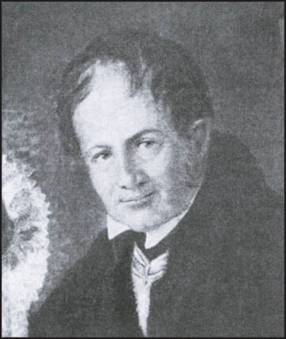 В.Beretta
Was carried rapidly Urban South. Among the buildings which are decorated Sevastopol were building a maritime library of the renowned "tower of wind," Peter and Paul Cathedral and Quay Count.
Palace-park attractions Architecture became the landlords possessions. Most are surrounded by picturesque Parks skillfully crafted with green areas.
A model palace and park architecture, which combined created in the classical style palace and laid on area of over six hundred hectares of park with cobbled alleys, and artificial lawns lakes, was in substance P. Galagan s.Sokyryntsi in Chernihiv.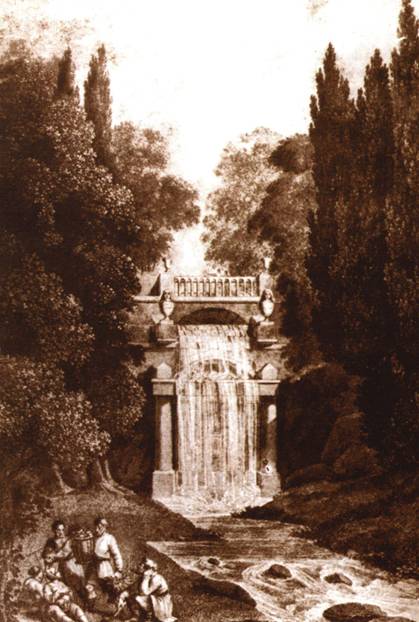 Waterfall in "Sofiivka" in Uman. 1820
The most remarkable parks, which won international recognition, became "Alexandria" in the White Church and "Sophia park in Uman.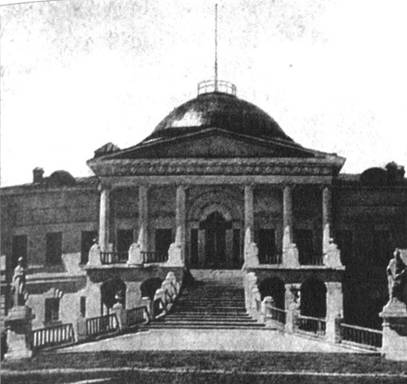 Wealth Galagans in s.Sokyryntsi Pryluckuj
(Now the village Sribnyanskoho Mr. Chernihiv region).
Park "Alexandria" was created during the 1797-1829 biennium oak-aged in the city in a picturesque area along the left bank r.Ros. Systems, lakes, alleys, large lawn, numerous Altan, colonnade and bridges together with a huge number of trees created unique ensemble, which gradually rozkryvavsya while walking park.
Established in the estate of Count Potocki for his beloved wife "Sofiyivka (1796-1809) was the only one among contemporary parks, where there was the palace: it was in Uman. Hundreds count serfs created this wonder-park. Their hands built four artificial lakes, connected by underground channels, made caves, mazes, a rock with large stones, numerous pavilions and bridges. In a green surrounded by trees, imported from Europe and America, was installed marble copies of famous antique statues. Park emphasized the romantic atmosphere of this building name: pavilion in Flora end chestnut alley, grotto of Venus, pink pavilion on the island of love and others.
Most prominent architectural monuments of this period at Western concentrated in. It - Ossoleniumu (1827), the Town Hall at Market Square with a high tower and Clock (1835), the City Theatre (1842) and several residential buildings. Most buildings of the first half of the nineteenth century. created by German architect.
The peculiarity of the church Buildings at Western classical style was a combination of Ukrainian folk traditions. An example of such a combination was built in 50-ies Cathedral in Chernivtsi.
3. The development of sculpture
The most significant Ukrainian sculptor who worked in the then capital of the Russian Empire, was Ivan Martos (1754-1835). He was of the ary towns in Chernihiv Cossack Hetman of the kind. The first lessons carving Martos got home from his uncle, the sculptor. He studied in exile - in the St. Petersburg Academy of Art in Italy. From abroad he returned to the master, the likes of which the empire was not. Martos settled in Petersburg, but ties with the homeland not poryvav ever. Martos was the author numerous marble tombstones, which were the cemeteries of St. Petersburg Moscow, Kyiv, Baturin. In the ancient capital of the Cossack sculptor created marble monument, headstone last Hetman Cyril Rozumovsky. Contemporaries of works Martos said that "his marble weeps, as were full amount of pure sad figure on his tombstone.
The most famous executed sculptor monuments monuments were Minin and Pozharsky in Moscow Lomonosov in Arkhangelsk, Paul I on the estate in Arakcheyeva s.Hruzino, Alexander I in Taganrog, in Yekaterinoslav Catherine II, Potemkin in Kherson. One of the most successful monument thought was the governor-general New Russia, "hradonachalny­ku "Duke de Odessa Richelieu.
A typical monumental works in classical style was set in a picturesque corner of Kyiv, on Vladimir's hill, a monument to Kiev Prince Vladimir. Bronze figure of the prince with a cross in his hand stands on a raised iron pedestal fitted bas-reliefs depicting scenes from the baptism of Rus. The creators of the memory­ни­ka were sculptors V.Demut-Malinowski, P. Klodt and architect A. Tom.
Development of Sculpture Western lands associated with the work of Austrian artists D. Dynasty Shimzeriv and Witwer, who worked in the agency. Best work Witwer consider four fountains in the Market Square with statues of Neptune, Diana, Adonis and Amfitry. Sculptor organically combined done in the style of Vienna classical sculpture of Renaissance-baroque ensemble size and architecture Old Town Hall. Witwer was also the author of many tombstones in Lychakivsky cemetery. Depicted in a quiet movement, filled with sorrow, dignity and greatness Grave figures brought the recognition of talent and sculptor contemporaries descendants.
Highlight of the city were carved composition and cemetery memorials, the authors were to John and Anton Shimzeriv. Bas-reliefs executed by them in scenes from ancient mythology always attract the audience's attention.
4. Development of Painting
At the end of XVIII century. Russian Empire destroyed the cells that Naddniprianshchyna trained painters. It was liquidated art classes at the Kharkov Collegium art school in Kiev-Pechersk monasteries were reduced to the level of craft workshop icon. Ukrainian art that have not inferior best European models, declined.
The beginnings of classical art associated with the work of two prominent Ukrainian artists portrait painting - Dmitry Levitsky(1735-1822) and Vladimir Borovikovsky(1757-1825). Both came from Ukraine, but throughout their lives had work in St. Petersburg. Thanks to his talent earned fame Levitsky Best European portraitist. His most famous portraits adorn European museums: the Louvre Paris, Geneva museum and more. Levitsky as no able to combine great skill with observant and truthful reproduction facial portretovanyh people. Borovykovsky was of Cossack starshyna family from Poltava, artistic education in Ukraine and took only order of Catherine II was forced to move to St. Petersburg. When Levitsky zistariv and began to lose sight Borovykovsky for him in the art of portraiture. Subtle style painting, exquisite range of colors were the master, according to contemporaries, just beautiful. The most famous works Borovikovsky - portraits countrymen who have served in high positions in St. Petersburg - Dmitry Troschynsky, John Bezborodko et al. All his life master of about 160 portraits. His brush are also performed in their native land paintings in churches Mirgorod, and Kybyntsyah Romanovka. In the distant Petersburg Borovykovsky never do not forget about home, stayed Poltava, default, followed Ukrainian customs and dreamed of returning home.
New stage of development Fine Arts at Western is associated with creativity Luke Dolinsky (1750-1824). Born he is in the White Church on the Right Bank, orphaned early. A serious young man's abilities attracted the attention of the Kiev Greek Catholic metropolitan, who sent him to the city, which then were required to master painting newly-built cathedral St. George. Dolinsky got an art education at the Vienna Academy of Art. Upon graduation with honors, master returned to Lviv, where he spent the whole life. In St. George's Cathedral, he performed many of the paintings to other churches City and towns and villages in Western Ukraine. Considered the master and portrait genre, which led to his recognition as one of the contemporaries best portrait. The characteristic features of his creative style was energetic writing style, soft modeling human facial svitlotinnyu, warm colors without brightness and acute psychological characteristic pattern.
In Bukovina and Transcarpathia in that developed mainly during religious painting. Local artists performed wall paintings in churches, icons, illustrations for calendars, but, unfortunately, about most of them little known. The founder of secular paintings in the Transcarpathia considered Joseph serpent-Mikloshiya(1792-1848) with Priashiv. After the Vienna Academy of Fine Arts, worked as a court master Presov bishop. His brushes include also lists many churches in Transcarpathia. But another artist wrote portraits magnificent landscapes, paintings of everyday life with the theme of Transcarpathian peasants.
During the first half Nineteenth century. in Ukrainian art gradually exacerbated realistic trends. Realism - the direction in literature and art, which involves attempts artists give truthful, complete reflection of reality. The first Ukrainian artists in the works which were features of the new style became John Soshenka (1807–1876), Kapitonov Pavlov (1792–1852), Gabriel Vasko (1820-1866). All they got in art education St. Petersburg Academy of Arts, where he has been combining teaching activities, teaching drawing, painting with occupation.
Painter John was one of Soshenka Shevchenko's closest friends, and actively contributed to its redemption from bondage. After the Academy, he returned to Ukraine, where he worked as a teacher draw in schools. In his writings, preserved now known "Portrait of grandmother N. Chaly, "" Portrait of a Woman, "genres" Boys-fishing "," Hay for Sale Dnipro. Considered to be especially successful in Soshenka genre and landscape works, lively By composition, direct, reflecting the artist is seen in surrounding life.
From works Kapytona Pavlov, who came to us, it is clear that the master worked mostly in portrait genre, sometimes enlivening their works mundane details. This is evidenced, in particular, his "Self Portrait" "Portrait of the artist's daughter", "Boy with a dove." However, among his works are and genre paintings ("Children build a card house", "Bondar"), landscapes ("Church of Christ Pantocrator in Poltava"). Was characteristic style of the master decent color palette, realistic style of drawing, interesting chiaroscuro modeling faces of the characters.
Gabriel Vasko earned recognition as portraitist, especially through a series of portraits of contemporary Ukrainian figures, made to order Tarnovsky for his private museum. Special place in a creative heritage of the artist takes the picture "Portrait of a young man of the family Tamara. At its canvas portrait created a sophisticated image of a young artist with palette and brush in hand. It seems that the moment he begins to write a picture and now the only thought on topics that will be the first stroke of his brush.
During the first half Nineteenth century. Ukrainian painting and zhurtovuvav like gathering their forces. Rethinking European painting traditions, Ukrainian artists produce their own style created foundation, which was flourishing in Ukrainian art second half of the nineteenth century.
Creativity Shevchenko believe significant achievement of the Ukrainian art of the XIX century. He is the author of more than 1 thousands of works executed in different genres of art.
Shevchenko way to mastering the art of painting was a challenge. Gifted by nature boy from an early age felt Train to draw. However, at first wanted to do with Mr. boy his servant, but then, seeing his ability, sent to St. Petersburg to learn to be own painter. With help from friends bought Shevchenko from serfdom, and He was trained at the Art Academy.
Among the paintings by the artist In these years, a series of compositions made in ink and watercolor on historical themes ("Death of Oleg, Prince drevlyanskogo", "Death of Socrates", "Death of Bogdan Khmelnytsky). Composed Shevchenko portraits Enhelhardta P., K. Abaza, E. Combs testified that he has achieved excellence in its performance watercolor portrait.
Further work was Shevchenko evidence as gradually establish his talent painter. Recognition among Academy teachers and friends took pictures of his "gypsy-Vorozheya" "Catherine", "beggar-boy gives bread a dog." Along with skillful execution each of these pieces had a social orientation, revealed overt life the truth of national life. In those years there were also "Portrait of an unknown, "Portrait of a girl with a dog", "Portrait of an unknown in the necklace and others. Total Lifelong Shevchenko created over 130 portraits.
Most prominent among them consider "Self Portrait" the artist created in 1841 It was fully Shevchenko's talent as a master of realistic portrait of a certain romantic tone. This work also he proved his mastery of oil equipment painting.
The period 1843-1845 biennium, when Thirteen break after Shevchenko returned to Ukraine, became for him fruitful both in verse and in painting. It was during these years were his paintings "Peasant Family", "At an apiary, a series of etchings" Alive­pysna Ukraine, realistic portraits, sketches a series of mother nature, ancient monuments.
The defeat Cyril Meforiyivskoho Society broke the fate of the artist, who, by personal order of the emperor was soldier exiled to the distant fortress of Orsk "with a prohibition to write and draw. But the ban was inhuman sentence, but for some time he was able create.
Completed in exile in watercolor Landscapes are showing that the talent and soul of the artist is not destroyed. True, emotional and uplifting the image of strict nature of Northern Kazakhstan Shevchenko demonstrated mastery of a mature artist. He owned a virtuoso of drawing, svitlotinnyu, could reveal a peculiarity of the landscape, and delve into the inner world of his characters.
In 1857, after ten-year exile, Shevchenko was freed. Since returning to Ukraine Shevchenko imperial officials denied he was forced to go to Petersburg.
Last, a short time, but extremely intense creative period of his life spent mostly Shevchenko drawing pencil and pen and implementation of etchings (prints on metal when the way its acid etching creates a form to be printed). Artist produced etchings by Rembrandt and paintings Murylyo, created a lot of his own Song ("Ukrainian girls", "Old Man in the cemetery," "Willow" "Manhyshlatskyy garden"). Three years of hard work he earned fame best etcher that period. Recognition Shevchenko was the decision of the Academy Arts give him the title of academician prints.
The creative artist's rise halted untimely death in 1861 Artistic heritage Shevchenko had a significant impact on the works of his contemporaries and subsequent generations of Ukrainian artists.
Questions and Tasks
1. What were the characteristics of architecture and fine art in the first half of the nineteenth century.?
2. Describe outstanding architectural achievements of this period.
3. As a developing art sculpture?
4. Name famous artists first half of the nineteenth century. What was their contribution to the painting?
5. Describe activity Shevchenko as an artist. (Preparing the response, use the documents 1, 2 and paragraph.)