§ 33. Ukrainian literature, art and music in the second half of the nineteenth century. (textbook)
§ 3
3
. Ukrainian literature, art and music in the second half of the nineteenth century.
1. Development Ukrainian literature in the second half of the nineteenth century.
In the second half of XIX century. romanticism in literature was replaced by realism. The latter involved the reflection of reality and environment hero, accurate reproduction of all aspects of life, justification of actions and feelings of characters and psychological social conditions. As in other European literatures, in Ukrainian literature germ realistic style were associated with folklore, with people humorous and satirical stories, as well as ancient literature.
The originality of Ukrainian Literature and designated by the features of Ukrainian Realism. Appeal to national sources, capture etnohrafizmom and long romantic domination views retarded and deformed due to historical circumstances, development literature in the previous period stipulated that his fascination with romanticism heroism of the past, poetyzatsiyeyu strong passions and strong people Cossack era coexisted with realism in the works of writers of the second half Nineteenth century.
Artistic and journalistic works the most prominent figures of Ukrainian culture of the second half of the nineteenth century. containing deep reflection on the then present and future of the Ukrainian people, reflect the historical deeds of the past struggle for acclaim Ukraine's independence.
The transition from Romanticism to Realism It is evident Vovchka writings of Mark (Mary Vilinskiy-Markovic, 1834-1907). She continued the theme of Taras Shevchenko, devoted to the situation pokripachenoho peasants, especially women (Odarka "," Horpyna "," Cossack Woman "). By means of folklore writer took advantage of in fairy tales and stories for children.
Destiny simple peasant woman took care of in his works Periwinkle Anna (1828-1911). Populist ideology and educational Confessions Rudanskyi Stephen (1833-1873). Popularity of his humorous "Spivomovky, where the intertwined national and social observation. Well known schools Fable Leonid Glebov. In Bukovina Fedkovich George (1834-1888) combined influences of Western poetry Bukovynian folklore.
Realistically depicted history Ukrainian village Nechuy-Levitsky, Ivan (1838-1918). In the story "Nicholas Jerome" shown wandering peasant escaped from serfdom, and the story "Kaydasheva" with love and pain of native people solved poverty and limited agriculture life. The most prominent social novel of its era "do not roar when mangers full "(" naught force ") wrote Panas Mirny (1849-1920) with his brother John Bilyk.
Neperevershynym property Ukrainian literature was the creative genius of writer Ivan Franko (1856-1916). Mastery style zlobodennist problems wealth of genres and wide-ranging topics, and active public position in distinguished Franko history of Ukrainian culture. From romantic and domestic realism writer moved to realistic, emotionally saturated works of zrivnyavshys prominent writer of Western Europe. Prose works, including "Borislav laughs, "Zahar Berkut", children's stories were Franko textbook. As for poetry, then, say, a series of "Autumn Thoughts and" Card love "poem" Oh, girl, walnut zernja ... "and other artists vyvyschuvaly nayuslavlenishyh band lyrics the world.
2. Fine arts development
Significant changes in social, political, economic life of the late nineteenth century. contributed consolidation trends in the visual arts to display realistic world.
Under the influence of populists realist painters created the Association of Traveling Art Exhibitions, which set a goal to extend the art to the masses. The ideological foundation of the artists Wanderers was critical realism, that is a realistic reflection of vices social and political life.
Among the artists and Wanderers adherents of other artistic movements were many Ukrainian origin and soul who were fascinated by Ukraine and in his work sought to recreate landscapes Life, the national character of the Ukrainian people.
One of the most brilliant artists was Ukrainian origin Elijah Repin (1844-1930), author of famous paintings Ukrainian themes: "Cossacks Writing Letter to Turkish Sultan", "Vechornytsi" et al. That inspired him to write Zaporozhets, painted: "damn people?? Quantity light of everyone No one is so deeply chuvstvoval freedom, ravenstva, brotherhood! Vo whole life Zaporozhye remnant freely, nobody podchynylos not? "
Love to Ukraine and its people evident in the work of Mr. Makovsky ("fair in Poltava," "Holiday Day in Ukraine "), the famous marine painter Ivan Aivazovsky (" Milky Way "," Wedding in Ukraine), M. Ge et al.
Finally, in the circle of Russian Artists gradually formed group of artists who launched an independent development of Ukrainian art. Among them - S. Vasilkovsky (1854–1917), M. Pimonenko (1862–1912), M. Samokysh (1860–1944), K. Trutovskogo (1826–1893), A. Slastion (1855–1933), I. Yizhakevych (1864-1962) and others. In 1887 Ukrainian artists have created art exhibitions Kyiv Society (Organizational oformylosya 1893) and 1890 Odessa - Society of South artists.
Also formed Ukrainian artistic centers - Kharkiv, established the first professional woman painter Mary Rayevska-Ivanova, Odessa led Kyr'yanom Kostandi and Kyiv with painting school of ants.
Ukrainian artists were not only focus more on everyday topics of the Ukrainian village, but also seek to historical themes, including the heroic events of the Cossack era. One of the greatest Ukrainian artist, connoisseur of folk art and ornamentation was Sergei Vasilkovsky. With historians Yavomytskyi D. and M. Samokish artist worked on the album "The Ukrainian antiquity. His paintings reflect the historical theme of heroic and romantic past: "Fight the Cossacks and Tatars", "The election of Colonel Martyn Pushkar, "Rugged Zaporozhye liberties and others. Vasilkovsky gained worldwide fame landscapes in which to display the beauty and grandeur of his native land: "Spring in Ukraine" "By managament", "After the Rain," "off road", "Sunset" and others.
Another prominent Ukrainian artist - Nicholas Murashko(1844-1909) was not only a painter, but also a teacher, leaders of the Ukrainian art. Since 1869 He taught painting in Kiev's secondary schools, and 1875 opened of the Drawing School, headed for 25 years. Financial support provided school owner refineries Ivan Tereshchenko. By years of school, with its walls were such prominent artists as M. Pymonenkao, A. Murashko Yizhakevych I. et al.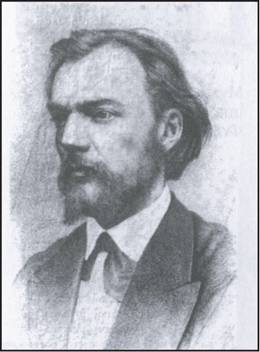 Murashko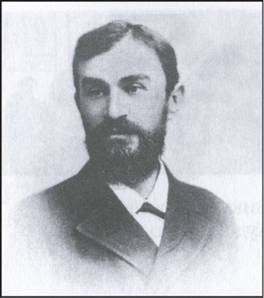 I. Tereshchenko
Among the artists of the Ukrainian period should also be noted Nicholas Samokish, One of the most famous battle. He studied in Paris and set himself to play the historical events and national peculiarities of the life of Ukrainian people. Thus emerged a number of battle paintings of Cossack era.
Art canvas Nicholas choicesIn which the poetic eulogized Ukraine and its people, not once exhibited abroad. Such pictures, as the victim of fanaticism, "" horse thief "," Recruits "," Far East "and others. exposed the darker aspects of the then Ukrainian village, obscurantism autocracy.
To popularize the achievements Ukrainian art and graphics were important museums. Kyiv Museum antiques and arts and Odessa City Fine Arts Museum was founded 1899, Kharkiv City Art Museum - 1886, Feodosia art gallery Aivazovsky - 1880
The development of Ukrainian art troubled authorities, who, seeing in it a manifestation of "Mazepa", began do it all obstacles.
In Western Ukraine development of Ukrainian art was held in difficult circumstances. Polish, Austrian and German art school that dominated the art Austria-Hungary, academism promoted, based on a classicism, prevented formation of the Ukrainian art school. But here, the artists chosen the theme of folk life and crafts. The first who addressed this subject was K. Kostyyanovych (Boykovskaya pair, the insurgent near the source, "Shevchenko in exile ").
Among Western artists of the second half of the nineteenth century. should note I. Trush, O. Kulchytskyy A. Kurylas, A. Manastyrsky, J. Pihulyaka, N. Ivasyuka et al.
Ivan Trush (1869-1941), udavshys to the revival of Galician art. His artistic legacy is more than 6000 pictures. Works Trush marked conciseness and simplicity of composition. In 1898 on his initiative was established development company Ukrainian art, whose goal was the popularization of Ukrainian art.
The process of establishing realistic took place in sculpture. The most important Ukrainian sculptor of the second half Nineteenth century. was L. Posen (1849-1921). In Small sculpture he created various social types of people (Shynkar, Kobzar) and reflected the social phenomena ("Settlers", "beggar" "Plowing in Little Russia"). In addition, Pozen was fond of historical subjects. His very popular work "Skif", "Cossack in intelligence." Another master - P. Zabila (1830-1917) performed the marble portrait of Taras Shevchenko in Chernihiv for the museum. Plaster copy the work introduced in Ukraine. World fame earned sculptor Michael Parashchuk. Together with Anton ashes he created Adam Mickiewicz Monument in Lviv famous are his sculptural portraits of Ivan Franko, V. Stefanik, Lysenko, S. Lyudkevicha.
Sculptors Ukraine tried their force and in monumental sculpture. Sculptor M. Mikeshyn (1835-1896) created in 1888 monument B. Khmelnitsky in Kiev.
3. Architecture
The second half of XIX century. in architecture of the influence of various historical styles and trends that combined in one building. This combination (eclecticism) and was the most characteristic and urban public housing. Then in the construction already started massive use of new technologies and materials (concrete, iron, concrete etc.).
Among the areas of architectural distinguished Viennese art Neorenaissance and French renaissance style. Neorenaissance spread in Western countries get Chernivtsi, Lviv, Kyiv, Odesa, Kherson, Kharkov and other Ukrainian cities. Is most typical of facilities of City Theatre (Kyiv, Lviv, Odessa) and public buildings.
The most significant achievements distinguished architects A. Beretta (Vladimir's Cathedral, home of the First Gymnasium in Kyiv), V. Schroeder (the opera house and theater in Solovtsova Kiev), P. Hlavka (house of residence in metropolitan Bukovina Chernivtsi) I. Hohberhera (Galician house of the Diet), V. Sadlivskyy (railway station in Lviv) and others.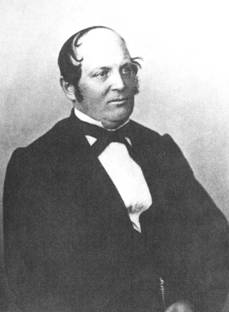 O. Beretta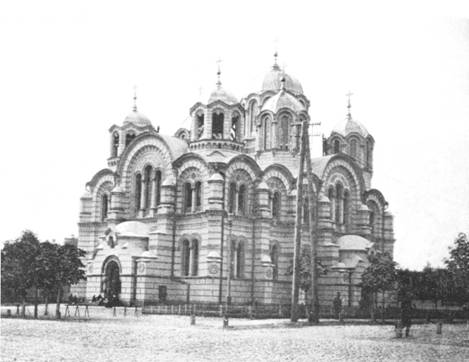 Vladimir Cathedral. The end of the nineteenth century.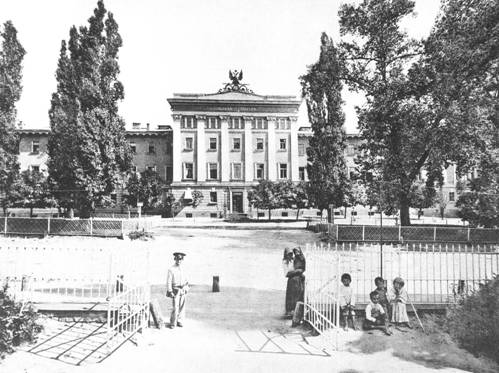 Home Kiev male high school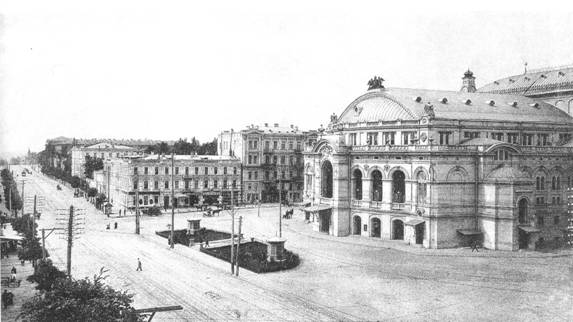 Operatic theater. The beginning of the twentieth century.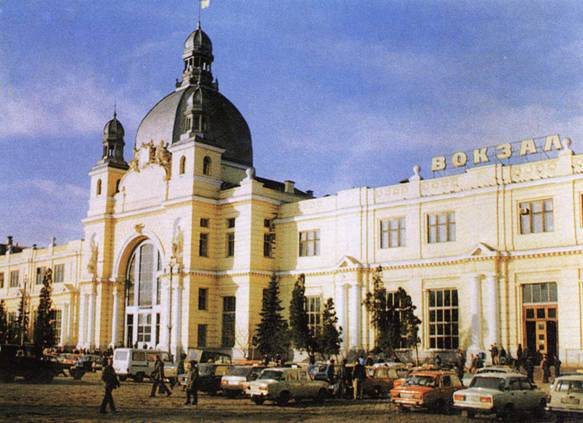 Lions. Railway station
In late XIX - early XX century. based on folk art and Ukrainian Baroque revived Ukrainian style. A prominent architect of this direction was Vasily Krichevsky (1873-1952) - author of the Poltava zemstvo house, a number of projects public and private buildings, the Memorial Museum at the grave of Taras Shevchenko. By John Lewinski project (1851-1919) and other architects in Lviv erected buildings insurance company Dnister, Bursa Ukrainian Pedagogical companies, academic home school and others.
4. Theater. Musical Life
Despite government persecution Ukrainians in the second half of the nineteenth century. Ukrainian dramatic art continued to develop. Ukrainian plays staged at the scenes of Russian theaters enjoying great popularity and fame did the actor Ukrainian Russian theater.
In 1881 Interior Affairs of Russia Loris-Melikov Ukrainian plays ended the ban, which contributed growing number of theater troupes and the revival of Ukrainian theater. But this permission was arranged various restrictions. Thus, banning put plays on the historical and social subjects, translated plays. Ukrainian corpses were required performances together with Ukrainian and Russian have put on an equal number of actors. These ban negatively affected the subjects Ukrainian plays, which limited coverage of village life.
Late 70's culminated in the formation of modern, professional, actually Ukrainian theater. He appeared at the amateur groups, operating in 60-70 years. In 1882 by M. Kropivnitskogo Elizabethgrad created first Ukrainian professional troupe, which included M. Sadowski, Zankovetskoy, A. Markov, I. Burlaka et al. After the tour to Kyiv 1883 troupe to join Kropivnitskogo amateur troupe Starytsky, who headed the theater.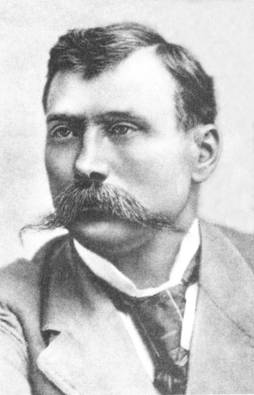 M. Sadowski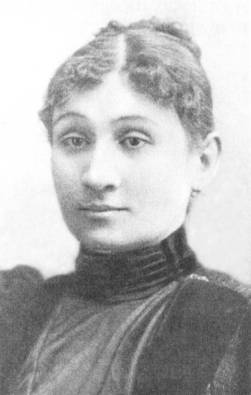 Zankovetskoy
Despite the recognition and audience theater professionals Ukrainian theater life was difficult. In 1883 Kyiv Governor-General banned for 10 years touring troupe Kropivnitskogo in Kiev, Chernigov, Poltava, Volyn and Podolsk province. To ask the question why the Ukrainian Theatre allowed to perform in St. Petersburg and Moscow, but forbidden in Kyiv replied: "There's a theater - arts here - politics."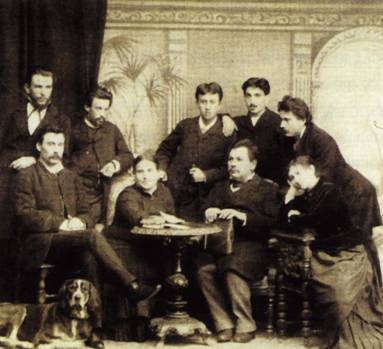 Troupe the first Ukrainian professional theater under the direction of Mark Kropivnitskogo. 1886
But stop development Ukrainian theater has been impossible. In the 80's 90's acted about 30 small troupes, which put Ukrainian plays. In 1891 in Kiev was founded first permanent theater.
Fruitfully in the field of drama worked Michael Staritsky (1840–1904), Marco Kropiwnicki (1840–1910), John Tobilevych (Karpenko-Kary, 1845-1907). The best playwrights were also leading directors and managers theater company.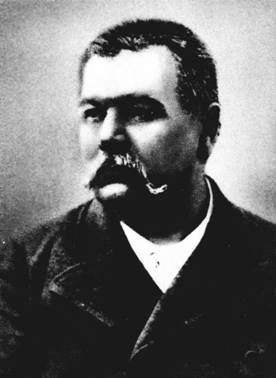 M. Kropiwnicki
M. Kropyvnytski wrote over 40 original or adapted works from other plays in which play life of Ukraine and its dependent position. Subtly popular feeling life he gave a very lively and funny scenes from people's lives.
In Western Ukraine Ukrainian professional theater was established in 1864 actor and director A. Bachynskyi of cultural and educational organizations Ruska conversation. In 70-ies theatrical figures of the Dnieper Ukraine, in particular M. Kropiwnicki, gave him much help. In 1869 any amateur theater groups at Chernivtsi Ruska conversation. Notable raising Performing Arts was established in 1884 contributed S. Vorobkevicha Ruska literary and dramatic society.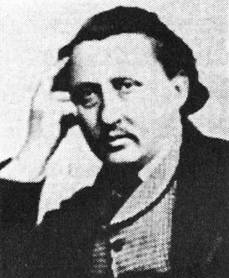 A. Ermakov
The development of literature and theater in second half of the nineteenth century. provided a powerful impetus to the process of creation national classical music. In 1862 S.Gulak-Artemovsky wrote the first Ukrainian opera Cossack beyond Danube. Ukrainian composers inspired by the works of prominent Ukrainian writers and poets, including Taras Shevchenko. Shevchenko's play "Nazar Stodolia induced P. Nischinskogo write to her music box - "Vechornytsi, with popular song is born "and bound him cuckoo gray.
The second half of the nineteenth century. in Ukrainian music was sometimes putting folk songs in professional musical culture. There was not just playing folk music, and raising it to highly professional level, the transformation of modern songs in the European understanding of music. Significant impact on the Ukrainian little classical music choral art - as Galician and Naddniprians'ke.
Founder of the Ukrainian classical music was M. Lysenko, who wrote the great opera "Christmas Night", "Recessed", "Natalka Poltavka, "Taras Bulba," Aeneid "operetta" Chernomorets ", an opera for children" Mr. Kock, "Koza-" etc., which were based on extensive ethnographic material. He set to music almost 80 works from the "Poet" Shevchenko. Created Lysenko version of "Testament" Shevchenko we sing now. A "Prayer for Ukraine" became the spiritual anthem.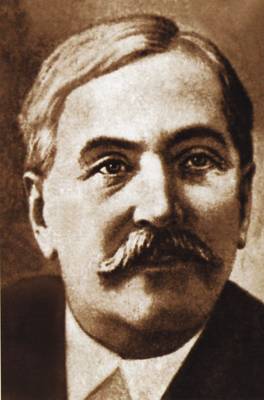 Lysenko
Value for Ukrainian Lysenko musical culture is huge, as the creative achievements. With a brilliant professional training (he studied in Leipzig and St. Petersburg), he managed to enter it into the modern great music ethnographic material. His works he first tried summarize the period of national music. Lysenko formed and enriched almost all available in the Ukrainian creative music genres. His theoretical works in folklore it has developed a national science on people's musical creativity, and teaching activity laid the foundation of higher specialist music education in Ukraine.
In Western Ukraine, it should be noted art M. Verbitsky, I. Lavrovsky Vorobkevicha I., A. Vahnyanyna et al.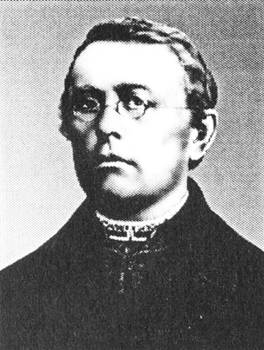 M. Verbitsky
Great value for the formation national identity was at Western art Mikhail Verbitsky (1815-1870). He sets to music Shevchenko's "Testament" has become very popular in Galicia. A music to a poem by P. Chubynsky "Ukraine has not perished" was the Ukrainian national, and since 1992 - the national anthem of Ukraine. Verse Chubinskogo "It is not dead Ukraine "appeared in 1863 in Lviv periodical goal. Just the same Verbitsky made a music composer, next year the choir has performed it in Lviv Ukrainian Theatre, and 1865 it completed the program Shevchenko holidays in Przemysl.
Thus, the second half of XIX century. was difficult and controversial period in the development of Ukrainian culture. Despite the difficulties, the culture was enriched by outstanding achievements in virtually all major industries.
Questions and Tasks
1. Prepare on the basis of paragraph comprehensive plan the theme: "The development of Ukrainian culture in the second half Nineteenth century. "
2. What qualities were inherent Ukrainian fine art of the late nineteenth century.?
3. What are the reasons for establishing Ukrainian art realistic image of the world.
4. What prevailed in the themes of Ukrainian literature of the late nineteenth century. and why?
5. What is the impact on development Ukrainian culture was the king's government policy?
6. What's new in architecture of the second half of the nineteenth century.? Why in the nineteenth century. was not produced the same architectural style?
7. Describe the development Ukrainian theater and music. What had caused them to bloom in late Nineteenth century.?
8. Name the leading Ukrainian Describe the musicians and their works.
9. What is the role of Lysenko in the formation Ukrainian classical music?