§ 41. National ekolohichnamerezha (textbook)
Theme 21. The use and protection of natural environment and natural resources
§ 41. National Ecological Network
1. Remember what the purpose create protected areas.
2. What are you known environmental Territory, created in Ukraine?
Legislation of Ukraine on Nature. We live on the rich and beautiful land. Its nature is not only resource wealth, but also the environment of life, the source of their health and inspiration. It is important to keep its wealth to worry about the cleanliness and preservation of lands, waters, forests and grasslands, protect flora and fauna.
Conservation - It measures aimed at preserving and reproduction of nature as separate components and their combination in natural-territorial complexes (PTC). Environment in Ukraine has deep historical traditions. People have long been protected objects of unusual beauty - healing springs, lakes, waterfalls, rocks, trees, some old trees, which are often considered sacred.

Amazing Ukraine
Princes environmentalists
In Kievan Rus in the times of Yaroslav the Wise (XI). has its first environmental document, which limited the destruction of animals. Prince Vladimir in Volyn XII century. command will shoot for Bialowieza of bison (it became the world's first documented reserve now The territory of Belarus).
Conservation work in Ukraine more active in the nineteenth century., significantly enhanced when human impact on the environment. In 1883 owner of the estate in steppe of Ukraine Friedrich Fold-Fein allocated areas to protect plants and wildlife, preserving virgin steppe of plowing. It was the first protected area in Ukraine, which later became a state nature reserve "Askania Nova. Great number of protected sites there are years of independent Ukrainian state.
Today, Ukraine has established regulatory framework conservation and environmental protection. Environmental and environmental legislation covers more than 200 laws and other state acts. The main laws are "On Environmental Protection" (1991), "On Nature Reserve Fund (1992)," On Protection air "," On Flora "," About fauna "and others.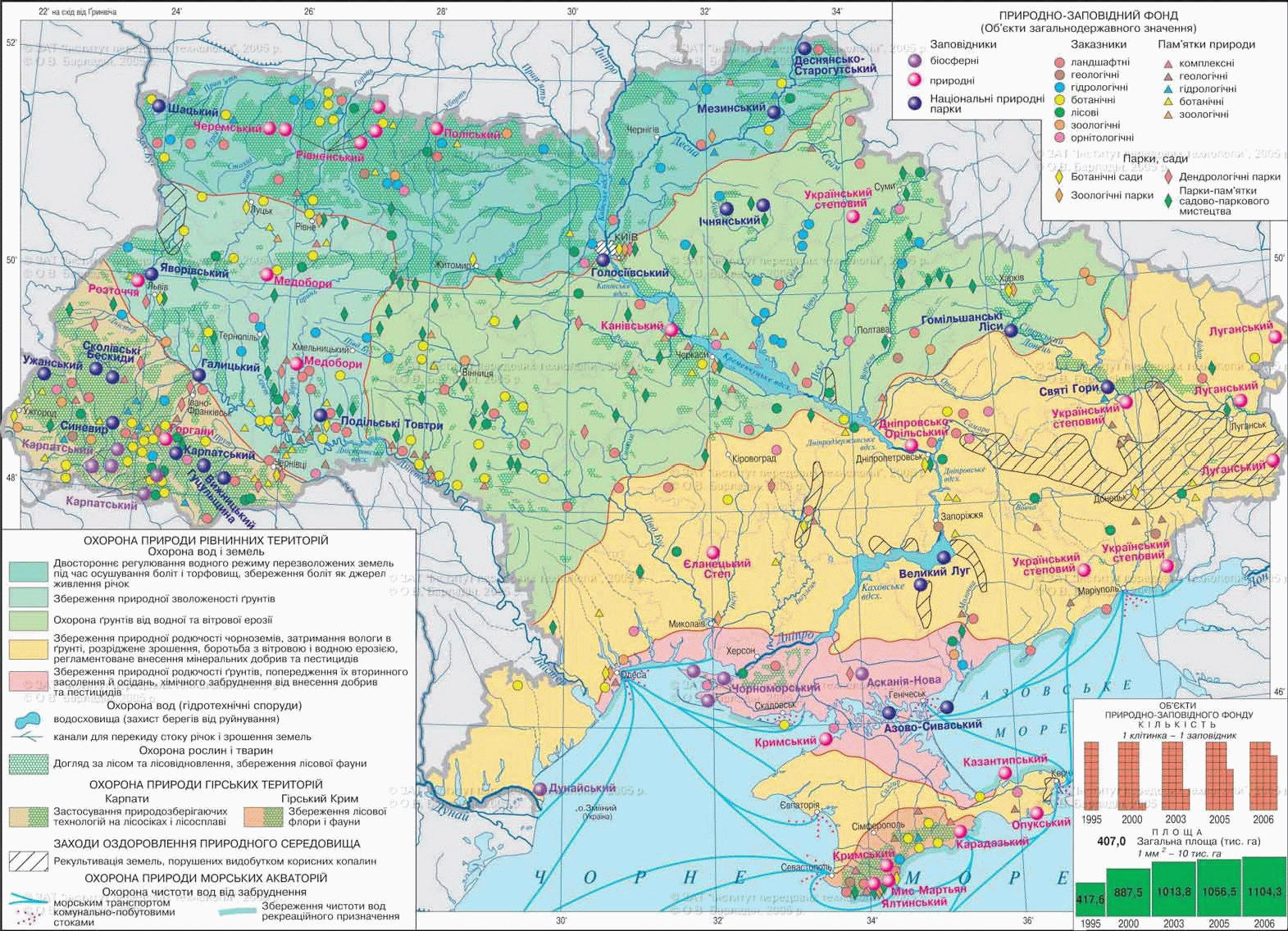 Fig. Conservation
National Ecological Network. At the end of the twentieth century. the main task of environment protection in Ukraine, as in the world, became not only the preservation of individual species and valuable ecosystems in limited areas, but also create a healthy Environmental rights, preserving and enhancing biological and landscape diversity, improvement of environment. This corresponds to the idea Sustainable (Balanced) development, which was proclaimed by the UN in 1992 and supported by governments around the world. From this end they created national ecological network.
State program to establish national ecological network in Ukraine was adopted in 2000 and calculated for 2000 - 2015 According to this Environmental network Ukraine has become a complex system of different size protected areas that would cover as much of the country. The main elements ecological network is the so-called key areasProviding preserve the most precious and typical for the region components landscape diversity. These include existing facilities protected areas.
Nature reserve fund - A areas of land and water, natural systems are of particular environmental, scientific, aesthetic, recreational value. Now he has about 7,3 thousand areas and sites totaling 2.8 million hectares, which is 4.7% of Ukraine. It covers 11 categories of facilities and territories national and local levels.
У reserves oberihayutsya all items natural complex (and water and rocks and soils, and plants and animals) carried out research work on studying the development of processes and phenomena and prohibited any economic activity. In Ukraine there are 4 Biosphere Reserves, is that international institutions ("Askania Nova, Carpathians, the Danube, Of Black Sea) And 16 Natural Reserves national importance. As you know, reserves established in all major PTC - zonal, mountain, river flood plains of large rivers, Crimea's southern coast, coasts and waters of the seas.
National parks - Is protected, recreation and research institutions that are established to preserve and restoration of natural systems and are of great value to the rest of people. In Ukraine, 17 national parks, the oldest among them is CarpathianPlaced the highest mountain range. Most parks in the Carpathians and the forest area, very little forest and steppe.
Recently in Ukraine began to create regional landscape parksWhich is environmental and recreational facilities of local or regional value. Total of 46, but the first was "Dniester Canyon"(Ternopil region). They are distributed in almost all regions of Ukraine, the largest - in Donetsk. In national parks and regional parklands outside their own protected areas is made of local economic activity population.
ZAKAZNIK - A nature-protected sites designated as such to store one or more species of plants or animals, some components Nature. Among them are distinguished landscape, forest, botanical, zoological, hydrological, geological, and others. They are prohibited only those types of business activities that affect the destruction of species protected. Reserves in Ukraine more than 2.7 thousand, and they are among the largest area of protected territories.
            

For some of the unique natural formations announce their natural monuments.
They may be caves, geological outcrops, hills, river islands, some trees, and other sources. They are in Ukraine, almost 3 thousand Natural landmarks, 

which

 in Ukraine, about 800 - is protected forest, prairie, marsh and other separate entire landscapes.
In protected areas also include four category of artificial objects. Botanical gardens intended for acclimatization and breeding of rare and common species of local, national and foreign flora through the creation of botanical collections. With 20 botanical gardens Ukraine the most famous and richest in species composition is Donetsk, Nikita and Kharkov gardens and Kiev Universities. Dendrological Parks created to preserve various species of trees and shrubs and their compositions specially trained conditions. The oldest and most famous among them - "Alexandria" (White Church, Kiev),Sofiyivka" (Uman, Cherkasy region),Trostyanets"(Chernihiv oblast). Important and valuable specimens park construction announced park monuments garden art. Very often they are combined with palaces (Alupka Park Crimea, Podgoretsky Lviv region Kachanovsky in Sumy region, etc.).. Most of are created in small towns and villages. In Ukraine is the 13 zoological Parks, The largest of which - in reserveAskania Nova" Kyiv, Mykolaiv.

Records Ukraine
The largest reserve is the Black Sea in Ukraine area of 57 thousand ha, located between the Dnieper-Bug estuary and Karkinit bay. On its territory, chopped estuaries and the hair grows over 600 species of steppe plants, through stretching migration routes of waterfowl.
Other elements of ecological network. In the future, in ecological network of Ukraine, but core areas, should also include connectors and buffer area. Joining territory or ecological corridors formed elongated areas, linking together key areas and provide migration of animals. In Ukraine the necessity of multiple pulse meridional and ecological corridors. Latitude is Polessky forest, Galicia-ARCHIVE forest-steppe, Southern steppe and Seaside coastal; Meridional - Danube River Valley, Dniester, Southern Bug, Dnipro, Seversky DonetsWhich serve as ways bird migration.
Buffer area located around the key and connective areas and protect them from the negative impact of economic activities that occurs on adjacent lands. It can be the pastures, hayfields, forests, rate and arable land with very safe farming (Including without fertilizer application).
Pan Ecological Network. Ukraine is an active member of the Pan-European strategy for biological and Landscape Diversity, adopted in 1995 Its main direction is building ecological networks of individual countries and Europe. Ukraine plans to 2015 double the share of protected areas and to enter this Score the top ten European countries. It also foresees a combination of national ecological network of ecological networks through adjacent countries creation of joint border ecological network elements. The first steps in this direction has been done: Ukrainian-Polish-Slovak Biosphere Reserve "Eastern Carpathians" (Where the Ukrainian side went Uzhanskyi national park) And Ukrainian-Romanian Biosphere Reserve "Danube Delta" (With Danube Biosphere Reserve in stock). Such border elements Pan ecological network to be established in Poland, Belarus, Russia and Moldova.
Large role in creating international environmental network should play latitudinal and meridional ecological corridors, and they - biosphere reserves.
Remember
The main objective of environment protection in the XXI century. is the preservation and enhancement of biological and landscape diversity, improving the environment, creating a healthy environment for humans.
In Ukraine, formed national ecological network, which covers the key, connecting and buffer areas.
In key areas include 11 categories of objects protected areas: biosphere and natural reserves, national natural and regional landscape parks, protected woodlands, natural monuments, botanical gardens, arboretums, park monuments of landscape architecture, zoos.

Questions and Tasks
1. What tasks facing environmental affair of Ukraine?
2. What form of national environmental network?
3. What is the nature reserve fund?
4. Describe the nature reserve Fund of Ukraine.
5. What are the main natural protected areas in within environmental corridors in Ukraine.
6 *. Give a description of a national Parks Ukraine.
Practical work in July
1. Identify the regions with the highest number of pollution of air, water, soil.
2. On the outline map mark the reserves and national parks Ukraine and sign their names.