§ 15. Fuel industry (textbook)
TOPIC 10. FUEL AND ENERGY COMPLEX OF UKRAINE
§ 15. Fuel industry
1. Remember that fuel and energy resources is available on Ukraine.
2. In what fields and deposited pools and fuel minerals in Ukraine?
Branch structure. Energy complex (TAC) - a group of facilities are extracted and processing all types of fuel, produce and beforeyut electricity. It - one of the leading complexes on the level of which depends on the state of all other industries hospodarsTBA and people's welfare.
In Ukraine, as the FEC is developing its own fuel resources, so and brought (oil, natural gas, coal). The structure of coal reserves of fossil fuels is 95,4%, oil - 2,0%, natural gas - 2,6%. To meet the needs of economy and population of Ukraine in PAlyvi and electricity to about 300 million tons of standard coal per year (1 tons. Mr. equals 7000 calories, about corresponds to 1 ton coal). At his own fuel resources they need satisfied about a third.
Basic power and energy sector of Ukraine - Fuel and power. Fuel industry is represented by Vuhilnoyu, oil and oil processing, hathe phase, peat areas. The leading place among them is coal. In the structure of fuel production in Ukraine Coal accounts for almost 75%.
COAL INDUSTRY. Coal Industry Ukraine based on its own resources and Donetsk Lviv-Volyn coal and Dnieper burovuhilfoot pools. Annually produced about 75 - 80 million tons of stone and 1 million tons of brown coal (in the period crisis production volumes decreased more than 2 times).
The main coal base country is Basin, which produced 95% coal, including all coke, which serves the metal fuel, and high-calorie Energy Fuel - Anthracite. Pool operated more from XVIII — XIX Art. The difficulty in extracting causing high cost of coal, and outdated equipment and gassed layers increasedards accidents in the mines. Became urgent in the closing nerenScheduled and reconstruction and opening High mines. CarbonsTo Donbass used for the needs of industry, energy and other industries of Ukraine and partly for export border (coking).
Coal Lviv-Volyn Basin through You are the best conditionsproduct of less than Donetsk. But it is inferior and used as energy fuel for the needs of economy and population Western part of Ukraine.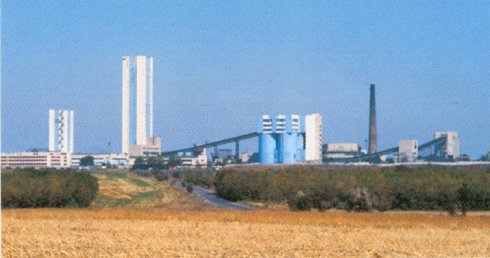 Fig. Mining town - Ugledar
Brown coal Dnieper Basin extracted mainly fromindoor method because the layers are deposited close to the surface. Due to low calorific value it burned for Electricitytsiyah and used to heat homes.
To ensure their own needs, Ukraine imports about 10 million tons coal annually (Mostly from Russia, Poland and Kazakhstan). This Import can be reduced provided coal for its own reconstructionindustry.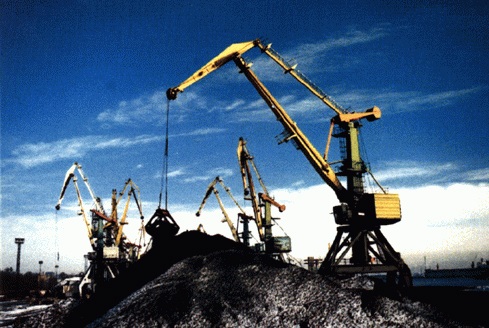 Fig. Biggest Ukraine vuhlevantazhnyy complex, Mariupol
Oil and Gas INDUSTRY. Oil industry development in Ukraine since the XIX Art. and gas - since XX Art. Within the production of fuel oil is 5%, and gas - 19%. In recent years in Ukraine produced an average of 4 million tons oil (10% of necessary) and 18 bln cubic meters3 gas (1 / 4). The maximum runningnicks data mining fuels were in the first half of the 70's XX Art. (1Z respectively - 14 and 61 million tons - 69 billion m3). For the purposes of economy of oil imported from Russia and gas - from Russia and Turkmenistan.
Oil and gas is done in the Carpathian, Dniprovsco-Donets and Black sea-Crimean oil and gas rayonah. The largest production is Dnieper-Donetsk region (Roment of oil - Zachepilovsky, Hlynsko-Rozbyshivske, Kachanivske, Lelyakivske, Anastasiyivske; Gas - Shebelinske, Yefremivskyi, Khrestyshchenske et al.).
У Carpathian region (Primarily Carpathians), due to intensivefoot Use fields in previous decades, oil and gas decreased significantly. The largest oil field - North Lowske, Bytkivske; Gas - Rudkivske, Bilche-Volytske, Uherske(Use-PAUSE as storage facilities).
Increases in gas production Black sea-Crimean area. Already commissioned more than 80 fields, the largest - Giankoyske, Hlibovske, Olenivs'ke. Ukraine has promising oil-square - on the Black and Azov Seas (begins industrial development Storm and Golytsinskoe gas fields), in our region, Volyn-Podolsk district.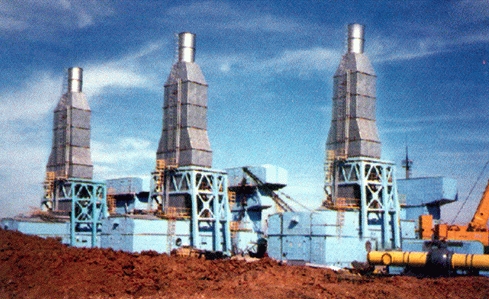 Fig. Gas compressor station Tarutine, smt Tarutine
In Ukraine has strong oil refining industryThat out underloaded raw materials. The largest plants are in Baldchansku, Kremenchug, Drohobych Nadvornaya, Kherson.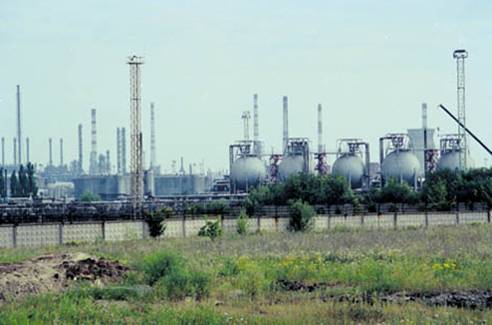 Fig. Lisichanskiy Refinery
For consumption and imports of natural gas to Ukraine is world leaders, including acute is the problem uriznomanitnenof external sources of these species fuel.
Prospective suppliers of oil to Ukraine can be Azerbaijan, Kazakhstan, Gulf, And gas - Iran. However, this problem solving prevent inadequate development of a modern transport infrastructure (Pipelines, Nafsilicon production terminals in the ports, tanker fleet.) However, in recentkincheno construction oil terminal "South"Near Odessa Oilwire Odessa — BrodyBy which Pre-Caspian Sea oil may transported both in Ukraine and in Europe.
Peat INDUSTRY. Torfyana Industry (Peat extraction and production torfobry-Ket) in Polesie and widespread in northern steppe zone. In-placetion of fuel peat is used in agriculture improving soil fertility.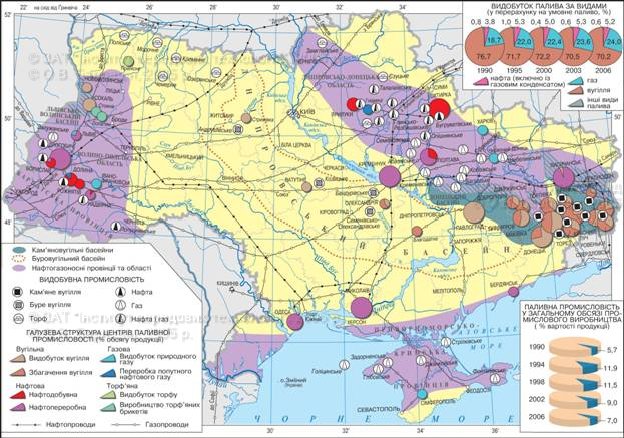 Fig. Fuel industry
Remember
Energy Sector (TAC) - a group of facilities are extracted and processing all types of fuel, produce and beforeyut electricity. In Ukraine, the FEC develops as a fuel on its own resources, so and brought.
Fuel industry of Ukraine is represented Vuhilnoyu, oil and oil processing, hathe phase, peat areas. The leading place among them is coal.

Questions and Tasks
1. Why in the structure of fuel production in Ukraine coal cutting prevails?
2. Give characteristic of a fuel industry in Ukraine.
3. What there are problems in the development of fuel industry in Ukraine?
Practical work in June
1. Check in contour map of the main areas of carbon-, gas and oil production, oil and gas pipelines.
2. Please sign their names.