§ 17. Siderurgy (textbook)
TOPIC 11. Metallurgy UKRAINE
§ 17. Black metallurgy
1. What are the minerals belong to the ores of ferrous metals?
2. Where they are common in Ukraine?
VALUE steel industry. Metallurgical industry together businesses that consistently exercise extraction, enrichment and metallurgical processing of ores Chornyh and non-ferrous metals and non-metallic materials (ie зв. flux and refractory materials), production of pig iron, steel, nonferrous and torohotsinnyh metals, alloys, rolling mill recycling (scrap). Major customers steel industry is the engineering, construction, transport.
Metallurgical industry consists of ferrous and nonferrous metametallurgy.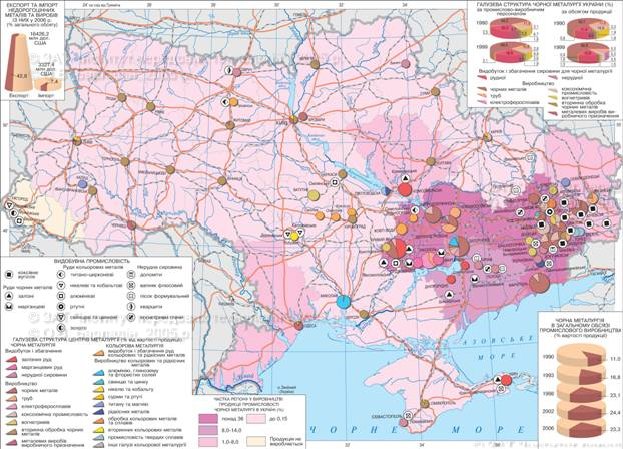 Fig. Metallurgy
Steel. Siderurgy - One of the most developmentoped in Ukraine industries which accounts for 1 / 4 of total industrial production. It produces iron, steel, rolled metal, ferro-alloys, tubes and others. It - materialomistka industry: for smelting 1 t of pig iron to about 3 tons iron ore, 1.1 tons coke, 20 tons of water, and manganese ore, limestone and other fluxes. So Enterprise steel placed near sources of raw materials or fuel or in between.
Ukraine has for the development of large reserves of iron and manganese ore, coking coal, flux and refractory materials. Their genericdata which very successfully combined - mostly our region and the Donbass.
By output of steel products Ukraine LLSLay was a time among the leading countries of Europe and the world. Thus, 80's XXArt. here annually vydobuvalosya 120 - 125 million tons of iron Ore, 7 million tons of manganese ore, vyplavlyalosya 55 million tons of steel. Out similar figures were considerably more modest - about 60 million climbed ttion ore than 3 million tons of manganese ore, 38 million tons of steel (2003). However, Ukraine still is high on the seventh place among the world's leading steel producers. In recent years, expanding production facilitiescial steel, ferroalloy, steel pipes. THESE goods in large quantities exported from Ukraine; overall production of black Industry gives the country the largest foreign exchange earnings from exports.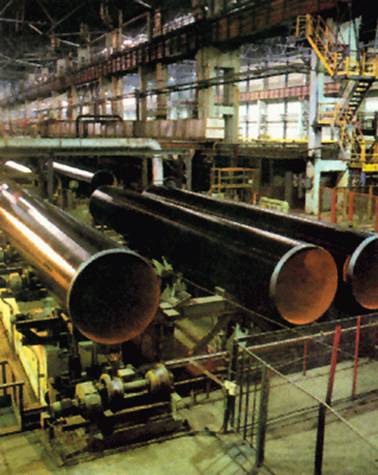 Fig. Production Hartsizskogo Pipe Plant is a strong demand in Ukraine and abroad
Ferrous smelting metals are traditionally made at the plant complete cycle, which include all final stage of metallurgical productsproduction, and coke (Metallurgical fuel from specialwhich makes coal) and agglomerates (chunks iron ore, sintered with GSAnyakom and coke). Each production has a waste and adverse products which is the raw material for other industries - chemicaltion, construction materials, metal processing. Companies in these sectors, as Heavy Engineering, advantageously placed near foundries. Thus, metallurgy is of great PCleksoutvoryuyuche value, are formed on its basis Consumer units.
The largest steel mill in Ukraine is "Krivorizhsteel (Krivoy Rog), Iron (Mariupol) Zaporizhstal, Dnipro (Dniprodzerzhynsk) Plants in Alchevsk, Makiyivka. Large steel mills that have full steel works, located in Donetsk Yenakiyevo, Dnepropetrovsk and other cities. Manufacturing ferroalloys (alloys iron and other metals for high grades of steel) withcentrated in Zaporozhye, Nikopol, StakhanovAnd tubes - in Nikopol NovoMoscow, Dnepropetrovsk, Mariupol, Makeyevka Khartsyzk.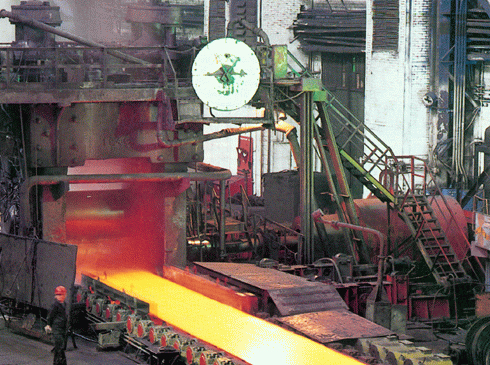 Fig. Alchevsk Steel Plant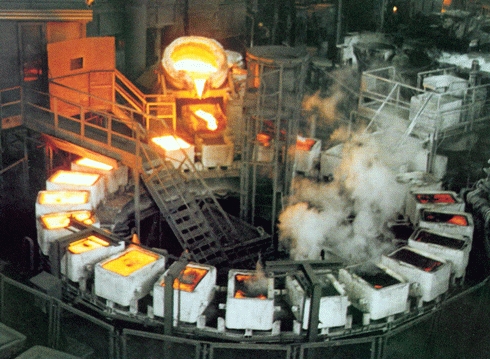 Fig. One of the steel giant Ukraine - Zaporizhstal
Districts and center Steel. Steel industry located in three metallurgical areas-near, Donetsk and Azov.
Prydneprovsk district formed on the basis extraction of iron Rog ores, Kremenchug and Belozerskypools, marhaning local ores of Nikopol and Velykotokmatskohodeposits, fluxes Dayspropetrovskoyi region, imported coke and refractories (from the Donbass). It has formed Dnepropetrovsk (Dnipropetrovsk, Dnipropetrovsk, Novomoskovsk), Zaporozhye, Krivoy Rog, Nikopol (NicoPaul, Manganese), Kremenchug steel units.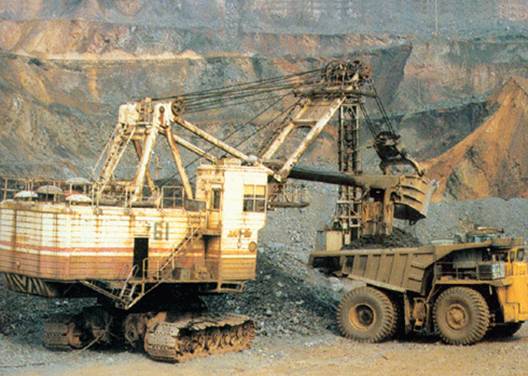 Fig. In Dnepropetrovsk produce up to 80% iron ore Ukraine
Donetsk region appeared near fields coking coal based processing of ore coming from the Dnieper (the principle "Pendulum" - cars with coke plants coming on the Dnieper, and back returnXia of iron and manganese ore). Formed steel nodes - Donetsk-Makiivs'kyi, Alchevsk Almaznyanskyy, YenakiyivSKI and some steel tanks - Kramatorsk Khartsyzk, Kostyantynivka.
Azov region used poor iron ore of the Kerch-First, rich and Rog Belozerskypools, manganese ore from Nikopol, coke, fluxes, and refractories from Donbass. But iron ore companies have suspended the Kerch Peninsula, therefore area now covers two steel plants in Mariupol (One of them - Azovstal - is the largest in Ukraineacterised lystoprokatnyy status).
PROBLEMS DEVELOPMENT AND PROSPECTS OF. Important issues metallurgy of Ukraine is the need for technical and technological upgrading of production, improve as ferrous metals, production of new species Steel and rolled. Low development does not become so-called domain methods ferrous Metaliv that are environmentally friendly, including electrometallurgy (largestambitious plant - Zaporozhye) and powder metallurgy (the only Works great-tsyuvav in Brovary near Kyiv).
Remember
Metallurgy - industry that brings together businesses that consistently perform the extraction, enrichment and metallurgical processing of ores Chornyh and nonferrous metals.
Siderurgy - One of the most deoped in Ukraine industries.
Ukraine has to development of large reserves of iron and manganese ore, coking coal, flux and refractory materials. Their genericdata which very successfully combined in the territory.
Black Enterprises industry located in three steel areas-near, Donetsk , and Azov.

Questions and Tasks
1. Give characteristics of the steel industry raw materials Ukraine.
2. Describe areas of the steel industry Ukraine.
3. On the outline map Apply the greatest centers of ferrous and nonferrous metallurgy in Ukraine and their districts.
Practical work in August
1. Apply a contour map of raw materials, major regions and centers of ferrous metallurgy.
2. Please sign their names.