§ 39. Prydneprovsk Economic Region (textbook)
§ 39. Prydneprovsk Economic Region
1. What historical lands lying area Dnipropetrovsk and Zaporizhia regions?
2. Remember the unique environmental conditions of the Dnieper.
Prydneprovsk Economic Region, which includes two administrative region (Dnipropetrovsk and Zaporizhia), belongs to the middle regions in Ukraine by its area and population. Dnieper is the most advanced economies areas.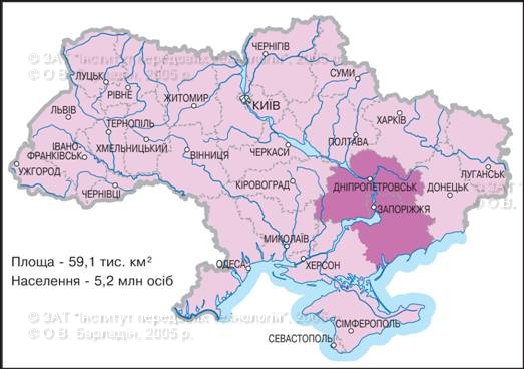 Fig. Limits Pridneprovskogo economic region
Prerequisite for development. The main prerequisites for the development of this region are:
· neighborhood's most advanced industrial Donetsk area, as well as North-Eastern, Central and Black Sea areas, access to navigable Dnieper and Azov Sea;
· convenient economic-geographical position at the crossroads of transport routes connecting northern and southern, eastern and western regions of Ukraine;
· strong natural resource potential, which is based mineral resources (iron ore Krivoy Rog basin and Belozersky District, Manganese ore Nikopol basin and Velykotokmatskoho deposits, Coal Western Donbass, Deposits of refractory clay, kaolin, graphite, limestone, granite and other building materials; significant resources of medicinal mud;
· flat terrain, favorable climate and water resources; prevalence fertile black and chestnut soils;
· high concentration of population, presence of large cities and agglomerations, including City-million Dnepropetrovsk, the focus in it a strong scientific and technological potential.
AGRICULTURE. Sector is diversified, the major branches are: heavy industry and food and agriculture. Among heavy industries developed mining, electric power, metallurgical, engineering, chemical industry.
Mining industry is represented by the production of iron (Krivoy Rog) And manganese (Nikopol) Ore, uranium (Feodosia), Building materials. Coal mining is carried out in Dnipropetrovsk region (Pavlograd).
Power is represented by several powerful TPP - Zaporozhye, Krivoy Rog, Dnieper, Dnieper, Two hydropower plants - DneproGES (Kiev) and Dneprodzerzhinskoy and the largest in Ukraine NPP - Zaporozhye (M.Energodar).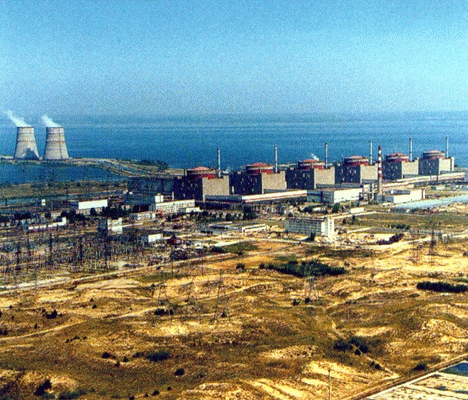 Fig. Zaporizhzhya NPP, c. Energodar
On the basis of local reserves of iron and manganese ores and imported coal from the Donbass, formed a strong metallurgical complex (1 / 2 steel production in Ukraine). The largest centers of industry - Krivoy Rog, Zaporozhye, Dneprodzerzhinsk Dnepropetrovsk, Novomoskovsk, Nikopol.
Non-ferrous metallurgy is represented by production aluminum, titanium and magnesium Zaporozhye.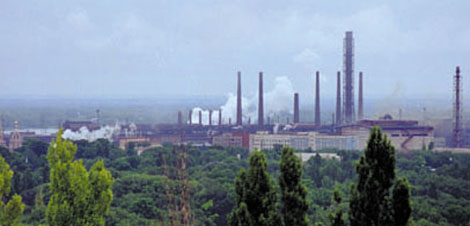 Fig. Smelters in Dneprodzerzhinsk
Engineering District has a complicated branch structure. Heavy machinery specializing in metallurgical production Equipment (Krivoy Rog, Zaporozhye, Dnepropetrovsk, Manganese) Handling machines (Its representative, Berdyansk).
With branches Transport Engineering in the area is the production of automobiles and engine (Kiev, Melitopol) and trolleybuses, trams (Dnepropetrovsk). In Dnepropetrovsk on one the world's largest missile complexes produced space technology. Farm engineering in developing Zaporizhia Dnepropetrovsk, Pavlograd, Nikopol, Berdyansk.
Chemical industry is represented in the coke industry Dnepropetrovsk, Krivoy Rog, Zaporozhye, Petrochemical in Zaporozhye, Dnepropetrovsk, Berdyansk.
Food industry produces oil, flour, cereals, meat, milk. Enterprises industry is placing overall - as large cities and small towns and villages.
Accommodation area in the plains with rich soil and land resources creates favorable conditions for production of various agricultural products (grain wheat and corn, sunflower, meat and milk), which not only satisfies needs of the population area, but also exported beyond.
The district has dense transportation network. Travels through the railways and roads: Kyiv - Dnipropetrovs'k - Donetsk, Kharkiv - Simferopol etc.. Top sites - Dnipropetrovsk Zaporozhye, Pyatikhatki, Sinelnikovo.
Significant density Road enables internal and external transportation. On The district is a seaport Berdyansk, river ports and airports (the largest - Dnipropetrovsk Zaporozhye).
ECONOMIC CENTERS AND POINTS PLACES. The largest cities of the region are Dnipropetrovsk Zaporozhye, Krivoy Rog, Dnipropetrovsk, Nikopol, Berdyansk and Pavlograd. In a number of settlements are the monuments of the Scythian (grave-mounds) and Cossack (church) time. Small Island Khortytsya on the Dnieper River - a place first Zaporizhzhya Sich.
Remember
Prydneprovsk district - one of the largest diversified industrial and agricultural areas with large export opportunities.

Questions and Tasks
1. As influenced by geographical location and natural resource base Pridneprovskogo economic region to form its economic specialization?
2. Look for similar and different features in economic development and Dnieper Donetsk economic regions.
3. What are the industrial centers formed in Near the economic area?