§ 38. Donetsk Economic Region (textbook)
§ 38. Donetsk Economic Region
1. What are the environmental conditions typical of the extreme eastern regions of Ukraine? What natural resources are rich?
2. Which industries are developed in the Donbass?
Donetsk Economic Region is the largest by population and average per square The district of Ukraine.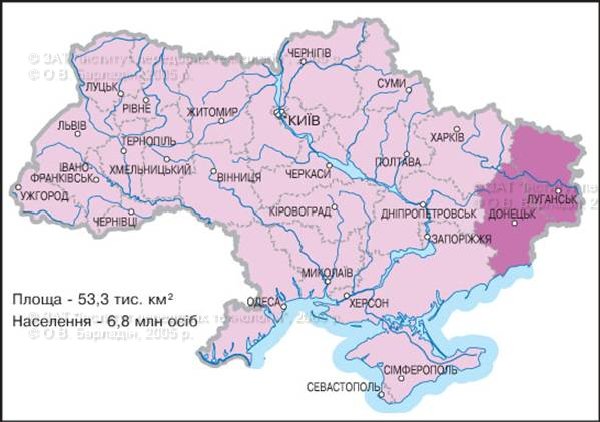 Fig. Limits Economic region of Donetsk
Prerequisite for development. The main prerequisites for the development of this region are:
- Frontier arrangement with Russia, out to sea, proximity to industrialized Dnieper and the North-Eastern economic regions;
- The plainness of the territory, temperate climate with insufficient moistening, vodozabezpechenist low, fertile soils (Mostly black);
- Placing on its territory Donetsk coalfield, Deposits of rock salt (Donetsk, Slavic), Cement marl, mercury ores (Mykytivske) clay (Hours Yar) non-metallic materials of metallurgical, building materials, etc.;
· Ukraine's highest rates of population density and urbanization, dense network of urban settlements, many cities and agglomerations; security Human Resources.
AGRICULTURE. Donetsk District takes first place in Ukraine in terms of industrial production (25%) and its concentration. Diversified Industry, dominated by manufacturing heavy industry, which determine the specialization area.
Industrial of the district historically formed on the basis of the coal industry, which has widespread deployment. On the basis of fuel extraction formed a powerful thermal energy. Top TES Vuglegirs'ka, Zuevskaya, Starobeshevskaya, Kurahovskaya, Lugano.
There Donetsk region is the same district ferrous metallurgy, formed on the basis of its own coking coal, refractories and limestone and imported ores (from the Dnieper), the main centers - Mariupol, Alchevsk, Khartsizk, Makeyevka, Lugansk, Donetsk, Kramatorsk. Non-ferrous metallurgy is represented by production of zinc and lead (Borispol), Mercury (Gorlovka).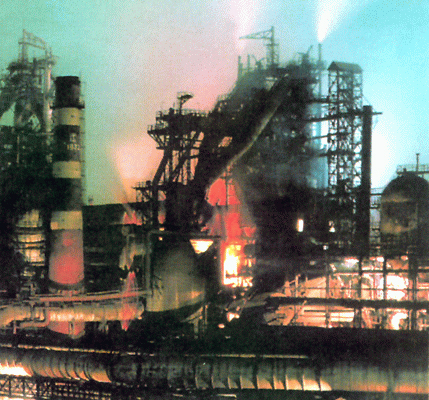 Fig. JSC "Makiyivka metallurgical plant
Among the areas dominated by heavy machinery that produces equipment for mining and metallurgy - plants in Kramatorsk, Gorlovka, YASINOVATAYA, Slavic, Donetsk, Khartsyzk etc.. Railway equipment produced in Lugansk, Stakhanov and Mariupol, Taps - in Kramatorsk, Various instruments (in including refrigerators) - in Donetsk.
The district is powerful producer of chemical products - soda (Lisichans'k Slavyansk), Dyes (Rubizhne), Nitrogen fertilizers, polymers (Severodonetsk, Gorlovka), Chemical reagents (Donetsk).
Industry building materials is widespread deployment and broad sectoral structure. Area allocated to Ukraine cement production (Amvrosievka, Pattern recognition Yenakieve), Glass reinforced concrete products.
Among the areas light industry stands Textile, clothing and footwear (Donetsk, Lisichans'k Lugansk and other city). Food industry developed everywhere, it produces flour, oil, salt.
Accommodation area in the plains, high levels of tilled soil in the territory is the basis developed agricultural production. It specializes in growing grain crops, sunflower, vegetables, breeding cattle dairy cattle beef, pork and poultry. Around the large cities and agglomerations common intensive farming suburban type. Developed on the Azov Sea fisheries.
Donetsk region has one of the very thick transportation network in Ukraine ways. Railways and roads connecting it with neighboring regions of Ukraine and regions of Russia. The biggest railway junctions - Debaltseve, Yasynuvata, Ilovaysk, Popasnaya, Donetsk, Lugansk.
The area District pass pipelines from Russia, which natural gas and oil transmission in other regions of Ukraine and Europe, but also come in numerous local customers (including Ukraine's largest Lisichanskogo refinery). Mariupol is one of the largest in Ukraine seaports.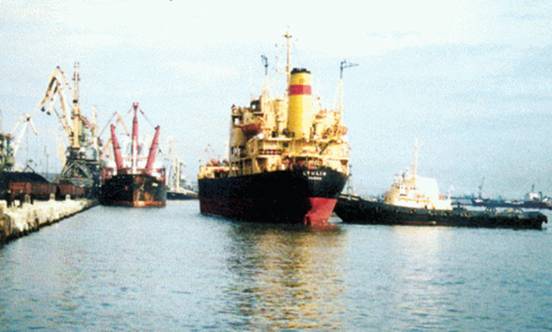 Fig. Marine gates of Donbass - Mariupol
LARGEST CENTERS & Sightseeing. In Donetsk and Luhansk regions located around one fifth of cities in Ukraine and a quarter large cities. Around them formed large agglomerations - Donetsk-Makiivs'ka, Gorlivs'ka-Yenakiyevoet al. The largest centers of the district is "the capital of Donbass" Donetsk, City Lugansk Mariupol Makiivka Horlivka Kramatorsk, Alchevsk, Severodonetsk.
A famous landmark of spiritual culture of the area is Church of Assumption Monastery XVII-XIX. in SlavyanogorskThat of the Seversky Donets - a place pilgrimage pilgrims.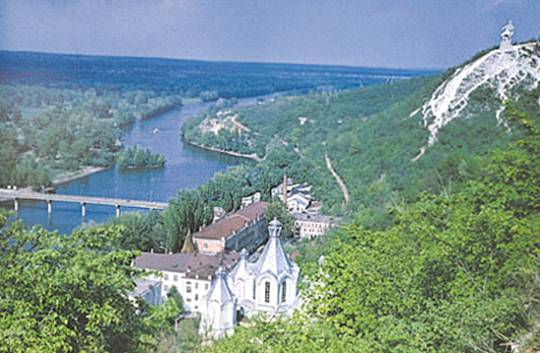 Fig. Church of Assumption monastery XVII – XIX Art.,
м. Svyatohirsk
Remember
Donetsk economic region - the most populous and urbanized, industrialized most powerful area of significant development of heavy industrial complex social, economic and environmental problems.

Questions and Tasks
1. Describe economic and geographical economic situation in Donetsk region.
2. Tell us about the conditions that facilitated intensive economic development.
3. What industry will determine the economic specialization Donetsk economic region? What factors have caused it?
4. What are the biggest in the area formed industrial and cultural centers?