🚚 🚁 Збираємо на пікап та ремонт дрона аутел
⛑ 🛡 🥾 Шоломи, форма, взуття
§ 42. Central and Black Sea economic areas (textbook)
§ 42. Central and Black Sea Economic areas
1. In the course of history of Ukraine remember when, by whom and how zaselyalasya Steppe of Ukraine.
2. Where in Ukraine spread landscapes and dry steppes northern subtropics? What are the natural conditions specific to these areas?
Central Economic Region consists of two administrative regions. The size of territory and population belongs to the smallest among the regions of Ukraine.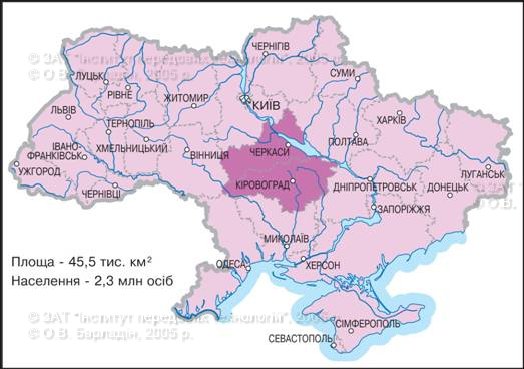 Fig. Borders Central economic region
BACKGROUND DEVELOPMENT. The main prerequisites for the development of this region are:
· location between the other five areas at the intersection of communications, a neighborhood with strong industry Districts - Dnieper, Northeastern, metropolitan, access to navigable Dnieper
· position at the junction of the forest-steppe and steppe zones of exceptionally favorable agroclimatic resources fertile soils and flat terrain;
· a small variety of mineral resources: brown carbon (Vatutine, Alexandria) graphite (Zavallya deposit), Nickel and Chromite Ore (Pobuzhya), Uranium ores, construction materials (kaolin, granite, refractory clay);
· relatively low population density, the average level of urbanization, predominance in the system of resettlement villages and small towns.
AGRICULTURE. Central region has a somewhat lower socio-economic development than other areas country. His specialty areas are agriculture, mining and food processing, agricultural machinery.
Highly productive agriculture. Cultivated cereals, vegetables, sunflowers, melons, developed gardening. In dominated by cattle breeding and pig breeding, and in reservoirs - fisheries.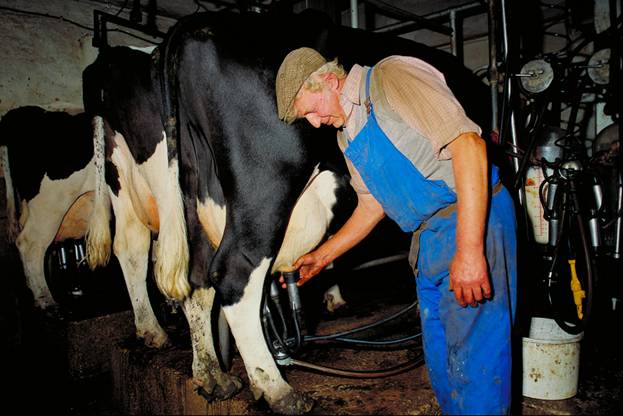 Fig. The farm
Food industry produces sugar, butter, oil, dairy and meat products, canned food, flour and cereals and more. Common in many cities, the largest company - in Cherkassy Kirovograd, bold, Uman.
Mechanical Engineering manufactures agricultural implements (Cherkassy, Kirovograd, Uman, Alexandria), electric (Alexandria, Kirovograd Bold, Uman) Printing techniques (Alexandria, Kirovograd), Buses (Cherkasy).
Chemical Industry specializes in producing fertilizers, synthetic fibers and plastics, Chemical Reactives (Cherkassy, Kirovograd).
In the area developed as silk industry (Cherkasy), Smelting nickel (Pobuzke) And tipped (Svitlovodsk).
The most developed rail and road transport and on the Dnieper River - a river also. The biggest railway junctions - Znamianka, Pomichna, Hristinovka, Bold.
ECONOMIC CENTERS. Points of interest. Regional centers Cherkasyand KirovogradAnd Uman are the largest industrial cultural and educational centers of the district. Kahn, Korsun-Shevchenko, Chigirin belong to the historical and cultural attractions branches of the state.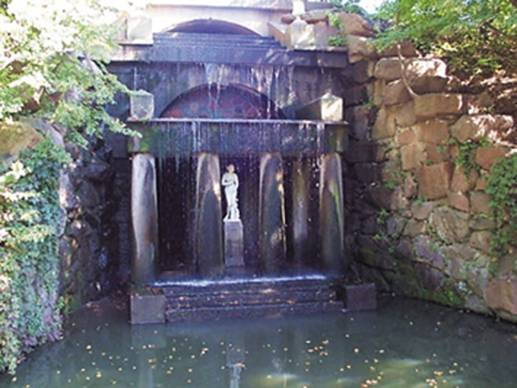 Fig. Grotto Venus in the Park "Sofiyivka'Uman
Black Sea region
Black Sea Economic Region, which incorporates three Administrative Region (Odessa, Nikolaev, Kherson) and ARC is The largest area and second most populous area in Ukraine.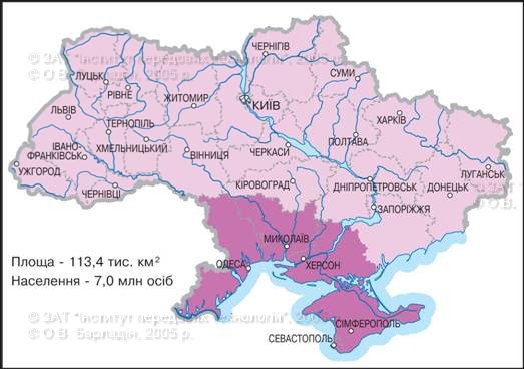 Fig. Borders the Black Sea Economic Region
BACKGROUND DEVELOPMENT. The main prerequisites for the development of this region are:
· extremely advantageous geographical position on the extreme southern Ukraine, with a wide outlet to the seas and national borders, proximity to Three other economic areas;
· combination of mountain and plain forms of relief, various environmental conditions, including subtropical;
· insufficient wetting area, limited water and forest resources;
· rich land and soil resources (black, chestnut soils), which provided irrigation give high yields crops;
· widespread non-metallic minerals - limestone, sandstone, sand, clay, marl, and salts in the kitchen Gulf Sivash and Crimean lakes, natural gas in the Crimea and offshore;
· favorable combination of climatic conditions, medical muds and waters of the seas for recreational purposes;
· medium and low population density, average urbanization, the presence of large urban areas. including City-million Odessa; Quite colorful ethnic composition population, a significant amount of labor resources.
AGRICULTURE. In All-district division of labor is allocated machine building, food industry, agriculture and recreational facilities and sea transport.
Engineering submitted shipbuilding (Nikolayev, Kerch, Kherson, Theodosia), Manufacture of agricultural machinery and spare parts (Odessa, Kherson, Simferopol) manufacture of electrical appliances and electrical equipment (Simferopol Nova ', Odessa).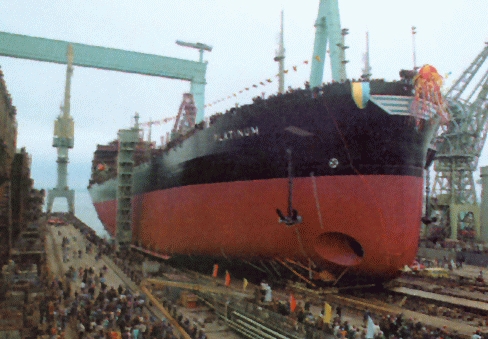 Fig. Mykolaiv region provides 50% of Ukraine's shipbuilding
Food industry not only provides products population of the region but other regions of Ukraine. Powerful meat plants are Odessa, Kherson, Mykolayiv, Pervomaisk, Voznesensk, Simferopol. The largest centers of the dairy industry - Balta, Odessa, SevastopolAnd canning - Ismail, Djankovand Kherson.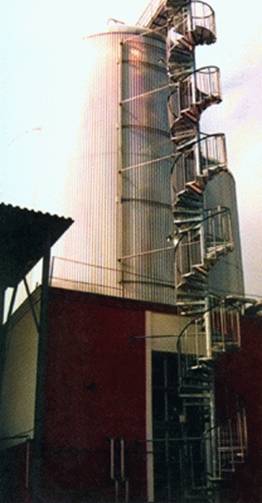 Fig. Mykolayiv Brewery "Yantar"
Neighborhood - a powerful wine. Enterprises with the largest wine production in southern Crimea and Odessa region (Feodosia, Alushta, Sudak, Massandra, Odessa, Kobleve, Kherson). Fish industry developed on the Black and Azov Seas. The largest centers - Odessa, Sevastopol, Kerch, Kilo, Ochakov.
Near the essential oil industry is a growing on local raw materials. Developed as light industry: cotton (Kherson), Jute (Odessa), Wool (Odessa, Tatarbunari), Sewing.
Agricultural production is characterized corn, sunflower, vegetables, grapes, melons and attar. Among common grain wheat, corn and rice.
Most vineyards in the southwestern part Odessa Oblast and Crimea, and gardens - in Transnistria and the Dnipro foothills of Crimea.
Key areas of livestock - cattle, pigs, sheep, poultry and sericulture.
Black Sea region has a strong recreational complex. The largest centers of population centers - on the South Coast Crimea (Yalta, Alushta, Alupka, Gurzuf Zander) And Evpatoria, Saki, Odessa, Gulf, Kobleve, Skadovsk.
Develop all kinds of transport. River (in Dnieper and Danube rivers) and sea transport are used, except vnutrishnorayonnyh, and for international transport. Near - 15 major seaports, the largest - Illichivsk, Odessa, Southern, Mykolaiv, Kherson, Kerch. They serve foreign Ukraine's trade and transit of goods from Russia and Moldova. Of ports and spa centers in other regions of Ukraine are important differ railways and roads.
Pipeline pipeline presented from Russia to Kherson and Odessa, The newly-built pipeline Odessa - Brody, A number of main (Shebelynka - Odessa) And local gas pipelines.
ECONOMIC CENTERS. Points of interest. The largest cities of the region are Odessa, Mykolaiv, Kherson, Simferopol, Sevastopol (Multipurpose centers - administrative, industrial, transport, cultural, educational, scientific) and Kerch and Evpatoria. In Crimea and pivnichnochornomorskomu coast remained many archaeological, historical and culture - primitive people, cave towns and monasteries, the ruins of ancient cities, medieval castles, religious buildings, palaces and park complexes. The most famous historical and cultural centers, in addition to the above, and is an Odesa, Bakhchisarai, Sudak, Feodosia, Alupka, Livadia and others. South and Crimean city became the scene of the annual cultural festivals - Yalta, New Kakhovka et al.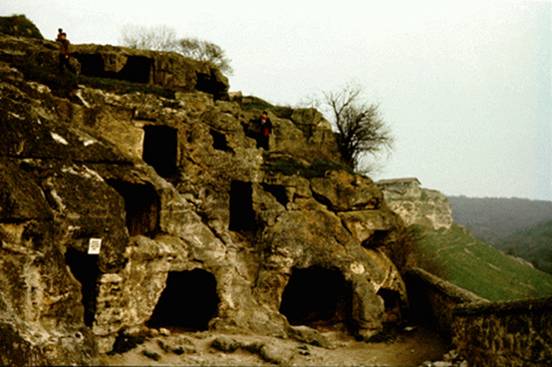 Fig. Cave City Chufut-Calais, VI-XVIII centuries., Bakhchysaray, ARC
Remember
Central District - one of the smallest in area and populations of the developed areas of agribusiness and large prospects of economic development.
Black Sea region - the largest by area and pied by most national content area with strong development recreation and tourism and ports, irrigation farming.

Questions and Tasks
1. Compare the geographic location Central and Black Sea regions.
2. Tell us about the natural conditions and resources Central economic district.
3. What is special economic specialization of the Black Sea economic region compared with other areas Ukraine?