16. As lived Kiev (textbook)
As lived Kiev. (Accommodation in Kiev)
Key issues:
- What types of housing in the cities? Why are you?
- What the housing problem? Why is it always existed? As solved and solved it?
- What other problems associated with housing?
We live in Kiev. In one beautiful cities on earth. It is for our hometown. But for each of us is city in the first place - our apartment is our home, our yard. Modern living kievlyanin mainly in the flat-rise building that grow before our eyes. However, as the flat type accommodation appeared only in the late nineteenth century. What a Accommodation Kiev was in ancient times?
Almost to the end last century historians is about imagined look like houses the inhabitants of ancient Kyiv. As their constructed of wood or other short-lived materials, they are deemed to be lost. Therefore, most historians and archaeologists were convinced that the majority lived Kiev napivzemlyankah in small houses or clay or wood. But 70's Twentieth century. When laid underground at the hem, were made sensational findings. At a depth of 12.10 m (!) Were dug targets outside the ancient city. They were wooden and very well preserved, often together with objects of house use. They seemed zakonservuvav river silt. Due to the huge floods were recorded almost 4-meter layer of it. Such a paradox here: for the then Kiev - grief, but for today's historians - happiness. These findings led review idea of the shape of ancient Kyiv.
Source 1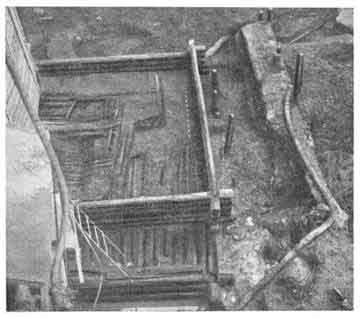 (A) Excavations at the hem in 1972 Lower part Housing frame
Us consider
- you think of a tree built?
- How skriplyuvaly logs?
- Who lived in these houses?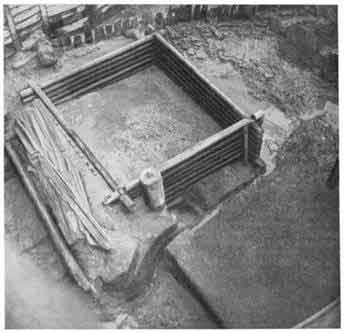 (B) Commercial frame
Us consider
- you think what serve this building?
- Compare with source 1 (a); or different construction technique?
Glossary
Blockhouse - Way of the walls of buildings, structures of logs or bars that lay horizontal rows, and in the corners and places of crossing connecting vrubkamy.
Thus, the ancient Kyiv was mainly wood. We built from solid pine logs, carefully cultivating their only with axes. Between decks laid down - for insulation. Majority were two-storeyed buildings: ground floor and economic, the second - residential. Interestingly, between the houses were wooden bridges - not to go through the mud. Some streets were laid out the same wooden decks. Tai streets were quite wide - 3-6 pm
In the houses must have been Stove with oven. Average house - even the small comprised of several buildings and was surrounded oak fence. In many homes were different things - pottery, various items of house use, wood, bone, iron, lamps, jewelry, coins, etc..
Wealthy people of - and boyars wealthy merchants - built the "mansion", which took over two floors. A roof covered with tesom, tile, sheet lead. In the window glass or mica inserted. Palaces princes, as historians suggest, could be constructed of brick (plinthoi) or natural stone. Sanctuary poorest inhabitants of Kyiv was buried in housing land like dugouts. During natural disasters and other difficulties such dugouts were temporary shelter many townsmen.
Glossary
Mica - Natural transparent layered mineral.
Source 2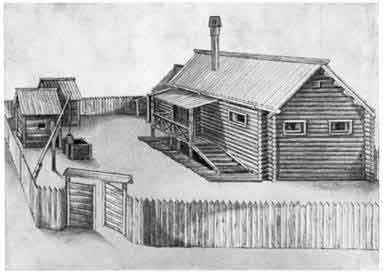 (A) Reconstruction of Kiev estate X-XI. probably craftsman-Kozhemyaka. Kyiv. Division.
Us consider
- Describe what you see, What is different facilities?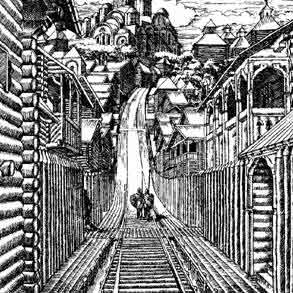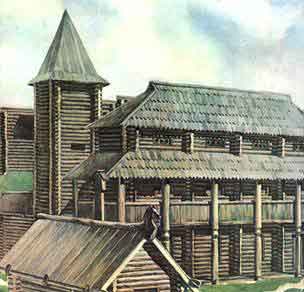 (B) Ancient Kyiv. Upper City (City of Yaroslav). Reconstruction
Let us consider:
- Or different buildings of the Upper town houses at Hem? How?
- What is the difference, what caused it (remember who lived in Upper City. And who at the hem)?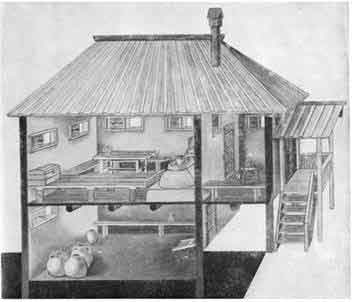 (C) Reconstruction of a typical residential building. Kyiv. Division. XI-XII centuries.
Us consider
- how many floors in a building? Which are designed for family life?
- What is contained in another floor?
- Try to explain why well planned house?
Help
Attacks enemies, natural disasters, fires, unfortunately, were often phenomenon in the passersby. In the annals mentioned, including the fire at the hem in 1111, 1145, 1161, 1169, 1751, 1811, respectively. Especially scary was a fire 1811, which lasted three days. It not only destroyed almost all buildings (About 2 thousand buildings), but also led to the deaths of many thousands people. As mentioned witness those events Zakrevsky M., "The division was a great and sad ruins, covered with ashes and a heap of brick, stone walls occasionally sticking and chimneys, which had not collapse. " Suffered from fires and the Upper City and Pechersk.
Working in pairs (groups)
- Using the description (text), identify which facilities presented in the source 2.
- Who (which representatives of social groups) lived in them; why housing is built this way?
- How many people could live in such houses?
Source 3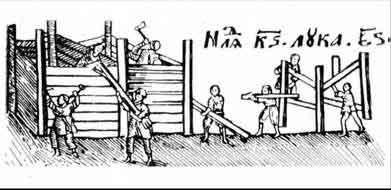 (A) The construction of wooden buildings. Engravings Teaching Gospel. 1637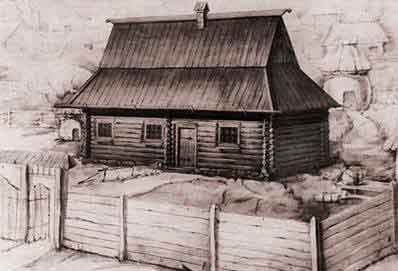 (B) House Kiev 17 century burgher. at the hem.
Reconstruction Varlamov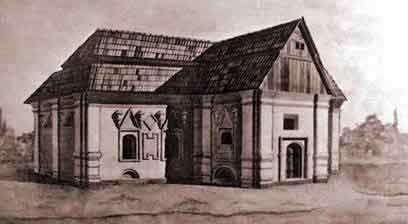 (A) in the Kiev House of wealthy burghers (house Artemyhy).
Division, XVII.
(D) P. Aleppskyy Kyiv middle of XVII century.
"Houses in this city luxury, high and built of logs, that vystruhani inside and outside.
Us consider
- what can you say about housing Kiev XVI-XIX Art.?
- Does it significantly dwellings of ancient Kyiv?
- Bring your mind, comparing the relevant sources.
So, until XVIII-XIXArt. Accommodation Kiev fundamentally little changed. Designs of houses were so successful and adapted to local conditions, which depicted a century century. And the lifestyle and occupation of Kiev not changed very much. Although of course, were and change - have become more extensive use of clay (it daubed wooden frame), some large houses of wealthy families already built with bricks.
Most buildings were rectangular form. Usually from one room and porch.
Accommodation Kiev wealthy few roofs, decorated with architectural details that made them folk artists. (House Artemyhy at the hem (source 3 (c)).
The basis of the same city building, still were family estates. Kyiv tradition in many of them were not only farm buildings, but city and garden. Their fruit went to the family table.
В XVIII-XIX Art. in Kiev, which became the center province, live or feel the need to have many rich and Residences noble families. Not surprising, since in this major city is there are two imperial Residences - Klovsky Mariyiyinskyy and palaces. They live the king or members of Imperial family when visiting Kyiv. For such families build rich Mansions - large stone buildings.
Source 4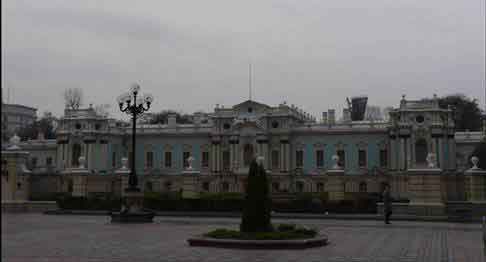 (A) of the Mariinsky Palace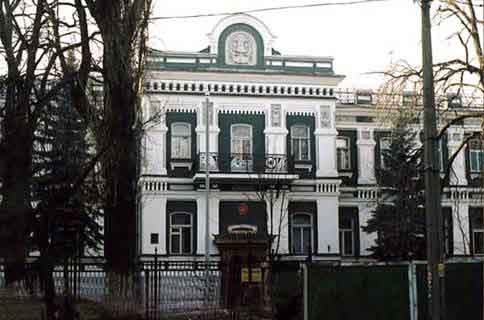 (B) House Commander of Kiev Military District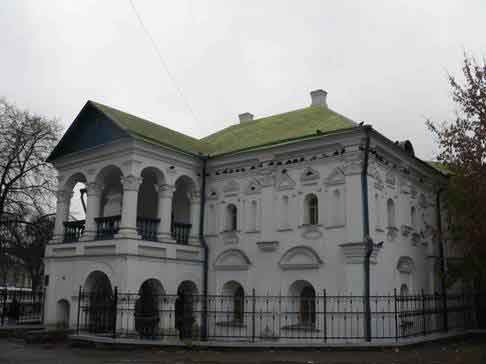 (C) House of Peter
Us consider
- More these structures differ from conventional Kiev houses?
- For whom they were built?
In the second half of XIX century. Kiev began in "construction fever, associated with rapid development of industry. In the city, mainly in center, erected comfortable tenement houses for the wealthy townsmen. On the first floor is placed offices of various banks and institutions film and photographic studio, shops.
However, many people who came to Kyiv to work in industry, needed housing. There are beginning to build so-called profitable houses - for different categories of employers. Their owners might give room to the apartment and rentals. Thus, the notion of "flat" in the modern sense emerged relatively recently - in late XIX - early twentieth century. Most Kiev, still lived in their houses.
The area of apartment houses in the second half profit XIX- beginningXXArt. divided into: small (3-4 room) total area of 80 square meters., medium (6-7kimnatni) total area of 120 square meters. and large (7-10kimnatni) the total area of 180-200 Apt. Cheap City apartments for workers and low-income population consisted with 1-2 rooms and kitchen with total area of 30-50 square meters. c. The prices depend on area arrangement, locations and averaged 80-200 rubles annually. In the suburbs the same apartment cost twice cheaper.
In the standard version of the income apartment building consisted of the following mandatory premises: office, living room, dining room and bedroom. For larger apartments existed as children's rooms and rooms for servants, more bedrooms, large apartments - library, boudoir, a room for guests. Kitchen adjoined to the "black" staircase, its dimensions were 8-16 square meters. Many apartments have bathroom with toilet. In the flats could be also hall, lobby, mezzanine, pantry, loggias and balconies. In many apartments - rooms for servants.
Early XXArt. Most buildings have central steam heating. In kitchens installed wood-burning oven later - with gas and electric brass cabinets.
Source 5
(A) From the description of a house in L. Ginzburg st. Nicholas. House is preserved in its place now - the hotel "Ukraine".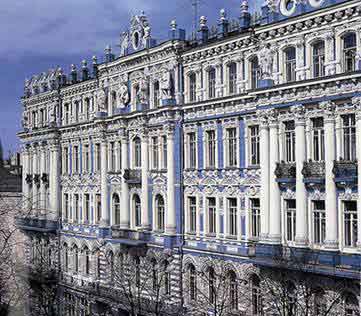 "Built in 1900 For a very rich look of it is sometimes called Kiev Paris. Occupied an area about one thousand square meters. He had 8 floors (6 main, basement and attic) and two commercial extensions. Was built Stone (bricks), height about 40 m. the building was richly decorated modeling and sculpture. On the upper floors were magnificent grand staircase, and near them was an elevator - one of the first in the city (it cost the owner 11 thousand 500 rubles - huge money at the time). In general, building cost over 500 thousand! It was equipped with electricity, steam heating, water. Each apartment had one or two water closet, bathroom, kitchen. All have parquet floors, the walls expensive wallpaper, stucco, gilding. The yard was closed, it led Fishnet iron gate. He was asphalted, it was built under the Commercial premises.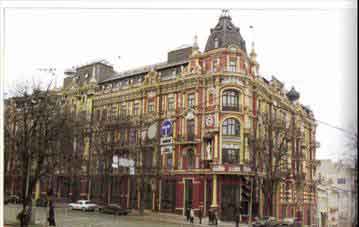 (B) returns home
Us consider
- Why the late XIX - early XX Art. unfolded mass construction?
- How do you understand what "profitableand house?
- Who lived in those buildings?
(C) N. Nosov, A children's writer. From the story "Secret of the bottom well "
"? House, in where the father rented an apartment, five-story was not as I expected (Or more precisely as I wanted), and one story, besides some gray, a poor, sad-looking. There were several apartments. Having to small, three steps, porch, you fall into the wooden porch with a cold latticed window on the wall to the ceiling? From the porch door led directly to kitchen where the wall clave left his side a large oven with a huge black, open-wide open mouth. In front of the mouth was window that went out, but not in the yard, and porch. Consequently, even in the kitchen in a very sunny day was twilight. From the kitchen door leading to single rooms with single window that looked out into the street. "
(D) A. Konchalovsky, D. Malakov. From book "Kyiv Mikhail Bulgakov"
"Chepurnyy, typical two-storey house in Kyiv Kudriavskyi lane? Comfortable five-room apartments located on the second floor. It led from the street Staircase in one march. In the front office went out the window, living room and bedroom parents. In the living room, like all intelligent families at that time, stood a piano, Provided here all family holidays, name days, Christmas trees. From the second bedroom door led into a room of children. Child windows, dining room and kitchen out to a small Green podvir'yachko where cascading steep wooden staircase.
(E) A. Makarov, kyyevoznavets
"End Nineteenth century. in Kiev were 12 so-called nichlizhok at 1280 places, including thousands of places in two shelters and Nicholas Theodore Tereschenkos. Tereschenkovskaya shelters operated free of charge. They were comfortable and clean. In the other was 5 cents per night. This is described as "flat kopiychanu" policeman of that time: "? In the three rooms I saw 58 people lying on the floor, side by side so dense that it was difficult to bend the legs, not even posteleno straw. The air in the room was humid, sultry, fetid.
Us consider
- Why so much accommodation described differ from each other?
- Inhabited by those who could not afford rent an apartment?
Kiev legend.
During construction fever customers and architects sought build extraordinary homes. like to compete - whose house is the most abundant and original. It became fashionable to build homes similar to medieval castles in the so-called Gothic style. Of course, it was only imitation - more or less successful. A medieval castles in the common man is always called association with ghosts, grim legends. Probably because each of these houses obrostav legends.
The most famous of these houses - the house of Richard "on St. Andrew's downhill. It was built by order of the Kiev businessman D. Orlov earlyXXArt. Orlov died shortly after building and moved to new house owners. And the city began to spread immediately RumorsThat dwells in the house of evil forces. Indeed, in, apartments often heard horrible sounds in chimneys and ventilation tubes, especially in windy weather. Apparently, soon home owners ruined it, but found daredevil who dokopavsya to the real reason terrible sound. It was one of the inhabitants - a professor of history S. Golubev. He found that the thing was? eggshell. Contractor angered workers (Probably paid less than agreed) and they kept the little shell hole in the chimney. When the wind rose, they buzzed terribly?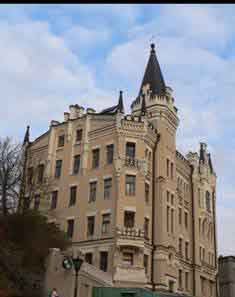 Maybe Yet there is something in these legends? At least, Richard House a few years ago
was purchased, restored it, was intended to be a hotel. But so and for some reason did not. Rumor has it that he has several times changed owners.
Help
Vladislav V. Gorodetsky (1863-1930 biennium)
- Prominent architect
End XIX - early XX century. Kyiv has covered this "construction boom". We built hotels, churches of different denominations, schools, sports facilities, cottages, markets, theaters and many other buildings. Each of these buildings was a unique Each was built with its own individual project, and suffered a sophistication and elegance. Many famous architects have made a lot of effort building a architectural masterpieces. One of them was Vladislav V. Gorodetsky. By birth a Pole, born in the family estate in Sholud'ky on Vinnichchine. But most of his life in Kiev - a city where architect devoted the best years of his life.
The first Horodetskyi object built in Kiev was a shooting gallery on a wooden Lukyanovke. Exquisite taste of the artist was immediately seen by Kiev elite. Order a variety of architectural objects follow one after another. Buildings built in Kiev on projects Gorodetsky difficult to even enumerate. Most known of these is the Historical Museum (now the National Art Museum), Karaims'ka kenasa Street Fifth Ave, Church of St. Nicholas, where the first was used reinforced concrete floors.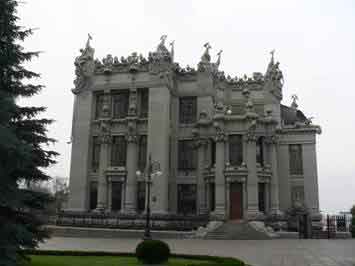 But the most famous architect of Kiev citizens for their "House of chimeras. On all sides of the house is decorated with sculptures of Naiad, dolphins, lizards and other fanciful images made of high quality cement. Apparently, this was a favorite artist's creation, as he settled in this house occupying the best apartments of ten rooms.
With this house connected with another well-known Kiev legend - you can still hear. Ostensibly a customer of the house was a merchant, whose daughter mad through unhappy love. And visions of this poor girl's architect described in as "chimeras". In fact, Gorodetsky tried to portray their trophies, obtained on a hunt in Africa. It was an artist in another passion - hunting. Repeatedly won various awards hunting. Furthermore hunting for spaces of the Far East to Africa. Very often brought different exotic exhibits are transferred to museums and live animals Kiev zoo.
Hard imagine that in addition to designing buildings in Gorodetsky enough time yet and the design of furniture, jewelry, stained glass, stone carvings.
For Gorodetsky Kyiv became friends and favorite cities, but a Civil War and the changes it brought to his life architect decided to go abroad to Poland, which also ceased its activities. After all, it gets even contracts in Iran, where the station building, theater, hotel, palace of the Shah.
January 3 1930 Vladislav Gorodetsky dies. He was buried at the Roman Catholic cemetery in the capital Tehran, Iran. Kiyani, honoring outstanding achievements architect, called the street where he lived Gorodetsky his name.
During Soviet rule, which proclaimed itself the power Workers and peasants, workers and took care of most poor population. Therefore 20-30-ies of XX century. family workers and officials in poselyaly once luxurious apartments and more wealthy townsmen. But one family, but in several. These apartments were called "communal". Here's how Mark Golub recalls kievlyanin such housing: "In mid 30's our family was one of eight residential rooms of large apartment where there were also hallway, corridor, two bathrooms? The kitchen stove was great, but never been stoked - it stood 8 "kerosynok" - the number of rooms and families who occupy them. All lived in apartment 25. ? All Years I do not remember any scandal, neighbors lived together and helped each other, that in fact it was not typical of "communal".
Inconvenience of living together and forced to share using the bathroom or toilet often led to conflicts between residents. Although it was a different way - between neighbors on "komunaltsi" installed great relationship. Everything depended on the people.
Housing problem faced particularly acute after the war. Many houses were destroyed Kiev. Had to settle where the need. As mentioned kievlyanin L. Grin, "One family housing where previously wipers kept his farm, and where in the trash carried buckets? Also lived in the attic? Pigeons bred straight dudes "in their home. We lived four years in the basement. And our police precinct a time lived in their work - directly in the office. " In the postwar years, not housing and had many thousands of workers who came to Kyiv for restoration cities, factories, mills.
Rozpytayemo expert.
(A) M. Kalnytskyy about Kyiv housing workers beginning XXArt.
Where they lived.
"The problem homeless local workers resolved differently. Most primitive option would stay in employer employee directly (in this position were about 17% of respondents). In fact, it is meant to hold in boss dirty corner house, during which the owner was not ashamed of even graze vtrydoroha. "At boss apartments – discussed in analysis of questionnaires, – agree people completely overwhelmed by poverty, who have lost all their cultural needs by endless work. Arriving at this apartment, the worker is sent to all service to the host, everything falls lower and lower, and if it somehow able phenomenally popular and unpopular with the yoke of these conditions into a lumpen-proletariat, working hours interrupted only by deeply awful.
The vast Most craft workers lived in hired apartments. But the concept "Flat" here needs to be clarified. Of these, only percent Soroka (mainly for married workers) are really separate apartments – mostly one-room, the rest rented rooms, and even half the room, nook or bed. They lived, of course, in terrible crush, but there was no other choice – had to save. Cheapest – literally a few cents per night or very gift – spared casual shelters, but they were little, so eager to get there long lines yet occupied dark.
It would seem that time "building fever" in Kiev, had filled the housing market and lead prices of small apartments with acceptable even for low-income population. Actually turned out differently. Because of hectic nature of construction work and spared expensive materials, so that homeowners in the pursuit of "juice" maintained very high tariffs. As testified statistics, expensive housing Kyiv took the first places in the world.
Monthly rental of single-room apartment with kitchen kievlyaninu get along at an average of 12.8 rubles. For room he had already put 15.24 rub.,
Results survey showed that 70% of all family income does not exceed 600 rub. per year, ie 50 rubles. per month. And the average wage skilled-worker husband was 445 rubles a year. 11 kopecks. Lion share of these amounts eaten so-called basic needs – housing, food, clothing.
(B) With memories Oleg Anisimov, 2002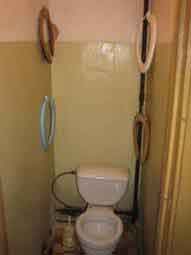 "One day 25 years ago? I was in classical komunaltsi where 11 rooms inhabited (huddled) 11 families. Clearly, the toilet was 11 (!) Bulbs on the walls like garlands on the tree was decorated with New Year 11 circles for the toilet? "
Let us consider:
- What communal apartments where they were and why?
- How consisted relations between neighbors in komunaltsi? Of which it depended?
- Why not sharp enough housing in the postwar years? As had to solve the problem?
- What do you opinion, should have been done to ensure people flat?
In 50-ies Twentieth century., At the initiative of then leader of the country Khrushchev began mass construction of cheap, maximum simplified housing. These houses were called "Chruschev. The component elements new, mostly five-story buildings, made of special plants - plant. Then ready design transported by special vehicles construction sites, where they quickly collect houses. Sometimes spending a few months or even weeks. Accommodation provided free of charge according to the queue. But his course Kievites had to wait many years, sometimes for life. Over time, an apartment can be buy - so-called co-operative apartment.
Ask Experts
(A) V. Bakanov, kyyevoznavets.
"In Kiev have grown huge panel of Neighborhoods kindergartens, schools, shops. They spent landscaping yards, built playgrounds?
But excessive construction led to the savings that ? Kitchen was so small that family members of four had dine at a time. ? Bathroom been combined with a toilet? low ceilings. What there say, for some, and pass in the kitchen was narrowish. However, these modest buildings helped the country to solve the housing problem. Today in Kiev, operating more than 2000 "Krushchevka. The first inhabitants of these houses, people are elderly, no mention of historical events and everyday life of days in the past, past life ... "
(B) Mark DoveJournalist.
"Today it is home? does not meet modern requirements. But do not forget, when and under what conditions it appears. In addition, should be considered another very important factor: the construction of these houses It was envisaged that they will be used 50, most 70 years, then replace them new homes. That's the deadline? "
Let us consider:
- What is a "neighborhood"? What are the benefits of such development?
- How do you think, why the apartment was so small?
- What is the "problem Krushchevka? Invite as her can be solved?
Source 6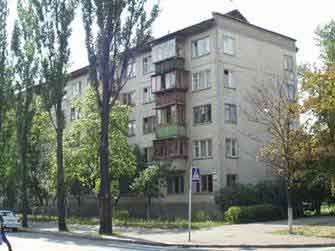 (A) Typical "hruschovki"
(B) T. Tsymbal, Ukrainian trains television, with memories
"What happiness - our family gets a separate apartment! We can not enjoy the their tiny "mansion": quartic albeit small, but private bathroom, kitchen! Dad maystruye sliding door in the room to increase space. My husband live in a large 40-meter room on the communal Pushkinskaya. His mother no circumstances wants to move to center neighborhood. It does not attract even a separate apartment. A how can I I will walk on dacha? "- she asked."
Let us consider:
- Why so happy people, getting a new apartment?
- Why do not all want to leave their homes in the city center?
- What are the advantages and disadvantages of such housing?
In 70 to 80 years Twentieth century. there are new neighborhoods with multi-building with an elevator, spacious rooms and additional rent. Construction of prefabricated parts, as in previous times, gave many the opportunity to build new housing. But it needed all more and more.
Source 7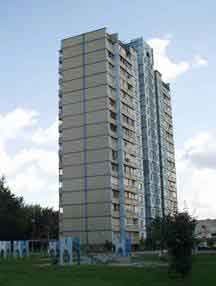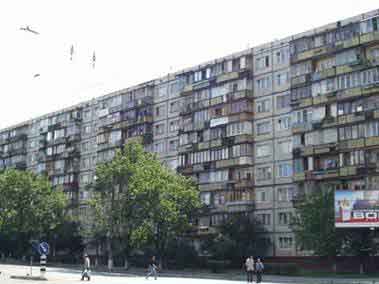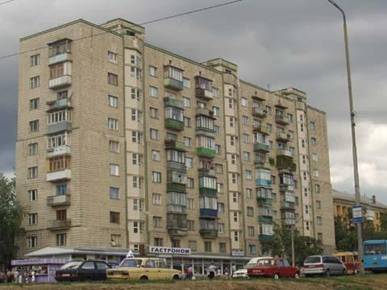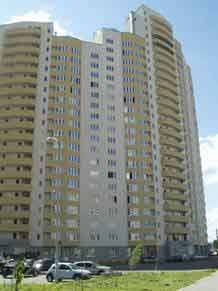 Modern homes
Let us consider:
- The different buildings and new "hruschovki? Is fundamental differences?
- In what house you live? Do you like your House and flat? Why?
Accommodation Kiev changed, changed living conditions. A as society at home poznachavsya Kiev? Try to make representation about it, considered separate things and everyday scenes from different periods. Compare shown below with modern everyday things the same purpose.
Source 8
(A) Time Machine (in housing)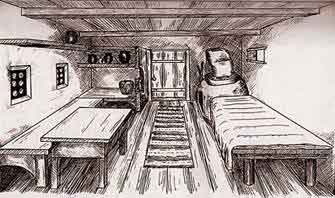 Accommodation 10-13 century. white stove (with chimney)
Reconstruction Sergeev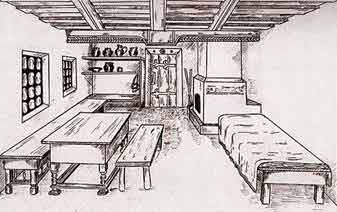 Accommodation 15-16 century. Reconstruction Sergeev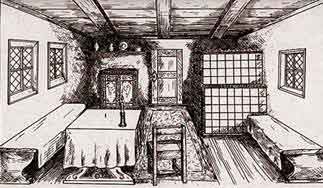 Possessed housing 16-17 century. Reconstruction Sergeev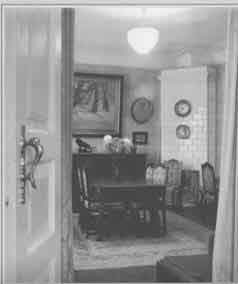 One of the 7 room apartment Bulgakov
Top 20 centuries.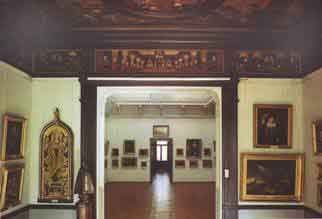 Khanenko room in the house - one of the richest Kiev,
Top 20 centuries.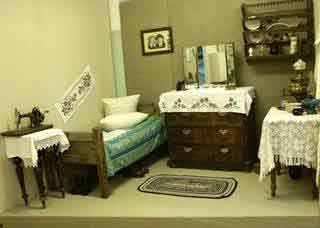 "Communal"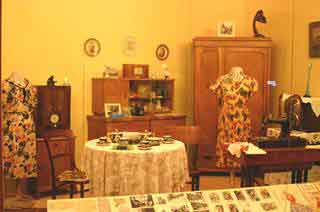 "Hruschovki"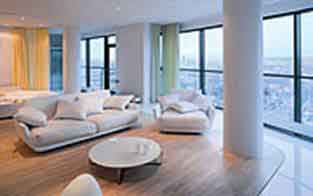 Modern apartment
(B) Ordinary things
Laundry: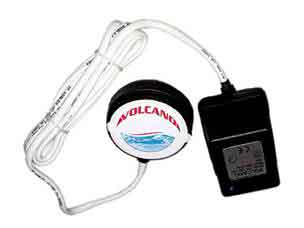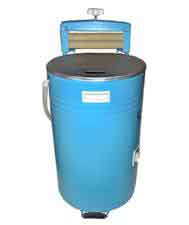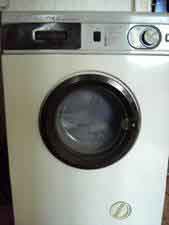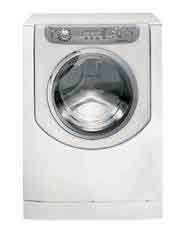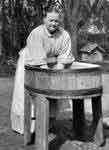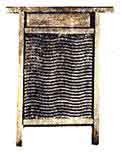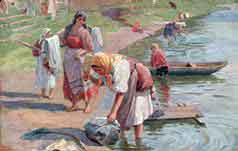 Ironing: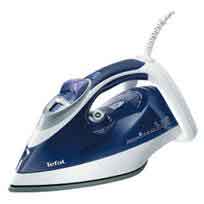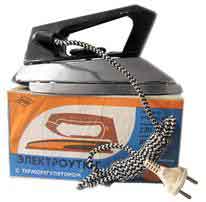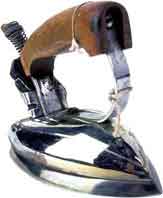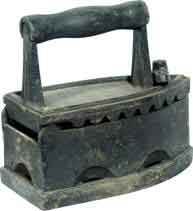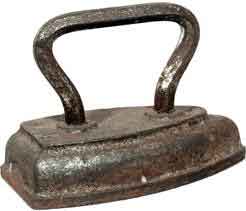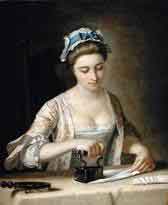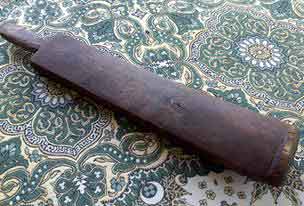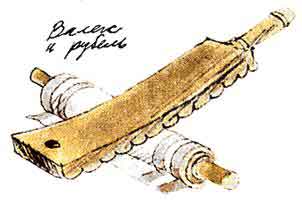 Cleaning:
Tea: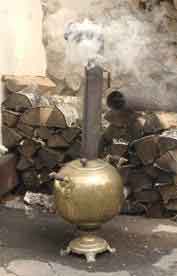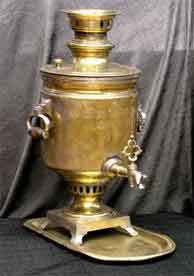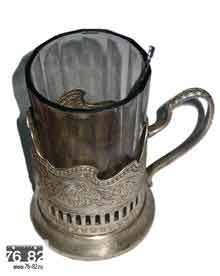 Lighting: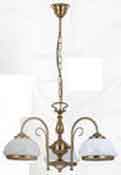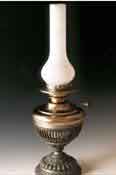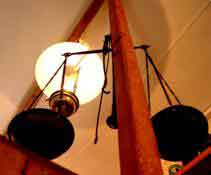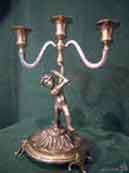 Instruments: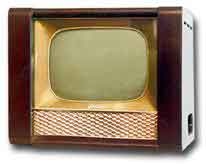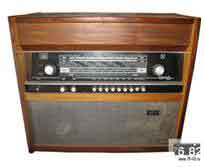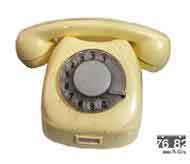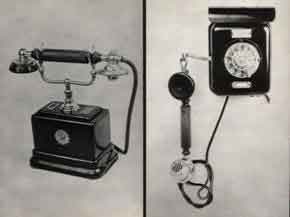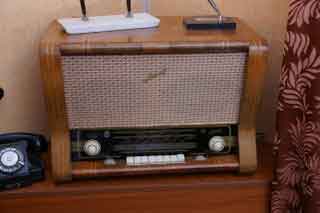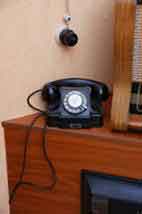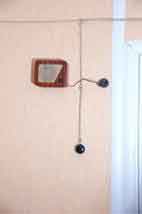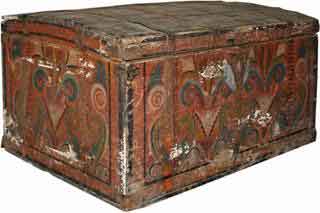 Problem
Source 9
Do not miss! List zlostnыh dolzhnykov sostavlen s published.
«Segodnya newspaper Khreschatyk opublykovala list zlostnыh dolzhnykov on oplate by ZHKU. C in a request krotchayshye timing rasplatytsya s owed, otherwise it will be rolled prymenenы strozhayshye merы, predusmotrennыe existing legislation. Text Messages reason listed below:
"While the yskrennyuyu gratitude dobrosovestnыm contributor for housing and utilities services, and those in the city Kiev svыshe 558 thousand, which nearly 61 sostavlyayut % From all platelschykov for housing and utilities services. Obraschaemsya, first of debtor k, s nemedlenno a request and pay debts in the future to pay for housing and utilities services svoevremenno obъeme and in full. Otherwise case, k debtor will upotreblenы predusmotrennыe existing applicable law events for return of Dolgov "».
Us consider
- Which raises the problem source? Why it exists in different times?
- Why pay rent? Where the money go?
- What services should be provided for them?
- Find out whether the rent paid by your family?
Source 10
From the report of the Kiev press
In Kiev 8 September 2008 celebrated a birthday at home. This house is not better and no worse than others. Not the latest, and oldest. Just home, house whose inhabitants suddenly discovered that his anniversary - 50 years. In the yard, the street Kikvidze, 2 set tables, the hostess brought food, Journalists and invited guests of honor. The feast began with toast, memories, with songs and plans?
In the past with great respect the birthday homes. The facade of the house wrote his first birthday. Over time, this tradition was lost. So it decided to revive pecheryany noted Birthday his house and around it was clear that the holiday is for them real. Very I would like to know about this idea and other people of organized too small (Good) holidays in their backyards in our difficult time.
A poet Peter Osadchuk house residents gave some of their new books from Entitled "family legacy". He? Rejoiced together with owners and holidays encouraged to make these annual celebrations.
Idea everyone enjoyed the famous poet, therefore, be continued. And if you celebrate On the last day of his birth house?
Let us consider:
- When the house was built-birthday? What you can about it say?
- Why tenants staged a holiday?
- Do you like this idea? Why?
- Would you like to celebrate your birthday house?
For discussion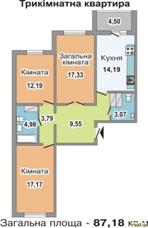 - Which depended on the choice of housing and depends Kiev?
- Why is a modern city, mostly multi?
- Is it possible to solve the "housing problem"?
- How different modern appliances devices from the past? What is their advantage?
Submit parents
- Make a description of your apartment.
- Find out when the build your home.
- Discuss in the state hold your house? Do you like cleanliness in the entrance way neat cabin lift? From depends on the attractiveness of your home?