§ 28 FOREIGN POLICY INDEPENDENT UKRAINE
1. The recognition of Ukraine international community
З public proclamation sovereignty for Ukraine opened opportunities for independent foreign policy. It has gradually become an equal pryluchatysya subject to the international community and international organizations.
Spring 1990 Ukrainian delegation of 45 UN General Assembly for the first time acted independently, not listening to the recommendations of Moscow. Messengers Ukraine debug diplomatic ties with many countries.
The foundations of the foreign policy of Ukraine laid in the Declaration on State Sovereignty its foreign policy was defined as a democratic and peaceful.
Proclaimed principles became more real content in the government formation process. July 2, 1993 parliament approved "The main directions of Ukraine's foreign policy." This document identified national interests, caused the main directions of foreign policy.
Ukraine's foreign policy aims:
§ to ensure stable international situation;
§ to preserve territorial integrity and inviolability of its borders;
§ for entry Ukrainian economy to the global economic system.
As non-aligned state, Ukraine committed non-use of force and threat of force and seeks to resolve any disputes peacefully, acts as a mediator in their settlement.
Ukraine committed to protect rights and interests of its citizens abroad maintain contact with Ukrainian communities.
Ukraine holds open foreign policy seeks to cooperate with all interested partners, avoiding Depending on individual states or groups of states.
Document
"THE MAIN DIRECTIONS FOREIGN POLICY OF UKRAINE "adopted by parliament UKRAINE (July 2, 1993 year)
With ... Given the its geopolitical position, historical experience, cultural traditions, rich in natural resources, strong economic and scientific-technical intelligenceualnyy potential, Ukraine has all opportunities to become influential world power, playing a considerable role in ensuring political and economic stability in Europe.
Ukraine's Foreign Policy used to perform such main objectives: establishing and development Ukraine as independent democratic state, providing stability of the international position of Ukraine, the territorial integrity and inviolability of its borders, joining the national economy the global economic system to its full economic development welfare of the people, protection of rights and interests of citizens of Ukraine, its legal entities abroad, creating conditions for maintaining contacts with foreign and Ukrainian people from Ukraine: assistance in accordance with international law; distribution in the world image Ukraine as a reliable and predictable partner.
Questions for document
1. Based on the text of the document, try to main directions of Ukraine's foreign policy.
2. What foreign policy objectives I set Ukraine document? Do they fit, PA you think the realities of the modern world?
Among the first acts of the state became law on December 10, 1991 "On the Application of International Treaties in territory of Ukraine. It recognized that in order to ensure inviolability of human rights and freedoms "International agreements concluded and ratified by Ukraine constitute an integral part of national legislation ".
Approved by Parliament documents national independence and the referendum results were sent in the General Consulate in Kiev, the permanent missions Republic abroad. The corresponding note was transmitted to the Secretary UN.
Verkhovna Rada of Ukraine December 5, 1991 addressed the parliamentarians and people of the world with the statement, indicating that Ukraine – one of the founding members of the UN – in accordance with the Charter of the United Nations will direct its foreign policy of peace and security in the world with the principles international law.
First, as independent and self- , Ukraine is recognized Poland 2 December 1991 The same day the government Canada also said the recognition of Ukraine independence. On the third day after the referendum was established diplomatic relations between Ukraine and Hungary. During December 1991 recognized the independence of Ukraine from 17 countries.
In July 1992 Ukraine has signed Contract on friendship and cooperation with France. It was the first full-scale contract independent Ukraine, with a foreign country.
During 1992 Ukrainian diplomacy secured the conclusion of 35 international and 88 intergovernmental agreements on bilaterally.
Top 1993 Ukraine officially recognized by 132 States, with 106 countries established diplomatic Ukraine relations.
In June 1999, Ukraine maintained diplomatic relations with 154 states.
2. The entry of Ukraine in international structures. Ukraine's relations with foreign countries
Ukraine has stepped up its activities in international organization of which it was this: UNESCO. IAEA World Health Organization, Union Telecommunication etc..
Soon after the all- referendum MFA of Ukraine appealed to the Council of Europe to hold negotiations to determine the scope and forms of cooperation.
For the republic, which is the level of recognition international human rights instruments held in the mid 80's 62 beds in list of countries – UN member states, integration into Europe could be quickly and easily.
February 26 1992 President of Ukraine Kravchuk signed the Final Act Conference on Security and Cooperation in Europe In July of that year – Declaration Challenge time of change " meeting highest level of participating countries Helsinki process.
Course integration of Ukraine in the international structure not only driven by considerations of national security and economic interests.
With independence increasingly important is the role of Ukraine in the UN.
On the initiative of Ukraine adopted the UN resolution about the rights of national minorities. The most important provisions of this Act is the recognition inviolability of frontiers and guaranteeing human rights.
Ukraine has achieved international cooperation in overcoming the consequences of Chernobyl. UN General Assembly unanimously adopted special resolution in which the task to mobilize international assistance countries affected by this tragedy. Co-authors of this document by the 120 States – UN member states.
In June 1997 at the General UN Assembly President of Ukraine Kuchma proposed to start an international legal act, designed to ensure economic security peoples. This document has set the permissible limits of economic behavior of all states in the interest of survival and prosperity of nations in the XXI Century.
Since the first January 2000 Ukraine first as an independent country began to serve as non-permanent member of the UN Security Council.
During the first years of independence Ukrainian diplomacy zonduvala soil, made steps in the direction of certain foreign vectors to test different models of geopolitical orientation.
Foreign policy making was the concept of not joining any military blocs and political alliances, building external relations through bilateral agreements with different countries.
The collapse of the USSR, Ukraine became third state of the world the number located in its territory of nuclear weapons stockpiles. Therefore the problem of nuclear Disarmament has become Ukraine's original key that could open the door in the west.
Ukraine voluntarily gave all 2600 Soviet mobile missiles in Russia earlier than the deadline. 18 November 1993 Parliament of Ukraine ratified Treaty on the Reduction strategic offensive arms "Start-1. By these actions, our country made significant contribution to strengthening the overall international security.
After the Soviet collapse opened new stage relations already independent states that emerged in the former Union. The transition from dependence relations, which were based on positions "Older" and "younger brother" equal partners to the relationship. This transition intensified inter-old controversy, and caused new ones.
Especially it was in a relationship Ukraine with Russia. Experts have counted about 10 key problems in Russian-Ukrainian relations, which gave rise to the unresolved confrontation in relations between the two countries.
Fundamental differences evident in the determination further fate of the Black Sea fleet at the Crimean territory of which 1954 officially became part of Ukraine.
Complicated relations between the two states and remaining problems such as distribution foreign debt foreign property and assets of the former Soviet Union.
Russia, finding itself the successor former USSR, inherited his assets, which – billions of dollars and liabilities, has declared its right to a union property, which was located abroad as well as gold and diamond funds.
Attempts to lay a new foundation in Ukrainian-Russian relations were made even before the proclamation of Ukraine independence.
In August 1990 MPs Verkhovna Rada of Ukraine that were part of People's Council, and their Russian partners on the block "Democratic Russia" signed Declaration principles of international relations between the USSR and RSFSR.
This document was based on the recognition state sovereignty, and confirmed the republics of Ukraine and the unconditional recognition of Russia as subjects international law. Guaranteed political, economic, ethnic, and cultural rights of representatives of the peoples of the Russian Federation, residing in Ukraine.
These principles were later incorporated into official agreement between Russia and Ukraine signed Boris Yeltsin і Leonid Kravchuk in Kiev, November 19, 1990 Particular emphasis in this document was placed on mutual recognition territorial integrity both republics within their existing boundaries within the then USSR. The parliaments of both countries ratified the treaty for several days.
Russia December 5, 1991 recognized Ukraine's independence. However, biased approaches to the centuries-fact Russia and Ukraine being in one state and the unwillingness of influential Russian politicians to come to terms with the emergence of sovereign Ukraine essentially affected the relationship already independent countries.
The principal difference between Ukraine and Russia are rooted in different approaches to the Commonwealth of Independent States (CIS).
Ukraine stands to transform the CIS super structure with their bodies power and control. Ukraine based on the fact that the basic rate should be done on increased cooperation between states on a bilateral basis and CIS mass I will first promote beneficial trade and economic relations.
In April 1994, Ukraine joined on human associate member to an economic union within CIS. It gave an opportunity for Ukraine to establish relations in which it is interested and not contrary to its national interests and applicable legislation.
From the same Russian Federation traced attempts to transform the CIS structure with supranational powers.
There are two different approaches states to NATO's eastward expansion.
Ukraine believes that the attitude to the North Atlantic Treaty, as the decision to join the it – is an internal matter for each sovereign state. However, Ukraine opposed to the country, which joined the NATO housed nuclear weapons.
Russia against joining this alliance of countries that once were in the Soviet sphere of influence.
In September 1998, State Duma Russia has adopted a number of applications, including direct appeal contained in the Russian Government to take action against the ultimate nature of neighboring countries, including Ukraine to force them to reconsider their attitude to NATO.
However, in relations between Ukraine and Russia no insuperable difficulties.
Important role in development bilateral relations is to achieve arrangements for the distribution Black Sea Fleet and signing a large-scale Treaty Friendship, Cooperation and Partnership between Ukraine and the Russian Federation.
He signed in Kiev, May 31, 1997 President of Ukraine Kuchma and Russian President Б.Yeltsin. The parties committed themselves to build their relations without force, without economic and other pressures. Ukraine and Russia pledged not to enter into with third countries any treaties, against one of them.
Agreement confirmed that two states agreed civilized coexist, given their own interests and the interests of each other.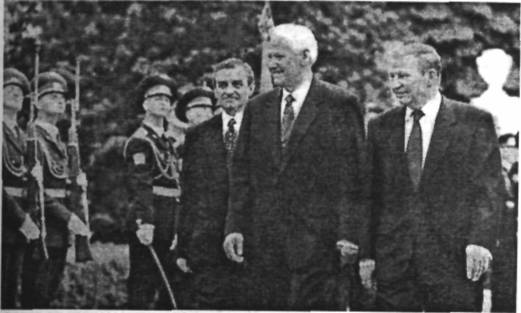 President of Ukraine Leonid Kuchma accepts Russia's President Boris Yeltsin (Kyiv, 1997)
With the proclamation of independence began formal interstate relations between Ukraine Y such influential world country like the U.S..
Washington's reaction to the proclamation of Ukraine its independence was positive, but very wary and restrained. In Ukrainian question U.S. President refrained uncertainty of confidence Ukrainian society, Lack of awareness problems with the Ukrainian and presence in Ukraine nuclear weapons.
December 25, 1991 The U.S. granted Independent Ukraine, but immediately put to it categorical demands: renounce nuclear weapons. The first U.S. Ambassador to Ukraine Р.Popadiuk noted that his state views Ukraine "Not through the framework of Russia, and in nuclear weapons."
One and a half, Washington was trying for scenario to solve their Ukrainian nuclear problem, resorting to different options pressure, persuasion, belief.
And in the middle of 1993 there has been progress in understanding between the U.S. and Ukraine. Washington was not welcome Ukraine as a store of nuclear weapons as well as a state that has important geopolitical significance in Europe. Noticeably shifted the emphasis towards economic, political and military scientific and technical cooperation. Thus the U.S. began to assess Ukraine in the context European security.
January 14, 1994 Moscow was signed Tripartite agreement the Ukraine. U.S. and Russia on the export of strategic nuclear weapons from Ukraine. In turn our country has achieved by nuclear powers guarantee their safety. 11/12 May 1995 an official visit of U.S. President Clinton to Kyiv. Under In his speech before the walls of the University of Kiev, he declared: "Glory Ukraine! "
September 19, 1996 was announced the creation of the Intergovernmental commission on cooperation between Ukraine and USA, led by its President of Ukraine Kuchma and U.S. Vice President А.Gore. Creating such a commission favors a strong interaction between national security, foreign policy, trade and investment.
In early June 2000 was U.S. President's visit Clinton in Ukraine. During the talks, President President of Ukraine and the U.S. raised a wide range of bilateral relations – of European security to environmental protection.
They also discussed issues deepening investment and trade cooperation between the two countries. The U.S. president said that the United States will assist Ukraine in developing small and medium businesses. Agreements were reached on the lifting of quotas on commercial space, which opens the door to Ukraine's participation in joint projects space launch vehicles.
U.S. President and the President of Ukraine joint statement pledged to support Ukraine's progress to join World Trade Organization.
The agreement on cooperation Ukraine and the U.S. nuclear power and questions on security nuclear power stations.
U.S. President supported the participation of Ukraine in the energy corridor East–West from the Caspian region to world markets. During President of Ukraine the negotiations said that the decision of the Ukrainian leadership to December 15, 2000 will closed Chernobyl AES.
In the early years of independence Ukraine failed to win recognition international community.
It worked out the legal framework and mechanism nuclear disarmament, begin the process of Ukraine's integration into European and global structure. Despite numerous units contradictions in Russian-Ukrainian relations avoided serious confrontation with neighboring states.
However, were unfounded calculations of the leaders of Ukraine Western assistance for a broad and fast integration in economic and financial structure of Europe. It was recognized impractical, harmful to national interests of Ukraine distancing from Russia and CIS in the economy.
There has been some correction of external Policy of Ukraine. It was an attempt to bring it beyond political declarations and put on a political track praktytsyzmu and economic feasibility. Ukrainian leadership began to pursue an active foreign policy in Eastern and in Western directions.
Implementation of the course allowed Ukraine's leadership significantly reduce conflict, to complete a number of important International Affairs, which had been previously established.
November 16, 1994 Ukraine joined Contract about NPT.
In November 1995 Ukraine was Adopted the Council of Europe and a 37 member of this authoritative international organization.
With the accession of Ukraine to the Council of Eu Ukrainian people naturally back to the European family of nations, of which was artificially detached during long time. Ukraine showed that ready introduce the common country for all states – Council of Europe member codes and standards behavior.
July 9, 1997 Madrid Ukraine signed "The Charter on a Distinctive Partnership between Ukraine and Organization North Atlantic Treaty. "
According to the document identified sphere and mechanisms for consultation and cooperation between Ukraine and the Organization North Atlantic Treaty on security and conflict prevention, political and military aspects of nuclear, biological and chemical weapons, arms control and disarmament.
Countries that are members of NATO support sovereignty and independence of Ukraine, its territorial integrity, democratic development, the status of nuclear state.
Opened in Kyiv Information Center NIATO documentation, which has promote cooperation between Ukraine and the organization.
Expanding ties and states; Ukraine only civilized political methods decide strengthening its borders.
With all European neighbors Ukraine has agreements, which supported the lack of any territorial claims to our country.
Ukraine agreed to Strategic Partnership with Poland.
At the international level is defined bordered Belarus.
After lengthy negotiations conducted Prophet in dealing with Romania.
2 , 1997, signed agreement on good neighborhood and cooperation between Ukraine Moldova.
Lay a legal framework that gives can legally issue Ukrainian-Russian border, that is Over 2 thousand kilometers. Process delimitation border (marking the maps) was held from April 1998 On the sea Ukrainian-Russian border, it is still not resolved. The Russian side was not ready for border delimitation in the area Azov Sea Kerch Strait.
Prudent foreign policy of Ukraine provided the preconditions for its entry to international financial organizations, expansion of long-term trade and economic cooperation.
Ukraine has established cooperation with European Bank for Reconstruction and Development. World Bank, International Monetary Fund.
An original breakthrough in export high-tech products, including aviation, shipbuilding, space industries.
Since 1996 Ukraine provides foreign trade surplus. Considerable attention is paid foreign investment in Ukrainian economy: from 484 million U.S. in 1994 to 3122 million U.S. in 1999 increased foreign investment.
However, business overseas States show a wariness and mistrust towards Ukrainian partners. This attitude caused primarily slowness and inconsistency of economic reform, unstable Ukrainian legislation and respectively netryvkistyu legal foundations of foreign investment, the years independence in Ukraine several times changed the conditions for investment activity.
Ukraine's participation in activities of international organizations
Name

Time, which Ukraine has   participate in its activities

Organization   United Nations (UN)

1945

Worldwide   Postal Union (UPU)

1947

Worldwide   Telecommunication Union, International Consultative Committee on Radio

1947

World   Health Organization (V003)

1948-1949,   updated since 1992

World   Meteorological Organization (WMO)

1951

Organization   United Nations Educational, Scientific and Cultural Organization (UNESCO)

В 1954 Ш

International   Atomic Energy Agency (IAEA)

1957

World   Intellectual Property

1970

Organization   United Nations Industrial Development Organization (UNIDO)

1985

Commonwealth   Independent States (CIS)

1991

Organization   for Security and Cooperation in Europe (OSCE)

1992

Parliamentary   Assembly of Black Sea Economic Cooperation of Black Sea Association   Economic Cooperation

1992

International   Monetary Fund (IMF), World Bank (WB) (formerly International Bank   Reconstruction and Development)

1992

International   Civil Aviation Organization (ICAO)

1992

International   Maritime Organization (IMO)

1994

Council   Europe (CE)

1995

Association   countries: Georgia, Ukraine, Azerbaijan and Moldova (GUAM) (formerly GUUAM; incorporation   was also a member of Uzbekistan, which later went out with his staff)

1996

World   Trade Organization (WTO)

2008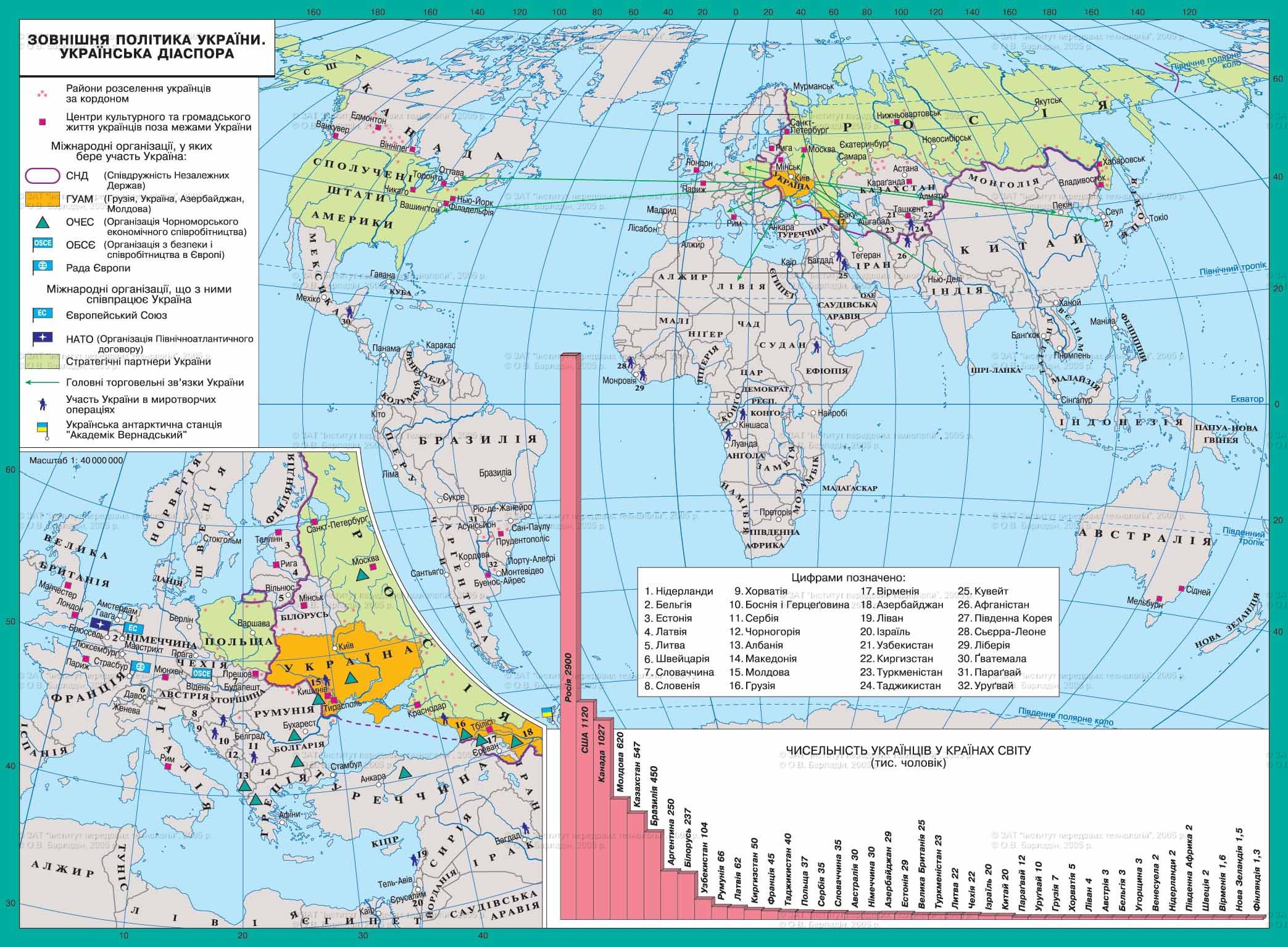 Ukraine's foreign policy. Ukrainian diaspora
3. Cultural and sports relations of independent Ukraine, with the outside world
With the proclamation of independence of Ukraine began a new phase in its relations with Ukrainian diaspora in the world.
Outside our country now lives to 13 million Ukrainian. Gradual deideolohizatsiya social and political life, a peaceful foreign policy States have opened opportunities for direct contacts between residents Ukraine and the Diaspora.
One manifestation of this was the in 1990 in Kiev First Congress International Association of Ukrainian. It is widely discussed revival and development of science and culture of Ukraine as a sovereign state. Congress contributed growing international authority of our state.
In January 1992 was Ukrainian Congress of Independent States. In speech, the President of Ukraine Kravchuk sounded thesis that Ukraine – not only for Ukrainian that It is home to eachfoot who lives on her land, which would nationality it was not. Congress outlined the range urgent tasks associated with development of independent states that emerged on former USSR.
Setting up cultural ties promoted festival "Ukrainians around the world unite! "Spent in 1994 in the capital of our state.
The efforts of many members of the Ukrainian Diaspora focuses on activities aimed at supporting positive changes in the economy, science, cultural and educational sector of Ukraine.
January 22, 1996 Cabinet Ministers Ukraine approved the state program aimed at expanding the comprehensive Relations with Ukraine Ukrainian communities. The program included political, diplomatic, economic, information support Ukrainian living in other countries.
Ukraine extends cultural cooperation many countries world. With this aim in the first years of independence have signed agreements with more than 60 countries.
Reliable bindinglinks with the outside world has Ukrainian Society for Friendship and Cultural Relations withimportant stage countries company "Ukraine", who maintain close contacts with community organizations operating abroad. During 1992-1995 he Over 150 creative teams of Ukraine visited on tours abroad.
Only during 1999 Ukraine visited by 4 million foreign tourists most of them from znayomylas interest from cultural heritage of our country.
In the international arena began to go Ukrainian film. At 36 Film San Remo Ukrainian film "Rogue" (Directed Savel'ev) awarded the Grand Prix.
Successfully demonstrated their art film festival in Ukraine to the Hungarian city Dod (1994). The festival presented over 100 films from different countries world. Of the 10 awards received four Ukrainian films, among them "Limit on Castle "(directed in.Lysenko). "Chronicle of an uprising in the Warsaw Ghetto" (Directed by J.Dulevska).
Ukraine is showing concern for the creation own of sports institutions, which would have to represent Ukrainian sport international arena.
December 22, 1990 took place in Kyiv Congress, which was formed National Olympic Committee NOC) led Olympic champion V. Borzov.
З proclamation Ukraine's independence supporters sports movement in the republic began to actively seek to International Olympic Committee (IOC) finally recognized Ukraine to its equal member and that our state could form its own team of XXV Olympics at in Barcelona (Spain).
However, the Ukrainian team was rejected with the motivation that the capital of the Olympic Games can not accept more members than it had been decided earlier. Ukrainian athletes had participate in the Olympics in stock Joint teams of the CIS.
National Olympic Committee Ukraine has made to the state flag of Ukraine was presented on sports arenas of Spain, and in case of victory anthem sounded Ukrainian sportsman of Ukraine.
In the United team were CIS 82 athletes participated in Ukraine. They won 41 Olympic medals, the Returned home from Spain 1917 Olympic champions, 15 silver and 9 bronze medalist. Most of our athletes won medals in team sports.
Four times Olympic mast raised the flag of Ukraine and its national anthem sounded: in honor of a champion Oleg Kucherenko (Kiev), athletic gymnasts T.Hutsu (Odessa) T. Lysenko (Kherson) and artistic gymnasts O. Tymoshenko (Kyiv). They were Olympians first independent Ukraine.
Officially, the International Olympic The Committee recognized National Olympic Committee of Ukraine March 9, 1992
With the financial support of Ukrainian Diaspora Ukrayny athletes performed at international sports competitions individual sports. First time separate team Ukraine was in 1994 on oxidaselanguage Olympics в Norway.
The team comprised almost 40 athletes, they won 12 th place in the unofficial team standings –Olympic champion individually skating O. Baiul invited to U.S. of official The delegation headed by President of Ukraine.
Since 1992 Athletes Ukraine involved in almost all international competitions. On "Universiadi-93 American Hotels Buffalo Ukraine won the team 9 th place. Members of its achievements impasse "Student-95 and Army international competition in Rome.
Teams participating in the Ukraine prestigious soccer tournaments: the European Cup. Cup Winners' Cup. USFA Cup.
Ukraine became the scene of international sports competitions, conferences, exchange experiences on development of physical education and sport.
This contributes significantly to Contractual relationships that Ukraine has with many countries. Specifically, in May 2000 An agreement between Ukraine and China. Predicted exchange athletes and coaches, cooperation in sports education and the media, organization of sports lotteries.
Similar cooperation agreements in field of physical culture and sports of Ukraine has also and Russia and Poland, countries Baltic States, Belarus, Slovakia, France.
At the Kyiv National University of Physical Education and Sport in May 2000 Held IV International Scientific Congress, which discuss the important topic: "Olympic sports and sports for all: Issues health, recreation, sports medicine and rehabilitation.
Dozens of athletes – representatives around the world – involved in sporting events "Prizes Olympic champions, periodically held in Ukraine.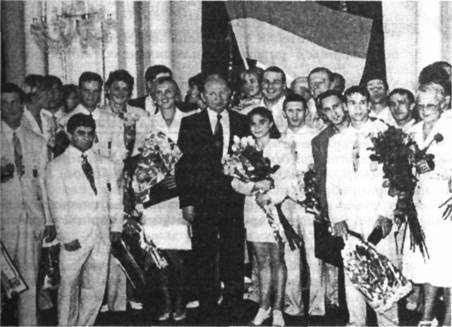 Ukrainian Olympic team in receiving President Kuchma (1996)
Sportsmen Ukraine does not have those conditions nalayutsya their rivals in the developed world. However, its perseverance and diligence achieved considerable success in sport. Long after Boxers are known outside of Ukraine to Vitali and Wladimir Klitschko. A Boxers are also brothers Valery and Vladimir Sidorenko at the European Championships in the Finnish city of Tampere in May 2000 won the title.
In 2000, swimmer from Kharkov Jan Klochkova became the champion of Europe, and later –double Olympic champion at Sydney Olympics.
The first European Championship Chess Women, held in June 2000, Kherson Girl Natalia Zhukov became the first ever chess champion of the European continent.
Women's team from Ukraine Sports Gymnastics at the European Championships, held in May 2000 in Paris, won the silver medal. Men's team with Handball entered the eight best teams in the championship World 2001 and women's handball team for the first time in the history of independent Ukraine was the silver medalist of European Championship, held in December 2000 in Romania.
Questions and Tasks
1. Identify key napryaly exogenoussocial policy of Ukraine.
2. Spread the word about Ukrainian-Russian relations.
3. As developing Ukrainian-American relations today?
4. Name the famous Ukrainian athletes that brought fame Ukraine.
5. What Documents were foreign legislation of independent Ukraine?
6. What international value has voluntarily Ukraine Nuclear weapons?
7. As a developing cultural and sports cooperation Ukraine with foreign countries in the first half 90 years?
8. Identify the chronological sequence of events:
- Signing the Charter on a Distinctive Partnership between Ukraine and the North Atlantic Compact;
- First appearance on Separate Olympics team Team Ukraine;
- Ukraine's accession to Council Europe;
- of Ukraine features non-permanent member of UN Security Council.
9. Prepare a speech on "The activities Ukraine in UN, using materials textbook and more literature.
10. Describe foreign policy activities of independent Ukraine by Plan:
a) relationship with European countries;
b) relationship with CIS;
в) part in international organizations,
11. Discover ways Integration Ukraine into the world community. What there are difficulties along the way?
12. It is believed that foreign policy is reflection of its domestic policy. Is it related to foreign policy Ukraine?
13. Which aspect of foreign policy of Ukraine, What do you think is the most, promising? What States or international organizations, in your opinion, Ukraine should maintain closer relationship, and why?
14. Some politicians believe that Ukraine should not be dispose of nuclear status. Do you agree with this opinion?
15. Why do you think that Poland and Canada among the first recognized Ukraine's independence?