§ 29. Poland. (textbook)
§ 29. Poland.
Remember

In what climatic conditions located on Polish territory?
On the example of Poland, as it may affect the economy out in the presence of the sea?
Which language group is the population of Poland?
Business Card
Area: 312.7 thousand km2
Population:38 483 000 (2010)
Capital: Warsaw
Official name: Poland
Political System: Parliamentary-presidential republic
Legislature: Bicameral National Assembly (Sejm and Senate)
President: President (elected for 5 years)
Administrative structure: Unitary republic (16 provinces)
Common religion: Christianity (Roman Catholic)
Member UN, NATO, EU
National Holiday: Anniversary of the Constitution of 1791 (May 3), Independence Day (11 November)
EGP and natural resources potential. State located near the center of Europe between the Carpathians and the Baltic Sea, borders with Russia, Belarus, Ukraine, Germany, Czech Republic, Slovakia and Lithuania.
Most of the surface of the country is plain with low lowland coastal strip and lakes. In the southern part - Ma
Poland stands out significant reserves of minerals: Silesian coalfield (considered one of the richest in Europe) oil, natural gas, iron ore, copper, lead, zinc, nickel, silver,  sulfur, rock salt, potassium salt, etc..
Population. Poland - a typical odnonatsionalna country 98% of its population are Poles living as Ukrainian, Belarusian,  Germans and Jews. Over 95% - faithful Catholics. Official language - Polish, that belongs to the Slavic group of Indo-European language family.
During World War II, Poland lost about one fifth of their population. Postwar significant population growth ensure quick recovery of his strength. Processes fall standard of living and unemployment have caused migration of population from country to developed countries of Western Europe and Anglo-America. In recent years, standard of living improved, positively marked for demographic situation in the country. The process of depopulation has changed little, but a positive natural population growth. In agriculture employs 17.4% of the working population in industry - 29,2%, in services - 53.4%.
Density - 123.5 persons. per km2. Internal migration contributes urbanization in the country, intensified development of cities in which are about 65% of the population. The largest of these are Warsaw, Lodz, Krakow, Wroclaw, Poznan, Gdansk, Szczecin.
Warsaw, the capital of Poland, a port on the Vistula River, a major transport node has an international airport (Okentse). The town was founded in the XIII century. near crossed the Vistula and increased rapidly, using its advantageous trade position.
Industry represented companies mechanical engineering, metalworking, metallurgy, chemicals, perfumes, sewing, printing, food processing industry.
Warsaw - cultural and scientific center of the country, there are Polish Academy of Sciences, University Medical Academy, universities, the National Museum, Polish Army Museum, theaters.
Lodz, the second most populous city in the central part Poland, on the watershed of the Vistula and Oder. Significant center of textile, chemical, food, clothing, furniture, paper, printing and engineering. Transport hub. Lodz - one of the largest in the country academic centers, there are University, Polytechnic Institute, Higher School of Film, Television and Theatre.
The first written mention of the city is founded in 1332 to river boat (hence the name of the city) to go shopping in Torun, Krakow  1423 Lodz was the right city. Petrkovska main street - one of the the longest shopping streets in Europe. Preserved many churches of different denominations and the largest Jewish cemetery in Europe from 1892
Krakow, A town in Poland, the Vistula River, based on  location, is vyslyan in VIII-X century. Significant center steel (Here by the Soviet Union built the country's largest steel Works) and engineering. Advanced chemical, cement, furniture, harchovosmakovu, tobacco and printing industry. International Airport-John Paul II. Biggest Education Center: There are 18 universities in  including one of the oldest in Europe Jagiellonian (on behalf of the Polish King Wladyslaw Jagiello) University Observatory, National and art museums and more.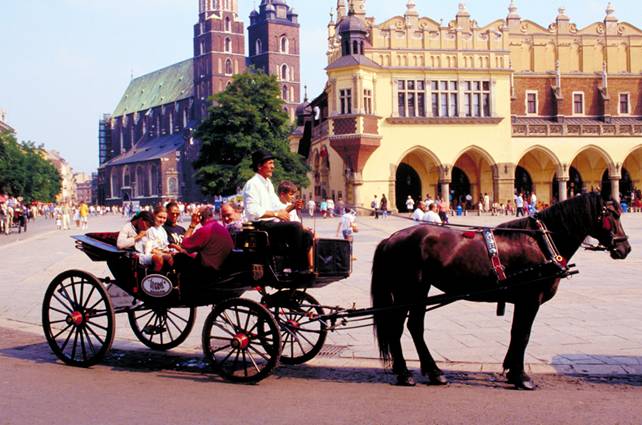 One of the areas of Krakow - the old capital of Poland
Economy. Poland - industrial-agrarian country. GDP per capita is about $ 13,275. Reforms of the 90s led to the development of private businesses and restructuring country's leading industries - engineering and textile industry.
Developed mining industry (mining of coal and lignite  coal, copper, zinc and lead ores, rock salt and sulfur). Important are shipbuilding, transportation engineering, ferrous and nonferrous metallurgy, chemical industry (production of sulfuric acid, pharmaceuticals, perfumes and cosmetic products), textile (Linen, wool and cotton) industry, as well as making pottery and porcelain. Poland - one of the largest producers of sulfur: about 2 million tons  annually.
The rapid growth of economic potential and market reforms in economy has strengthened the national currency of Poland. Structural alteration contributes to the development of social sphere and increase the share of new industries.
Industry. The composition of GDP agriculture gives 4%, industry - 31.3%, services - 64.7%.
Poland Industry for last 20 years has undergone significant changes, however,  still continue to develop industry specialization, the prevailing during the last socialist country. The main source of Electricity is the thermal power, the advantage actually brown (Konin, Radomsko) and coal (Upper Silesia).
Engineering specializes in metaloyemnoho mining, power equipment, trucks cars, sea vessels. Available products are agricultural machinery,  Radio-electronic and electrical industrial equipment. Its production is concentrated in large cities: Katowice, Zabrze, bit, Wroclaw, Lodz, Gdansk. Poland also specializes in manufacturing locomotives and aircraft.
Ferrous and nonferrous metallurgy received considerable development on the basis of Upper Silesia, which has its own coal reserves and iron. The chemical industry are oriented on the line conduits (Bdyhosch, Pulawy, Plock, Gdansk), ports (Szczecin) and  own chemical raw materials (Tarnobrzeg, Torun). The internal market provides a powerful full of light industry center in Lodz (Zgierz, Ozorkuv). Despite considerable external debt and high unemployment, Poland is the leading place  in Europe, the dynamics of growth of foreign investment.
Agriculture. In the agricultural sector dominated by individual farms - it was an individual trait and socialist Poland, where unlike other socialist countries do not was collective.
The main crops are rye, barley, oats, wheat. Equally important is fruit, sugar beet, potatoes, vegetables, berries and fruits. These industries have export value. Leading industry livestock - pigs and cattle cattle and poultry. Livestock Poland provides internal demand for food and exports meat and meat products, live livestock and livestock feed. Considerable worth to the state of the sea fishing, fish farming in inland fisheries and forestry.
Agriculture provides the extensive  country's food industry: bakery, dairy, confectionery, meat-and ovochekonservnoyi etc., but requires significant investment to reach a competitive level of the product and productivity of industry in Western Europe.
Transportation. There were significant development of all modes of transport. Overall situation of the country contributed to the creation of its territory of the transit routes of European importance. In passenger transportation is the leading road transport due to large reconstruction of existing and building new roads. The main road junctions are Warsaw, Lodz, Wroclaw, District of Upper Silesia. The total length of roads is over 430 km.
Rail transport is a leading transportation domestic goods and export-import traffic. Poland has over 25 thousand kilometers of railways. In major cities, airports are:  Warsaw, Lodz, Krakow and others.
Pipeline transportation has both domestic and transit value. Sea transport provides basic export-import activity. Major seaports: Gdansk, Szczecin, Gdynia, Svynouystsye. 16 million inhabitants use the Internet.
Foreign economic relations. The structure of exports dominated by machinery and transport equipment, intermediate and ready manufactured goods, food and live animals. The largest volume exports directed to Germany, Italy, France, Great Britain, the Czech Republic and Russia.
Poland Imports machinery and transport equipment, raw materials and semi-finished products, chemicals, minerals, fuel, oil and so on. The main suppliers of these products: Germany, Russia, Italy, Netherlands, France, China. Significant items of income are tourism business. The most important resorts of the country Sopot, Zakopane (center winter tourism and sports), Wieliczka (resort), sand Baltic beaches and others.