§ 25. Food industry (textbook)
TOPIC 17. FOOD INDUSTRY OF UKRAINE
§ 25. Food industry
Sectoral STAFF. Food industry is one of the leading sectors industry in Ukraine. It second only to steel industry, giving more than 17% Industrial production in Ukraine. Food industry has a complex structure bringing together over 20 industries that produce food. The main among them are sugar, boroshnomel-but, cereal, oil and fat, bakery, alcohol, fruitfruits, fish, dairy, meat, wine, confectionery, brewing, Tobacco et al. Food industry very closely related to agriculture which is the main supplier raw for her. It is not surprising that the spatial organization of food industry is largely determined by specific features of rural economy. Decisive role in placing the food industry enterprises play raw materials and consumer. Those who use little Transportable raw materials (perishable) or a high numberbone material, tend to it (sugar, oil, fish, fruitsfruits, dairy, etc.).. Areas where costs transporting the finished product than the transportation of raw materials, performancetuyutsya consumer (Confectionery, bakery, brewery, dairy, etc.).. And for raw materials and consumer oriented meat, flourMielno, cereal, tobacco and other industries.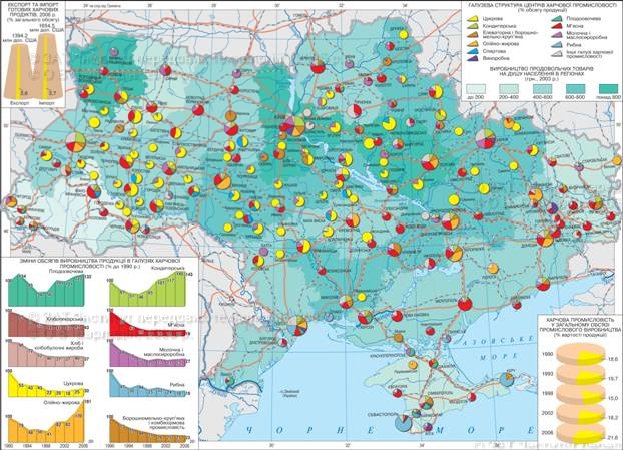 Fig. Food industry
Flour, cereal, Bakery and pasta FIELD. These branches play an important role in providing such kinds of foods like flour, cereals, bread, pasta and more. Their waste used to produce feed. Flour, cereals'wooden branchacquired development in Ukraine in the late nineteenth century. The basic principles placement of its business is raw materials and consumer, that is, they are placed in grain growing areas and in cities. Largest centers milling industry is Kyiv, Kharkiv, Dnipropetrovsk, Odessa, Nikolaev, Kiev. Powerful center field concentrated in large cities, sea and river ports, railway terminals.
Baking branch acquired industrial scale development in the early twentieth century. Shelf life of fresh bread to limited. This causes the placement of the baking industry as close as possible to the consumer. Dimensions bakery-dependent population settlements. In large cities, bakeries much stronger, in addition, they may be several.
Pasta branch are relatively young in the food industry in Ukraine. It focuses mainly on the consumer. Major center of macaroni industry is Kyiv, Kharkiv, Kiev, Odessa, inc.
Confectionery branch developed since the late nineteenth century. Even then, Ukraine has 48 factories, however, low. Now confectionery industry has become large scale development. Leading field centers are Lviv ("Torch") Kyiv (Roche), Trostyanets (Kraft Jacobs Sushard Ukraine), Kharkiv, Vinnitsa, Zhitomir, Donetsk (A.V.K). Most of confectionery developing industry in Ukraine to attract foreign investment.
Sugar industry. Sugar industry is one of oldest and most important sectors in Ukraine. Back in the nineteenth century. it reached large scale development, and Ukraine was one of the largest producers of sugar in the world.
Sugar industry in placing focuses on raw materials, as to produce 1 ton of sugar to 7 tons of processed beets. Now tsukroburyakova zone covers 19 regions. But the largest concentration enterprises from Sugar Industry established in soil is where concentrated 62% beet crops. There are over hundreds of refineries and produced 2 / 3 sugar country. The leading producers of sugar in Ukraine Vinnitsa, Poltava, Cherkasy, Kiev, Ternopil, Kharkiv region. In the sugar industry waste are alcohol, vitamins, yeast factories.
Until recently, the production of sugar Ukraineranked first on in Europe. Markets its products were basedtion, countries former Soviet Union. Today, these markets are almost completelyve been lost due to undermining domestic sugar (high material and energy intensity, and therefore cost production). Third plants in Ukraine (there are more than 190) were built in the middle of the nineteenth century. Most of these companies have very worn basic funds and small power. Thus, the average sugar factory Ukraine may rework the season 2,5 tons of beets, while in the EU - 7,5 thousand tons of excessively long are in Ukraine and sugar season, which lasts 130 days, resulting in the loss sugar beets. Тth the volume of production in the past declined over the decade than 2 times (for 1990-2003). Many sugar factories idle or dismantled.
Oil and fat INDUSTRY. Oil and fat industry produces butter, margarine, mayonnaise and other products. It is a raw material for sunflower seeds, rapeseed, soybean, corn, rytsyna. About 90% of oil in Ukraine produced from sunflower. Enterprises sector posted repompously in regions where the crop (To produce 1 ton of oil to 3.5 tons of seeds). This industry comprises over 30 large enterprises and numerous small oliyen that are located in rural settlements. Most them - in DniproPetrovsky, Zaporozhye, Kirovograd, Donetsk and Luhansk regions. Total oil production in recent decades has almost doubled. The major oil production centers are Dnepropetrovsk, Mariupol, Zaporozhye, Poltava, Odesa, Kherson.
The industry. This industryEnterprises canning industry is in all regions Ukraine, but especially lots of them in southern and Podolsk areas in Transcarpathia. Leading centers are Simferopol, Odesa, Kherson, Izmail, Kamenets Podolsky.
Starch and syrup industry focuses on raw materials. Enterprises of the industry dedicated to growing areas potatoes, so are mostly located in northern Ukraine. The largest manufacturers of starch is Chernihiv and Zhytomyr regions.
Wine and alcohol INDUSTRY. Raw material base for wine Industry are grapes, fruits and berries. Industry tends to growing areas of raw materials, as the best grapes term is 5 years. Plants recyclable materials and wine bottling and can be placed in areas consumption of this product. Most wineries placed in Crimea, Odessa, Mykolaiv, Kherson, Transcarpathian areas. Grape wine brands Massandra, "Inkerman", "Koktebel" "Gold beam, Shustov," Shabo "have a worldwide recognition. Over the past years in Ukraine increased production of quality wines and brandy. Leading centers are making branch Massandra, Alushta Bakhchisaraj Izmail, Odessa, Mukachevo.
Alcohol industry oriented for raw materials. Alcohol use more than 150 industries. Raw material base for production of alcohol is molasses, sugar defective, grains, potatoes. Usually, alcohol plants located in small towns. Most alcohol in Ukraine are produced from waste sugar industry. The leading producers are his Cherkassy, Vinnitsa, Kiev, Chernihiv, Zhytomyr. In some years Ukraine has taken 3 place in the world (after Brazil and Russia) in terms of production alcohol.
Alcoholic beverage industry is the main consumer of alcohol. Branch to the end user. Leading centers alcoholic beverage industry is Nemiroff, Kyiv, Simferopol, Odessa, Chernihiv.
Production beer and soft Beverages gained considerable spread in Ukraine. The largest centers of industry is Kyiv (Obolon, "Dewdrop") Chernihiv, Zaporozhye ("Center") Kharkiv(Rohan), Mirgorod, Brovary (Coca Cola) et al.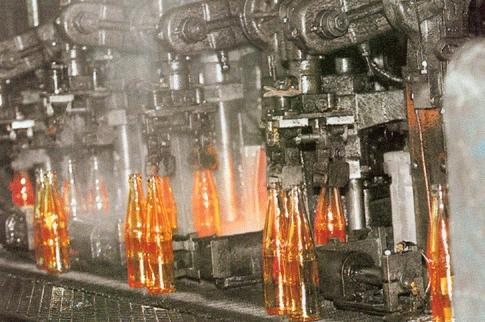 Fig. At JSC Obolon, Kyiv
Dairy Industry. У dairy industry distinguish dairy, cheese, Dairy and dairy industry. Hosted enterprise field in large and small cities throughout Ukraine. Almost all regional centers Ukraine are dairies or molokokombinaty.
Creamery and creamery branch is very syrovynnomistkymy because their companies gravitate to areas of milk production. In recent years the total production of butter and cheese down. Dairy industry specialized, primarily in production of milk. Dairies produce products that are perishable, that determines their customer orientation.
Molokokonservna industry is concentrated in small towns and townships, which tend to areas with developed Dairy cattle (Bakhmach, Balta et al.).
Meat and fishery development. Processing of products Livestock are engaged in the food industry as meat, milk, oil, cheese and others.
Meat industry provides population of fresh and frozen meat, meat products, sausage products meat con-serv more. In structure of the food industry also has a leading position. It oriented and raw materials and the consumer. Her business is in all regions, the largest meat-packing plants knowtomers in large cities (Kyiv, Kharkiv, Poltava, Odessa, Luhansk, Lviv). Total meat production in recent years (1990-2003) fell more than 5 times. At the same time reducing production sausage is not as significant.
Fish industry developed, especially in port cities (Сеvastopol Kerch Odesa, Odessa, Illichivsk, Ochakov, Mariupol et al.). Many products give ship-factories that are in the fishing areas.
For food industry are several inconsistenciesing processing capacity of the existing raw material base, so many the products are not processed. Necessary construction osnaschetheir latest equipment small businesses that could to speedco to prefer high-quality, competitive products.
Remember
Food industry brings together dozens of industries that produce food.
Major branches food industry in Ukraine is the sugar, oil and fat, flour, cereal, meat, milk.
The food industry in Ukraine have widespread deployment. A number of commodity sectors orientation have zonal distribution under cultivation agricultural raw materials.

Questions and Tasks
1. What Food industry is best developed in Ukraine?
2. Describe features of distribution of the food industry of Ukraine, which employed processing of grain and industrial crops.
3. Describe food industry, which involved the processing of animal products. What are the principles placement of the dairy industry.
4. What do you think causes the decrease in production
produstuffs goods in Ukraine?
Practical work in September
1. Analyze statistical data on production agricultural products in Ukraine.
2. Write a conclusion about the dynamics of food per capita in recent years:
– production of which food products is steadily increasing ??????????????????????????????????;
– production of which food increased, and then diminishing (Indicate the year of peak production )??????????????????????????????????;
– production of which food is steadily declining ????????????
………………………………………………………………………………………………………………
Table. Manufacture of food goods per capita (Kg)
Grocery   Products

Years

2000

2001

2002

2003

2004

2005

2006

2007

Meat

8,1

6,8

9,5

11,5

11,1

13,2

16,3

Chips

3,6

3,4

4,3

5,7

7,0

6,6

6,4

Sunflower oil

19,8

19,2

20,3

26,3

28,3

29,3

43,2

Cheese

1,4

2,2

2,7

3,6

4,7

5,8

4,6

Butter

2,8

3,2

2,7

2,9

2,4

2,5

2,2

Bakery

50,1

50,3

48,9

48,8

48,6

48,1

46,0

Sugar

36,2

40,0

33,6

52

45,2

45,4

55,4