🚚 🚁 Збираємо на пікап та ремонт дрона аутел
⛑ 🛡 🥾 Шоломи, форма, взуття
§ 18. Major trends in leading countries in late XIX - early XX century. (textbook)
Subject VIII. Socio-economic and political development
COUNTRIESEUROPE AND AMERICA END XIX -EARLY XX Art.
§ 18. Major trends of the world's leading end XIX -early XX Art.
1. Economic Development
Last third XIX Art. - Top XX Art. characterized by further development in leadingIndustrial countries societyis given in the midst of industrialization - a largemachine industry, which produces machines and equipment and is the base forfurther development of industry Bythis period industrial production grew almost threefold. Especially heavy industry developed rapidly.
The largestprogress has been made in metallurgy, mashynobugovernance bodies, transport. Melting steel, iron, miningcoal manufacture of machinery and equipmentare indicators of power. Along with the emergence of new industries -electrical, chemical - that dramatically changed the daily lives of people.
Deploymentindustrialization, the creation of large enterprises require new formsorganization of production and large financialinvestments.
To attractcapital to address major economic problems has spreadsharing - of capitalseveral subsequent owners of a profit and distribution depend on the input share. Whatsignificant financial resources have been concentrated in the hands of the narrow elite layer of bankers and industrialists, and led to theirdomination in the economic, and political life of society. This narrow strata titled the financial oligarchy.
Creationlarge-scale machine industry led to concentration of production and the birthnew forms of production associations - cartels,syndicates, trusts, corporations, ie, monopoliy. і still other countries this processbegan in the U.S. and acquired таm largest scale. The monopolies triedset your monopolistic domination of the market's leading sectorsindustry, they became more closely at national borders of"Excess" capital. Expansion into underdeveloped countries it gaveopportunity to obtain higher profits. they received, for example byinterest on loans, subsidies construction of railways, development ofraw materials.
Monopoly - no installationentrepreneur or group of employers control over one or more branchesproduction to increase profits and eliminate competition.
The main forms of monopolisticunions are cartels, syndicates, trusts and concerns.
Cartel - business associationone industry. Participants enter into association agreements on prices and allocation of marketssales, keeping your property and commercial independence.
Syndication - of companiesproducing homogeneous products. Participants retain ownership of the syndicatecapital goods and industrial independence, but lost independencecommercial. The products are sold both through property syndicationcreated for this office.
Trust - of companies thatlose any independence. Business owners receive shares worthsubmitted by the PA.
Concern - the association of enterprisesdifferent sectors of economic activity - trading firms, banks, transportCompanies under the sole financial control of one or moreentrepreneurs.
Monopolization industry wasserious test of the principle of market economy - free competition. Itand led to changes in business relations business. In some sectors of the economymonopolists began to restrict free competition, and sometimes retardeddissemination of advanced technologies. However, monopolization not destroy competitionit only postponed it to another plane: unfolding struggle betweenMonopoly is the world market.
The rapid growth of industryled on the one hand, expansionmarket, and the other - contributed to growth - foreign trade, which, based onimprovement of transport was an important factor of economic life, and yet - the mainincentive to increase production. National producers done too tightthe domestic market (goods produced more than they could buy your ownconsumer), and they sought to conquer new markets. This resulted in a sharpstruggle for control over markets. For exclusion of competitors began to use different means and methods.The most common become dumpingthat imports of certain goods at low prices in order to crushcompetitors to capture market, and already thendictate terms. In response to the defense of national Manufacturerbecame a state, which through various events began to restrict the access of foreign goods (introduced high import duties, limits were placed, etc.). Thispublic policy, which was replaced by free trade (frytrederstvo) receivedname protectionism. Sometimes the inputrigid protectionist Zakhovirgins led to a dramaticinterstate relations, "customs war" and thus the destabilizationinternational position. Became an important economic factor in internationalrelations.
Restrictions on trade, the high cost of delivering the goodsand consequently increase the cost led to the emergence of new phenomena ineconomic development. Instead of exporting goods industrialized countries beganexport capital in those countries where the rate of return is much higher. Export of capitalbecame a significant factor in the final shaping of the world market. It linked themany regions of the world with the European centers of industry and banks.The leaders in export of capital were England, France, Belgium and others.
Another important trend indevelopment of leading countries Worldgrowth was the state's role in economic processes. State turned to "night guard" inEconomic regulator processes.Government subsidies, order, regulation became vagoGover factors of economic development, especially inCountries are slightly delayed from the startIndustrial Development: Germany Russia, Italy,Austria-Hungary and Japan.
2. Development of agriculture
In DevelopmentAgriculture clearly defined two directions, two variants of management: farmers, whichbright manifested in the U.S. and Canada, andPrussian (evolution landlord Economy).The essence of these areas was going rural management of natural for a commodity. Farmerway provided for this processimmediately, while the Prussian consistedgradual adjustment in relations that have developed at that time to the needs of a market economy. In Europe there has beencombination these areas. Regardless of the manner in whichdeveloped agriculture,its production increased markedly, butit does not keep up with industry developments.
Agricultureeconomy of European countries based on small peasanteconomy since the 70's pp. XIX Art. long crisis struck. The development of transport has led to whatagricultural products from the USA, Canada, Argentina, Australia, was significantlycheaper than European.
European farmers, hitting thepaw competition, maowl ruined,sold their land, property and moved to cities where the swellpoorest segments of urban population. In England, this stratum of society,peasantry, disappeared altogether.
Those who are able to withstand competitionwere forced to adapt its economy to new conditions, market demand,introduce new technologies. The process of adapting to new conditions was difficult andbiting. Sometimes he was accompanied by great performances by the peasants, especiallyin Eastern Europe.
3. The colonial expansion. Imperialism
Formation of the global systemfarms based on expansion European capitaloften carried out by violent means. The fracture XIX-XX Art. the process of creating colonial empires. They were a major feature of major statevisions - Britain, France, Germany, USA,Russia and Japan.
These new phenomenon in developing countriesformed the basis for a variety of economic and political theoriessought to explain what is happening in the world.
English economist John Gobona inbook "Imperialism" (1902) described the new features of capitalism. Він noted that England has been making a profit from the export of capital in the 5times greater than exports. He also concluded thatfinanciers willing and political dictatorship in the countries where theprofitable investment. Banks are not putting any effort todevelopment of industry, received substantial profits by providing loans to otherStates. Foreign Policy of England and France contributed to markets forprofitable investment of capital. Thus, colonial expansion was directlyrelated to the escalation of industrial groups (monopolies) in the State creditors.
Understanding the essence of imperialismsought to expand the German Social Democrat Hilferding R. and RussianSocial Democrat Vladimir Lenin. The latter, in particular, concluded that imperialism -is the highest and last stage of capitalism, especially when reinforceduneven development of nations and increase their aggressiveness. He formulatedmain features of imperialism:
• combination of free competition and monopoly;
• fusion of industrial and banking capital formation and financialoligarchy;
• economic and territorial division of the world;
• predominant export of capital;
• A close link of financial capitalwith the state.
A full range of these signs wereunique to the group of large states. In addition, the market economy has revealedconsiderable potential for adaptation to changing living conditions, and the imperialist periodexpansion was not the last stage of the market economy. But Lenin,unwilling to adjust their opinions according to the realities of life, used them forjustify the necessity of revolution in Russia as "the weakest inchain of the imperialist powers. "
So, at the end XIX Art. the process of becoming an industrialSociety in Western and Central Europe and North America. Thesecountries constituted a zone of "best of" so-called firstechelon.
South, Southeast and EastEurope, Russia, Japan, who also are on the path of industrial development, owned byto second-tier
The remaining countries were economically backward and needed pro-modernization of the economy. Available in their traditional way of productionnot ensured progress. In this way we can talk about some positivefeatures of colonialism, which destroyed the old, traditional farming included _icolony in the progressive at the time of economic processes. Subsequently, it accelerated thedevelopment, albeit one-sided, backward regions.
4. Political development. Labour movement
Despite significantnumber of revolutions in XVIII-XIX Art. in Europe kept many of the past. It was formed only three republics -France, Switzerland, San Marino, in other Statesand the remainder of the monarchy. In political life importantWu continued roleplay birth aristocracy that formed a military elite and bureaucracy.
Economic changes have led to whatthe largest number class society becamesalaried workers. At washed from farmers and artisans were deprived of their means of production and therefore, guaranteed opportunities to exist. Theyearned their a living by sellingtheir workforces business owners, and were constant victims of unstable,cyclic development of market economy. Loss of work became for themreal vital disaster rejected to limit the hungry existence.
Naturaldesire of workers to guarantee their relative social stability,generated a mass working-class and socialist movement, the dominant ideology in whichsecond floor XIX - Early XX Art., was Marxism.
Prior XX Art. labor movement has achieved considerable success. Almost allcountries have established trade unions and social democratic parties, who coordinated theits activity in the 2 nd International, which was. formed instead of the 1 st Internationalin 1889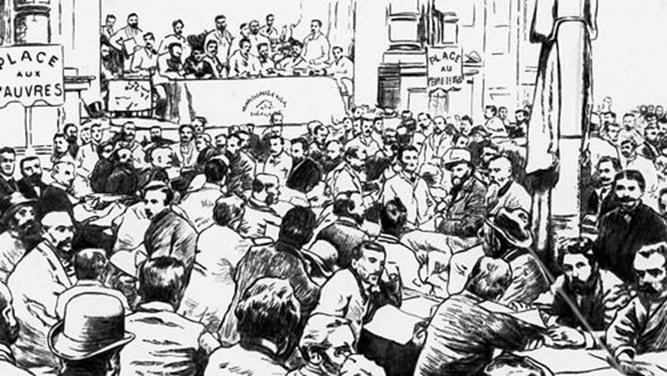 BryusselskyyCongress of the 2 nd INTERNATIONAL (1891)
AmongSocialist Unity was on ways to fight for interests of workers. Left flow thought that they might be satisfiedonly destroy the existing relations through socialistWell the revolution, the dictatorship of the proletariat "and socializationproperty.
Honest socialists sawto satisfy the basic demands of the workers, the reform of public udavshysstructures through representative democracy and social legislation.
Labour movement became a major force in the struggle for democracy.Political structure of most European countries was still far from it.Universal suffrage, also for men, there were a fewcountries. In the majority voting enjoyedsmall percentage of the population. Representative bodies played a supportingrole.
Under the pressure of working andvarious democratic movements in countriesWest began the era of reformism. It propechyla relativesocial peace from 1870 to 1917 its initiators were mostly liberalparty. Thanks to the reforms that are lucky enough to hold in the West, wasestablished the first socialinsurance, strengthened democratic institutions, foundations laid mechanismsstate regulation of socialno-economic processes.
Documents. Facts. Comments
1. Industrial development in England, France, Germany and compoundstions States in 1871-1913 pp.
Coal production (in million tons)
| | | | | |
| --- | --- | --- | --- | --- |
| Years | England | France | Germany | U.S. |
| 1871 | 117 | 13,3 | 37,9 | 41,9 |
| 1900 | 225 | 33,4 | 149,8 | 240,8 |
| 1913 | 287 | 40,8 | 277,3 | 508,9 |
Cast iron (in million tons)
| | | | | |
| --- | --- | --- | --- | --- |
| Years | England | France | Germany | U.S. |
| 1871 | 6,6 | 0,9 | 1,56 | 1,7 |
| 1900 | 9 | 2,7 | 8,5 | 13,8 |
| 1913 | 10,3 | 5,2 | 19,3 | 31 |
Steel melting (in million tons)
| | | | | |
| --- | --- | --- | --- | --- |
| Years | England | France | Germany | U.S. |
| 1871 | 0,3 | 0,08 | 0,25 | 0,07 |
| 1900 | 4,9 | 1,56 | 6,6 | 10,2 |
| 1913 | 7,7 | 4,09 | 18,3 | 31 |
Consider:
Using the table, consider the industrialdevelopmentvelopment of the leading countries in 1871-1913 pp.
2. Dimensions andpopulation of large colonial possessions States
Countries

1875

1900

1914

Area

(Million

кв. km )

Sow-ing (Million people)

Area (Million

кв. km)

Sow-ing (Million people)

Area (million

кв. км)

Sow-ing (Million people)

Great Britain

22,5

250

32,7

370

32,7

350

France

1,0

6

11,0

50

11,0

54

Germany

-

-

2,6

12

2,9

13

U.S.

1,5

0,05

1,9

9

1,9

10

Japan

-

-

0,03

2,8

0,3

19,2
Consider:
What can you conclude, after reviewing the table?
Questions and Tasks
1. What new featuresin the development of industrial society orange barVilis end XIX - Early XX cm.?
2. Thatis a monopoly? What types of monopolies exist?
3. Whynew phenomena in the development of world leading countries named imperialism? What are its main features?
4. Fromyasuyte main features of the political development of industrial Western countries.
5. Describethe change in social structure industrial society.
6. Asinfluenced the labor movement at the end of the democratic processes XIX - Early XX cm.?
7. What are the implications for agricultural developmenthad processes occurring inindustrial development?