🚚 🚁 Збираємо на пікап та ремонт дрона аутел
⛑ 🛡 🥾 Шоломи, форма, взуття
18. Leisure Kiev (textbook)

Leisure Kiev
Key issues
- Why is the holiday fun and important for Kiev?
- How to spend leisure time spent and Kiev?
- Why Kyiv can be called theater, museums, sports city?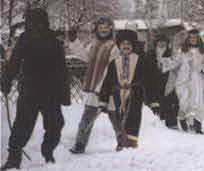 Of course, the people of at all times not only worked, studied, cared about their near and dear. They found time for fun and entertainment.
In Kiev, the ancient holiday seasons were related to labor and rest. In spring, after the agricultural activities taking place wedding, bustling and cheerful festivities were extraordinary events.
Shrove Tuesday in St. Museum, XX century.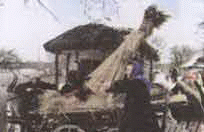 With the adoption of Christianity in the life of Kiev and included religious holidays - Easter, Christmas, Epiphany, Pentecost, and others. Strangely, the celebration of their united Christian and pre-Christian traditions. For example, each year in our time arranged in city parks celebrate Shrove Tuesday - with the mandatory pancakes, fun competitions, songs, burning Didukh. It is nothing more than an ancient, even pre-Christian holiday coming spring, and a round pancake symbolizes spring sun
.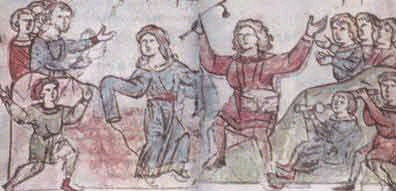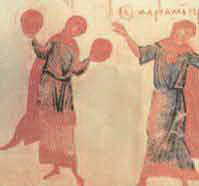 In addition to the annual religious festivals in medieval Kiev was much events, which involved almost all of Kiev. As a nation-wide holiday celebrated military victories gained Rus spouses, family holidays princely dynasty (wedding, fete, birthday and baptism heir). Almost every essential element of the holiday was lush banquets, theatrical action, performance artists, dance.

Dancing ancient Slavs. Radzyvillivskyy chronicle
XV.
Art was widespread musicians - actors who combined talents of a stage actor, musician, singer, clown, jugglers, acrobats, animal trainer. At banquets held horse racing, competitions in archery, fighting and others.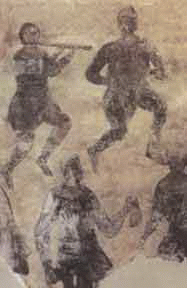 In time became a holiday called Magdeburg ceremony devoted to the rights of Magdeburg Kyiv. Holy city government noted magnificent parades, military musicians playing, the military salute with pistols and guns. Since the end of XVII century. in Kiev was known day jokes and funny tricks - April 1. Later in the day Kiev newspapers often placed on your pages, messages that are treated as completely probable. Gullible readers first fully believed the message and then amazed with his dovirlyvosti and laughed each other.

In the XVII century. Students of Kyiv-Mohyla Academy on May together with teachers gathered in a Kiev tracts, where they sang songs, read poems, set plays, playing ball. So they were a day student.
From ancient festivals and entertainment in further developing and distinguished different types of arts, sports, urban traditions and family celebrations.
In the XIX century. appear specialized in Kiev institutions - theaters, circus, various entertainment facilities, sports Society.
At the beginning of XX century. kievlyanin could visit nearly a dozen theater, including opera, listen to music in the garden Merchants Assembly, where Estrada was placed, or Merchants Assembly Hall (now - National Philharmonic), go to one of the greatest circuses in Europe or in museum (Antiquities, Arts), to train in the sports club or stadium. In parks and gardens were a carousel, swings, there could hear the singers and reciter, the military bands.
Stage "Sink" в Supplies Merchants collection

(Now Cruciform park), photo beginning XX ст.

House Merchants collection, photo end XIX ст.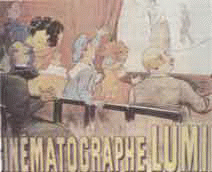 But where can today go to Kiev in leisure time? For example, "In cinema ". Today in Kiev is not so much cinema. Most of them are parts of the entertainment centers and equipped with modern equipment.

Cinema is relatively new. Only in 1895 French to Lumiere had a first performance in Paris. A year later had the opportunity to Kiev familiarize yourself with the sensational invention. The first film shows held indoors theaters or just big houses. Projectionist with a terrible chatter twisted handle the machine and the screen - usually a large gray canvas, sewn with almost sheets - to appear live moving pictures. The first film showed arrival the train station, volcanic eruption, some events from the life of kings and kings and so on. Soon there were films in which actors were involved. The dramatic scenes, which they played today seem ridiculous - because the films were silent, actors portrayed as exaggerated sense that now is perceived as parody. But the public liked ...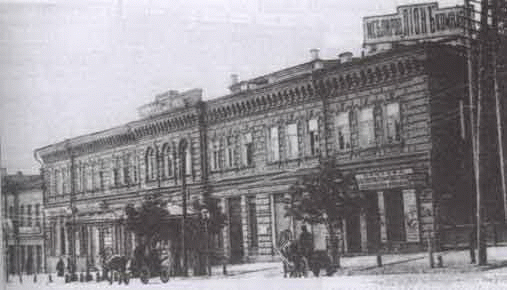 Theater Berhonye, у which was first у Kiev performance
(now – theater ім. L. Ukrainian)
Number of Illusion (so they named Cinema) increased. In 1910 in Kiev, there were more than two dozen, and more than half of them located in the capital or surrounding streets.
Sessions in the modern sense was not - movies demonstrated no breaks one by one to enter and exit could be in any time. Showing films accompanied by playing the piano specially hired musicians.
The first real movie theater in town (for 1000!) opened in 1912 He was there, which now houses the Kiev mayor's office. Cinema was considered the best in the Russian Empire and throughout Europe.
That same year in Kiev, and begin to shoot his film - The raw film studio opened.
In the 30's film becomes audible. Visiting cinema was among the most popular and most beloved forms of entertainment and remained so until the 80's XX century. There were dozens cinemas, including the specialized children. In most cinemas Children were required movies. Get them in 70 to 80 years can was quite funny for money - 10 kopecks. And adult ticket was completely affordable - from Z0 to 70 kopecks. (Depending on time, category movie theater, number of series). Actors were real idols of spectators.
Many of the films was shot in Kiev. End 20-ies kinofabryku was built Europe's largest specialized pavilion for filming. It created his famous movies Dovzhenko. His films named among the best films of all time. Kiev Film Studio named Dovzhenko. It worked well known in the country and the world's film directors - I. Kavaleridze S. Paradjanov, LA Osyka, Y. Illyenko Mikolaichuk I., L. Bykov.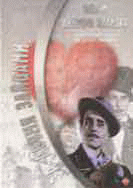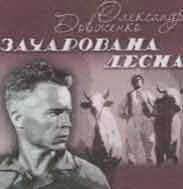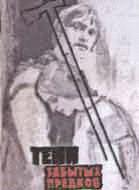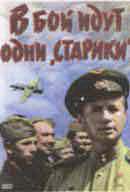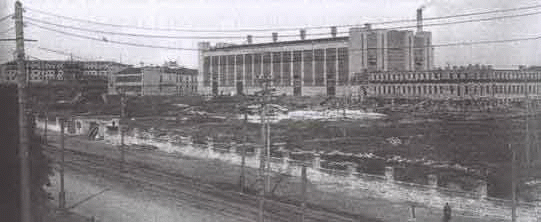 Construction Kiev kinofabryky, 20-ті рр. XX ст.
Kyiv was famous all over the world documentary and animated (Cartoons) films are shot on studio Kievnauchfilm. their number reached almost 400 per year! This film studio called leader world scientific and popular cinema. All, perhaps, not once accessed famous series of cartoons produced by V. Dahno Cossacks and "The Adventures of Captain WRONGEL "and" Treasure Island "D. Cherkasky. And if not watched - check necessarily - not regret.

In Kiev, dozens of large and small Theatre - From known and reputable - National Opera, Academic Theater. Ivan Franko, Lesya Ukrainian - To the very young (like, theater "Wheel").
This is no accident - the city of Kyiv was always theatrical. Actually, the first theater in the Russian Empire, as some argue, appeared in Kyiv. Launched its students of the Kyiv Mohyla Academy is In XVII-XVIII centuries. And the theater has grown from a school of drama - for the European Traditionally, students played small scenes Latin. It helped in language learning, poetry, music (a good way, agree). Over time, performance arranged at the Academy or in the square in front of her on the slopes of the mountains Podolsk, mainly on religious holidays (Easter and Christmas) and religious-educative character.
After the prohibition of school drama shows on demand satisfy the traveling theater troupe, and later - permanent, but maloprofesiyni theaters.
Original theatrical boom begins in late XIX century. Built the famous Opera House, Theatre Solovtsov "(now - Theatre them. John Frank), City Theatre and others - in these, permeated theatrical spirit of the premises and are today the most famous theaters of Kyiv.
Urban theater Opera, photo 1910 р.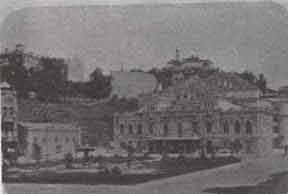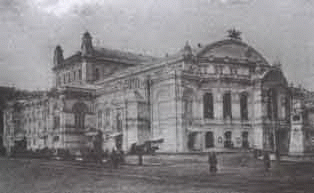 Theatre "Solovtsov"
Then the work begins and stationary (Constant) Ukrainian Theatre - M. Sadowski. He was placed in Trinity folk house (now - Kyiv Operetta Theater).
| | |
| --- | --- |
| | |
| Trinity national house, photo end XIX ст. | M. Sadowski |
Visit the theater was expensive - up to 15 rubles. (This was half the monthly wage worker or petty officer). Ukrainian theater was more affordable - to 4 rubles. But everywhere you can get to "halorku" by 10-30 kopecks. Theatre has become very popular in the city. Leading actors all knew. Visit the theater holiday - must wore festive clothes, nobody calls even think or speak loudly eat during the performance. Not accidentally Theatre has always been compared to house.
Theatre. Ivan Franko Theater "Berezil, Opera House were known throughout the country and throughout Europe. Many directors and actors in different times healed noisy Fame - Zankovetskoy, G. George, P. Saksahanskoho L. Kurbas. Especially famous for opera singers - A. Stage, 3.Hayday, B. Hmyria, A. Solovyanenko, Canada and E. Smith and many others. Today viewers fill the halls of your favorite theaters, our singers and actors are known in many countries.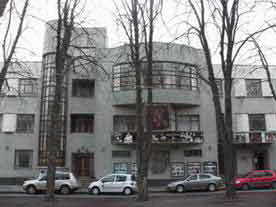 In 1924 performance "Mowgli" began its work for the State Theatre children - later TYUH (Young Spectator Theatre). Thirty years later he moved to one of the quiet streets Lypok (at the Cave). There is a theater and now adding to the usual names TYUH - "Linden". As before, its 520 beds it gladly gives young viewers.

Classical music lovers can listen to leading performers in the halls Kiev National Philharmonic Orchestra and the Kiev Conservatory. Concerts famous artists and take place in the palace "Ukraine". In the summer, like a hundred years therefore, the park on the slopes of the Dnipro played string orchestra, arranged symphony concerts. The singing field for several years the festival "Dreamland". The festival program includes folk music from different countries acquaintance with folk crafts and many other interesting pieces. The festival also has a children's program, where kids can learn to make toys clay, straw, playing folk musical instruments, perform folk dances and songs.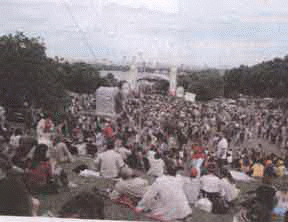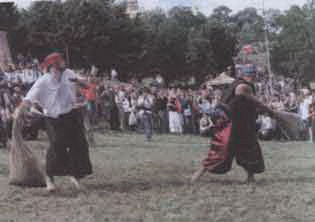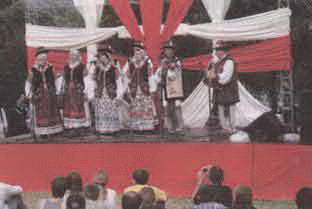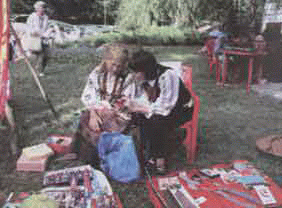 Song Festival Grounds during the festival "Dreamland"
Waiting for your visitors and cozy rooms of museums. Exposure nearly fifty museums will give you an unforgettable meeting with history our country, Kyiv, familiarize with the Ukrainian and world art, will tell about the life and work of many prominent people.
National Art Museum of Ukraine
National Art Museum of Ukraine
Hall Ivan Gonchar Museum

Museum of Arts Hall

them. B. and V. Khanenko

National Art Museum of Ukraine
A day off with their parents can spend at the Museum Folk Architecture and Household of Ukraine. This is one of the largest museums in the world the sky, where an area of 147 ha contains over 300 monuments of folk architecture of the original XVI-twentieth century. all regions of Ukraine. Its territory held folk calendar holidays: Christmas, Epiphany, Easter, Green Sunday, swim, etc.. Twice a year pass ethnographic fairs, shows their skills blacksmiths, weavers, carvers, potters.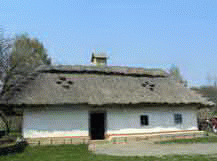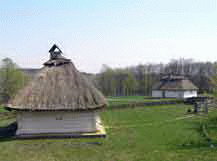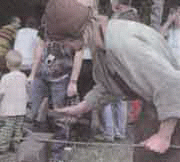 Museum of Folk Architecture and Life of Ukraine
In last Saturday and Sunday in May you will certainly celebrate with all Kyivans Day of Kyiv. Centre holidays that it launched in 1987, there is always Andrew's Descent, Kiev landscape Park and Independence Square. These days here converge thousand Kiev and guests of Kyiv.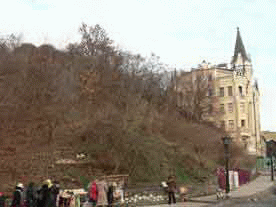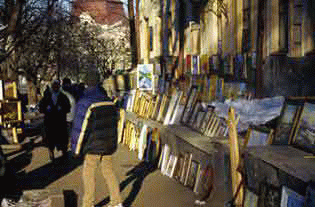 Andrew's Descent
And, you can visit the circus. Since time immemorial, our ancestors liked to watch the performances of musicians - performers universals that demonstrated the wonders of flexibility, strength, veselyly viewers witty jokes. Almost they necessarily led to a trained animals - mostly bears. Perhaps, with musicians and art began the circus arts.
The first permanent circus is in Kiev in 1875 A early XX century. city had one of the largest in Europe (for 2000 seats!) circus - a circus Krutikov, which is called "Hyppo Palace (palace horse). And it was located on one of nayfeshenebelnishyh city streets - Nicholas (now the street Gorodetsky).
Circus Krutikov

(Destroyed in 1941)

Contemporary circus
In Kiev, Kiev evolved special circus school, which gave many famous artists - aerial acrobats, jugglers, animal trainers. Since 1960 Kyiv circus moved to new premises in Victory Square. That it plays in progress - both Ukrainian circus artists, and many of the artists and circus groups.
To contribute to the infinitely interesting world of wildlife and see wildlife representatives of all continents, not necessarily travel to distant countries. Visit Kyiv Zoo!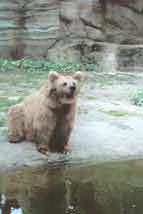 Zoo in Kiev in 1908 established Society for nature lovers. Permanent place he had refrained on private and funds. For some time the animals were in the University Botanic Garden, and one winter Animals held even in the baggage compartment train station. But in 1913 Zoo received from the City Duma vast territory of the then around the city - Shulyavka, opposite the newly built Polytechnic Institute. There he is, now and covers an area about 40 hectares. Sculptures "Lions" and "Buffalo" both sides of the entrance gate at once indicate that the institution is posted.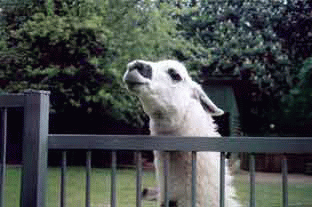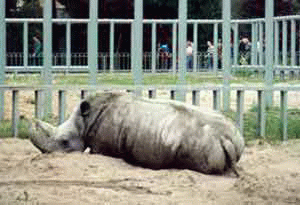 In the Kiev zoo, about 4,5 thousand animals, which care of over 300 professionals. Here you can see exotic animals birds, reptiles. In specially equipped premises grow tropical plants. Zoo visitors are always "children's" playground where bavlyatsya cubs of different animals. Beautiful park, pond and quiet alley zoo attract kids and adults. Waiting for nature lovers and other parks of Kyiv, beaches along the Dnipro River.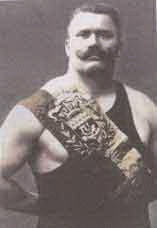 Supporters of leisure can choose favorite Sports not only on nature but also in clubs, sports clubs, hobby groups. In ancient times strong, smart warriors, skilful Archers attracted attention, arouse desire to follow them.
Over time, a kind of competition the strongest nayvpravnishyh occurred during fairs and large crowds gathered fans. First true sports circle organized in Kiev in 1895 They trained wrestlers, gymnasts, weightlifters, fencers and acrobats. Glory of this club brought the famous wrestler John Piddubny that forty years not lose a single competition and left the carpet undefeated. In the first years of XX century. began rapid development of sports. Having groups of football fans, winter sports, gymnastics. Could engage in circles all who wished.

The first arena in Kiev was the so-called "Sports Grounds", hosted on wasteland near Luk'yanivka (now Student street) in 1912 Next year it was conducted first in the history of the Russian Empire Olympics. At these competitions Kiev won the relay race, a hundred yards, won the high jump pole and at length, won the team race at 3 thousand of
For the first time in the Russian Empire took part in competitions women. N. Popov set a world record for women to run for 100 m. Statement by Women in exercises with a rake decoration of the Olympics. Interests audience (there were over 10 thousand) and exercises called strips, which Men demonstrated by adding the national colors sports festival (See photo).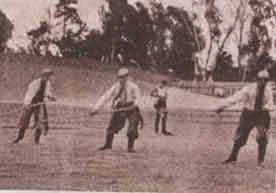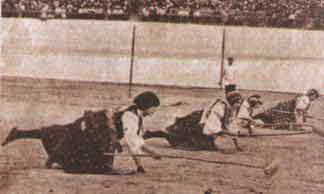 During the Olympics in the sky pilot Peter Kyiv Nesterov first in the world supercomplex shape that became known under the called "loop the loop, or loop.
Competitions in Rhythmic Gymnastics

50-ies XX century.

Winter sports, beginning   Twentieth century.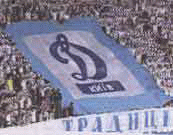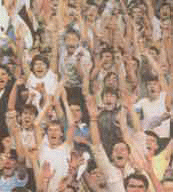 Kiev athletes with dignity and have brought worldwide fame our city. Names of trainers V. Lobanovsky (football), Igor Turchin (handball) Albina and Irina Deryugina (rhythmic gymnastics) is widely known abroad our country. As the names of their students - football players Oleg Blokhin, Alexei Mykhailychenko, Andriy Shevchenko, handball-players Zinaida Turchin, gymnast Anna Bessonova. Around the world today know boxers brothers Vitali and Vladimir Klitschko, swimmer Yana Klochkova and still many, many other prominent athletes past and contemporary - hockey players, basketball players, gymnasts, athletes. Known in Europe and the world, FC Dynamo, handball "Spartacus," hockey "Falcon" basketball "builder" and "Kyiv". Kiev sports clubs have produced hundreds of champions of the country, Europe, World, Olympic games.
Thousands of people in the stadiums and sports arenas passionately cheer for your favorite athletes. They fill thousands of arena - Sports Palace, the Dynamo stadium. And the participants at sports arenas Ukraine countries and their achievements uslavlyuyut not only their names, but their country town.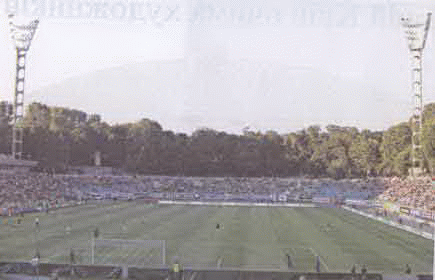 Kyiv Dynamo stadium named. Lobanovsky V.
Sports arenas over the world heard the anthem of Ukraine after the victories of our athletes. And during the announcement of winners names to add them: Ukraine. Kyiv.
Us consider:
- How and why varied forms of entertainment?
- Why are so many similarities in leisure activities in old times and now?
A joint project: "Machine time.
Parents should:
- remember where they liked to walk in their infancy and write short memories of their children's experiences of cinema, circus, zoo and more. (Important: Written lyrics are not show the children until they write their own.)
Children are:
- visit with parents that institution, which mentioned the parents;
- Describe your experience, just as parents did;
- Compare descriptions. How similar are your impressions of your memories parents?
However, should:
- Your parents make an impression in an article in a newspaper, reports, mini-work, wall newspapers, etc.;
- Organize an exhibition in the classroom. You can use photos of family albums, old and contemporary posters, programs, leaflets (real or copied);
- Try to offer your press materials or place specialized sites on the Internet.